Mae Young: Wrestler who showed herself to be as hard as the men and who revelled in her status as a hated 'heel'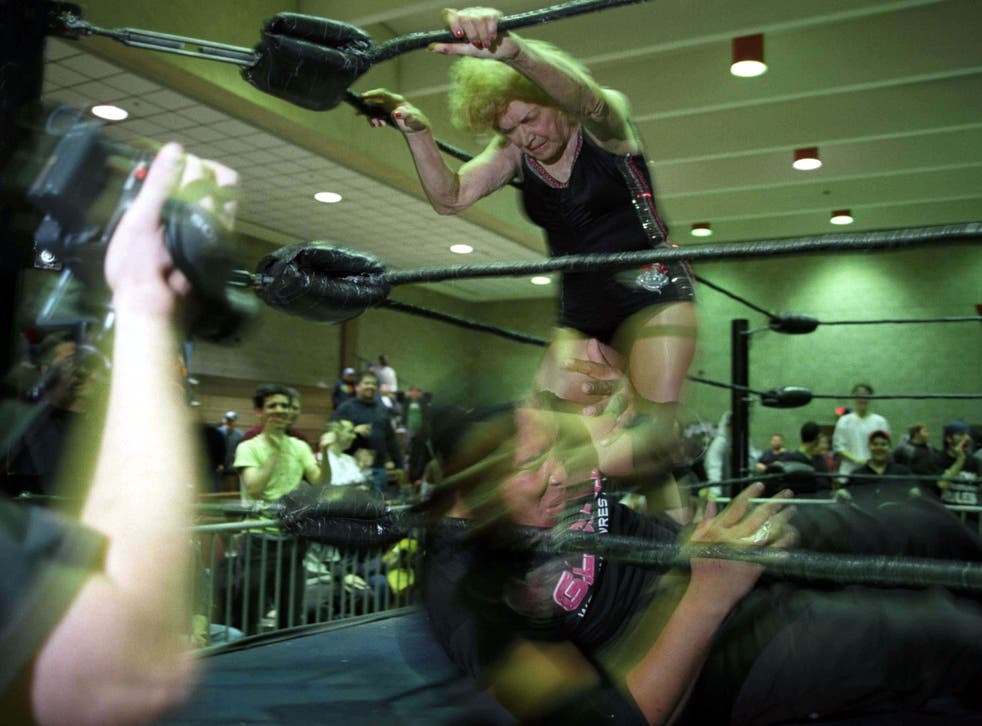 Female emancipation has taken many forms, but few as gaudy and violent as the breakthrough largely pioneered by Mae Young, better known as "the Great Mae Young," superstar of the first generation of professional women wrestlers in the US, who conclusively gave the lie to generalisations about the gentler sex. In sport records are made to be broken, but Young's feat of appearing professionally in eight different decades may never be surpassed.
Her career began just before the Second World War. Sixty years later she was still featuring on WWE Smackdown, a top televised show on World Wrestling Entertainment, and in 2008, aged 85, she appeared in a 16-lady tag match in another WWE special, pitting wrestling's current divas against those of yesteryear.
When Mae Young set out, women's wrestling wasn't the lubricious spectacle it is today – even though she was quite a beauty in her early years, and had her share of sexually suggestive moves (notably the "bronco buster", in which she reared back and forth as she squatted on the chest of a floored foe). But not all the violence was simulated. Bones were broken too.
A talented high school athlete, Young first picked up a love of wrestling when she found she could outmuscle many of the boys. After taking lessons from a former champion, Ed "Strangler" Lewis, she turned pro in 1939 at the age of 16. Women's wrestling, however, only really took off during the Second World War, as a stopgap when the men were off fighting. Soon the female version was producing show-stealers of its own – and none more so than Mae Young.
If wrestling was a pantomime, she was always the villain, who bit and pulled hair, stuck her finger into an opponent's eye and generally fought dirty. But in the interests of the required happy ending she usually ended up losing. "Anybody can be a baby face, what we call a clean wrestler," she said in a 2005 documentary, Lipstick & Dynamite, which chronicled the emergence of the sport. "They don't have to do nothing. It's the heel that carries the whole show. I've always been a heel, and I wouldn't be anything else but."
Outside the ropes her reputation was no different. Stories abounded of how she would pick fights with men in bars and beat them up. She drank and smoked cigars. A fellow female wrestler was astonished at Young's garb when they first met. "She had men's shoes on, men's pants with a zipper up the front and a cigar hanging out of her mouth. Back in 1955 you didn't do that."
During her early career she won a variety of championships and also trained and helped several other stars in the growing industry, most notably Lillian Ellison, who under her fighting name of "The Fabulous Moolah" became WWE's biggest female attraction as well as Young's lifelong friend. In their later years the two shared a home in Columbia, South Carolina, along with Katie Glass. Known professionally as "Diamond Lil", Glass was a former midget wrestler with an advertised height of 3ft 8in.
Her serious fighting days over, Young became if anything even more of a celebrity; a brassy, flirtatious old tough with a comic's natural timing, whose cameo ring appearances never failed to liven things up. Her most astounding feat perhaps came in 2000 when she won WWE's Miss Royal Rumble Bikini Contest at the age of 77, pulling down the top of her swimsuit costume, to defeat competitors half a century younger. WWE layer claimed she was wearing a bodysuit underneath, but others insisted that she laid bare the real thing.
To the end, her image never wavered. "She was a tough, tough woman – I'd say the toughest I ever met," the champion male wrestler Bubba Ray Dudley remembered. "The first time I slammed Mae Young in the ring, I put her down ever so gingerly. Afterwards she comes over: 'Hey, hot shot,' she says, 'if you slam me, you slam me like one of the boys.'"
RUPERT CORNWELL
Johnnie "Mae" Young, wrestler: born Sand Springs, Oklahoma 12 March 1923; died Columbia, South Carolina 14 January 2014.
Join our new commenting forum
Join thought-provoking conversations, follow other Independent readers and see their replies