Meet Rusev: the WWE star delighted to have broken free of some stereotypical shackles
Rusev, the Bulgarian star of WWE's Smackdown Live brand, has rapidly become one of the show's most popular characters thanks to his larger-than-life, eccentric personality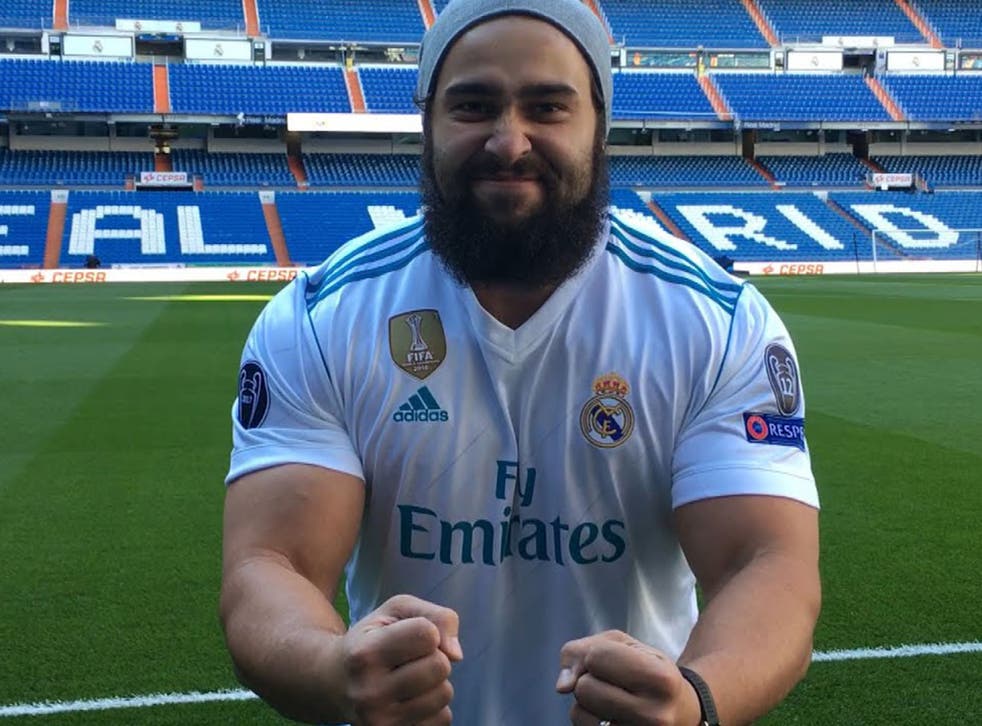 One of WWE's most popular stars has admitted to The Independent that he's thrilled to have broken free of some stereotypical shackles to embark on a dream run in the company over the last year.
Rusev, the Bulgarian star of WWE's Smackdown Live brand, has rapidly become one of the show's most popular characters thanks to his larger-than-life, eccentric personality.
Insisting every day is 'Rusev Day', the 33-year-old has gathered something of a cult following around the world, with Rusev Day chants now a familiar feature of most televised shows – even those where the man himself isn't scheduled to appear!
It's not exactly a rise to stardom for the powerhouse – he's been a big player in WWE for some time as a former two-time United States Champion. But there is certainly a feeling that this has been a breakthrough six months or so for the athlete whose real name is Miroslav Barnyashev.
From his debut in NXT – WWE's developmental territory – in 2013 through to his main roster ascension around a year later – he had almost exclusively been cast in the role of anti-American antagonist. He isn't the first wrestler foreign to the States to be thrust into that role; the likes of the Iron Sheik, Muhammad Hassan and Sgt Slaughter all came before him – and he certainly won't be the last.
At 6ft tall and weighing in excess of 300lbs, Rusev was the weekly villain of the piece as he went up against the likes of heroes John Cena and Jack Swagger among others. But the man himself exclusively told The Independent that he always knew he was capable of doing more on screen – rightly relishing his current role.
"I always knew what I had and I knew I was more than just 'the foreign guy.' I have personality and as soon as I had chance to show it, I just did it. A lot of people don't like it and a lot of people frown upon it and think I should just be stuck in that box, but it's just not me.
"I am an artist and I have a lot more to offer than just being a one-dimensional character, and I think our audience sees that and understands that – they're behind it. They feel the passion behind it and it has been an amazing response."
WWE Royal Rumble results: Shinsuke Nakamura and Asuka win on a thrilling night but Ronda Rousey steals the show
While Rusev's charisma and natural talent have shone through more than ever in recent months, he readily admits that the support of WWE's fans have been crucial in turning around his on-screen persona.
From a hated 'heel' character that was packaged as a must-hate figure, he has now grown into one of the company's biggest merchandise sellers as the company seeks to cash in on his popularity – Rusev Day calendars (yep, every day is Rusev Day), Rusev Day t-shirts and mugs have all been released in swift order.
It's only natural that Rusev – who also stars in one of WWE's reality series, Total Divas alongside wife Lana – is lapping up the new-found attention and comparative freedom as he expresses himself with good humour alongside on-screen side-kick Aiden English.
He reflected: "It just makes me smile – every time I hear somebody say 'Rusev Day' it just makes me smile.
"When you have been stuck in that heel, bad-guy role as the foreigner who never talks, you want to get out of there, have fun and just be you.
"It's just great fun, man – it's the best time and the most fun I have ever had in my career.
"I love what I'm doing at the moment – absolutely every single moment of it."
With the Royal Rumble having come and gone, we're now very much into Wrestlemania season as the company readies itself for its largest extravaganza of the year – this year held in New Orleans.
WWE Royal Rumble - in pictures

Show all 27
'Mania' this year falls on, you guessed it, Rusev Day – a prospect that clearly excites the man himself. He made one of the most memorable entrances in the event's history a few years ago, making his way to the ring in a military tank.
Understandably, then, focused turned on what might be in store this time around, with Wrestlemania and its related events now spread over a week-long period rather than just the Sunday night itself.
Less a Rusev Day and more a Rusev Week, then?
He went on to quip: "Well when it's Rusev Day and the next day is Rusev Day, the next thing you know it's Rusev Week! It's just simple mathematics.
"It's the first time we can celebrate Rusev Day at Wrestlemania so I am looking forward to it, especially knowing what we've done before with the army tank and Lana and everything.
"It's a special time of year – Wrestlemania is our biggest show of the year so we have to make it even more special!"
And just weeks after Wrestlemania, the gruelling schedule that WWE's stars endure will see them head back to Europe and these very shores – the UK leg of the tour seeing shows held in London, Liverpool and Birmingham during May.
The accomplished former powerlifter admits there are some parts of the tour he doesn't enjoy – the food for instance – the adrenaline of passionate audiences keep the roster moving.
"I love Europe," he added. "Every time we tour there it is my favourite time because the crowds there are amazing. The food is terrible but when you have crowds like that, who cares? You can feed off the energy!
"It's a busy schedule and it's a case of being on a bus, doing a show, then bus and show, bus and show – but as hard as it is to be wrestling every day for two weeks, it's worth it for every time you step through that curtain."
WWE Wrestlemania is live and exclusive on WWE Network on Sunday, 8 April 2018. For more details visit wwe.com.
Join our new commenting forum
Join thought-provoking conversations, follow other Independent readers and see their replies