As it happened
ended
1459780522
WrestleMania 32 live: Roman Reigns defeats Triple H, Shane McMahon leaps through table from 20 feet
Follow the latest from the AT&T Stadium in Dallas as WWE celebrates its 32nd edition of WrestleMania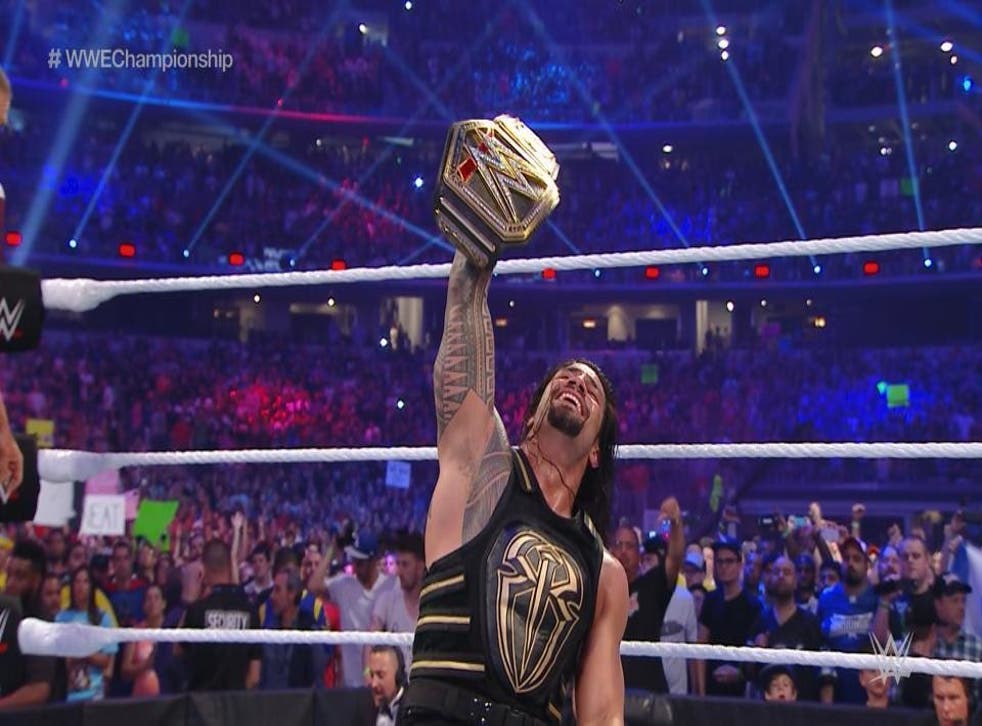 WrestleMania 32 takes place at the AT&T Stadium in Dallas as the WWE prepares to stage is showcase event, where Triple H defends his WWE World Heavyweight Championship against Roman Reigns while The Undertaker puts his WrestleMania future on the line against a returning Shane McMahon. Follow the latest here.
Triple H loses the WWE World Heavyweight Championship to Roman Reigns
The Undertaker beats Shane McMahon in a Hell In a Cell match
Brock Lesner defeats Deam Ambrose in a No Holds Barred Street Fight
Zack Ryder wins the Intercontinental Championship in a seven-man ladder match
Follow the live action below...
Please allow a moment for the blog to load...
Other WrestleMania matches:
Charlotte wins the new Women's Championship against Sasha Banks and Becky Lynch
Kalisto defeats Ryback for the United States Championship
Read the full match card here.
1459723709
The Usos vs The Dudley Boyz
The Dudleyz aren't happy and they attack Jimmy and Jey... and they get the tables!
Jack de Menezes
3 April 2016 23:48
1459723802
The Usos vs The Dudley Boyz
Wait one minute, The Usos have turned the tables - literally - and thrown Bubba Ray and D-Von onto the tables before taking to the top rope. It's a double body splash through the tables, and that certainly sends a statement to the Dudleyz as well as the rest of the tag-team division.
Jack de Menezes
3 April 2016 23:50
1459724090
The clock is ticking down - literally, there's a countdown clock in the corner of the pre-show - and we're now just five minutes away from the start of WrestleMania 32! what have we got in store? Well beyond the obvious match card, there will be the return of The Rock, as well as the attendance of the Class of 2016 Hall of Fame as well as music performances. Are you ready?
Jack de Menezes
3 April 2016 23:54
1459724211
But we can't have WrestleMania without announcers, can we? Here comes Michael Cole and JBL to join Jerry The King Lawler. We're almost good to go.
Jack de Menezes
3 April 2016 23:56
1459724469
3...2...1...WRESTLEMANIA IS GO!
Jack de Menezes
4 April 2016 00:01
Join our new commenting forum
Join thought-provoking conversations, follow other Independent readers and see their replies