WWE Hell In A Cell 2014 results: Bray Wyatt returns as hologram to help Seth Rollins defeat Dean Ambrose
Unfortunately he didn't sing Ghetto Gospel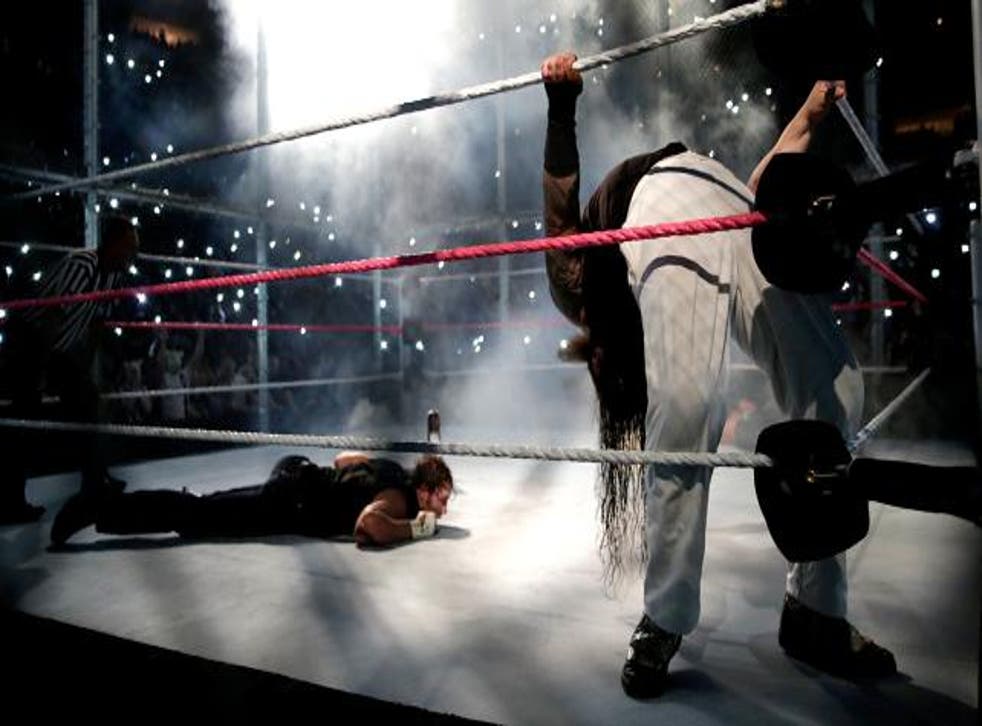 WWE's 2014 Hell In A Cell PPV took place in Dallas, Texas last night, with few titles on the line but plenty of clean bills of health as the superstars headed into the steel cage.
If you're yet to watch the event or are never going to get round to it, here's a quick breakdown of the results:
Mark Henry defeated Bo Dallas - singles match
Dallas asserted that he was now the World's Strongest Man as he had beaten Henry four times, only for Mark to put this to bed with a World's Strongest Slam.
Dolph Ziggler (c) defeated Cesaro 2-0 - 2-out-of-3 falls match for the WWE Intercontinental Championship
Ziggler claimed the first fall with a quick roll-up during a Big Sweep, then followed it up with a Superkick and Zig Zag for a convincing victory.
Nikki Bella defeated Brie Bella – singles match; the loser became the winner's personal assistant for 30 days; if the loser does not comply, she will be forced to quit WWE
Brie faces expulsion after being hit with two Rack Attacks.
Gold and Stardust (c) defeated The Usos (Jimmy Uso and Jey Uso) - tag team match for the WWE Tag Team Championship
Stardust aided Goldust in executing a Final Cut to seal the win.
John Cena defeated Randy Orton - Hell in a Cell match to determine the number one contender for the WWE World Heavyweight Championship
A suitably HELLACIOUS match-up saw Cena Attitude Adjustment Randy Orton through a table. All those RKO Vines were for nothing.
Sheamus (c) defeated The Miz (with Damien Mizdow) - singles match for the WWE United States Championship
Sheamus held onto his title with a Brogue Kick to The Miz.
Rusev (with Lana) defeated Big Show (with Mark Henry) by submission - singles match
Big Guy Fest ended with Rusev locking in the Accolade.
AJ Lee (c) defeated Paige (with Alicia Fox) by submission - singles match for the WWE Divas Championship
Another submission win as AJ got Paige in a Black Widow. Following the bout, Paige turned on Alicia Fox.
Seth Rollins (with Jamie Noble and Joey Mercury) defeated Dean Ambrose - Hell in a Cell match
Most of this match took place on top of and around the cage. After the bell rang and the pair headed in side there was interference from Corporate Kane, but he was upstaged by a bigger trespasser as Bray Wyatt returned, first in hologram form a la 2pac, distractingdistract Ambrose, then in the flesh to hit Dean and give Rollins the pin.
The night was closed with Wyatt nailing a Sister Abigail for good measure.
Read more: Tim Wiese offered WWE role after German goalkeeper packs on muscle
Join our new commenting forum
Join thought-provoking conversations, follow other Independent readers and see their replies