WWE Superstar Natalya delves into SummerSlam and the understated art of storytelling
Exclusive interview: Niece of Bret Hart speaks to The Independent about the WWE event that comes closest to rivalling – or perhaps even surpassing – WrestleMania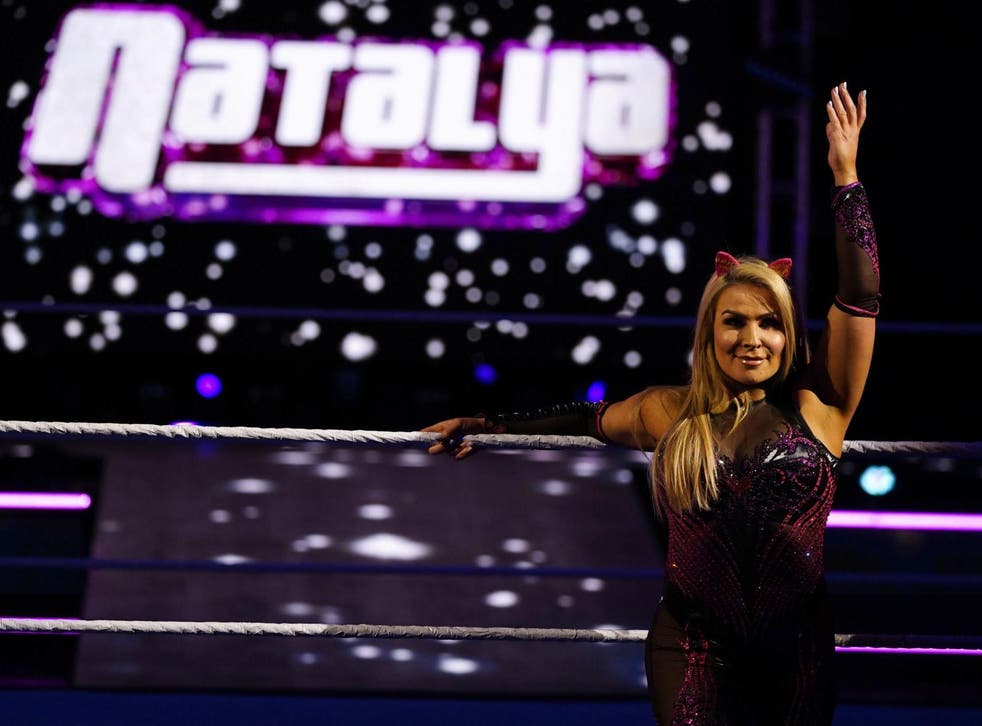 SummerSlam may be regarded as WWE's second biggest show of the year, but for storytelling purist Natalya the event stands undisputed as the best of the bunch.
This year's instalment of the summer spectacular airs on Sunday night as stars from Raw and Smackdown converge on Orlando's Amway Center.
While, traditionally, the event sits in the shadow of WrestleMania – and its pizazz and pop culture appeal as WWE's grandest production – there's a groundswell of opinion that SummerSlam is actually without rival when it comes to the action in the ring itself.
Natalaya, a former two-time world champion, is uniquely qualified to pass opinion on the matter as a member of the famed Hart family, for whom this time of year always means big things.
Uncle Bret, one of WWE's finest ever performers, won the Intercontinental title at the event in 1991 and the WWE Championship six years later. He headlined the show against The British Bulldog in 1992 at London's Wembley Stadium and battled his late brother, Owen, in a steel cage classic in 1994.
Natalya has continued the trend, winning the Women's Championship three years ago at the August special, and tearing the house down with Becky Lynch in a losing effort a little over 12 months ago.
For each of them, it is about the art of the story. Thirty-eight-year-old Natalya sat down with The Independent ahead of the 2020 edition of the show to reminisce about some of the past classics – and the elements of them that fuel today's stars.
"There's a little nostalgia tied into it, but it's again the art of storytelling," she says, before pointing to the perfect example of the modern-day classic.
"The match that took me back to that era of great Bret Hart, Shawn Michaels, Undertaker matches, was the match at Backlash between Edge and Randy Orton [earlier this year].
"I watched the match and I noticed that Edge was almost drawing from Bret Hart. It reminded me a lot of him in that match.
"His style was still Edge, but he was pulling from a different place emotionally and pulling me in, and of course Randy Orton does that.
Natalya making her way to the ring before the coronavirus pandemic, when fans were still attending events ()"We've never been in an era with the kind of athleticism as we do now, it is through the roof, but it is those little nuances that make you feel and remember something."
The Canadian lauds Bret's ability for weaving together stories in his matches as being unrivalled, and his legendary reputation backs up her claim that it is far from nepotism.
"Bret was so good at storytelling," she adds. "And it's not just because he's family, but you look at Bret and Owen and not just their SummerSlam match but all the matches he's had in general are so special because he was a master storyteller.
"The thread through all his matches is that he makes you feel something, then takes the best and brings it out of his opponent. You got that story, whatever it was about, Bret found a way to pull the story out and bring out the emotions.
"Someone will always remember how somebody made them feel. When you look back at his body of work, he wasn't just doing flips and moonsaults – and there's nothing wrong with that – but he captured the most important part, the heart of the story.
"When you think back to your favourite movies, what sticks with you is what made you feel something – In Shawshank Redemption, we didn't need a crazy explosion, we just needed to feel something."
Wrestling fans know well enough to expect the unexpected at the company's shows and Natalya hints that a surprise or two might be in store for this weekend's SummerSlam.
Sunday's show will be the first major event to feature WWE's new Thunderdome concept – up to 1,000 screens showing feeds to live viewers will be utilised in the Amway Centre, with drones, lasers and the like all adding to the show.
It continues their trend of ploughing on throughout the coronavirus pandemic and barely taking a breath. Since being ruled an 'essential business' back in the Spring, they've continued to air weekly television and monthly pay-per-view shows to keep their unique blend of entertainment on screens.
"I'm excited to see what they have planned for SummerSlam as I know they are pretty much going over the top with it!" Natalya goes on to say of the initiative.
"I'm not going to give anything away, but you don't know what's going to happen or who is going to show up. It is very unpredictable. You never know, [for instance], when The Rock is going to show up!
"I was at a non-televised event once and he was there... So, you know, these things happen in WWE, and I am very proud of the company that, in these unprecedented times and when everything halted, we found a way to keep going and to push forward."
Watch WWE SummerSlam live on the award-winning WWE Network and BT Sport Box Office this Sunday from 12am.
Register for free to continue reading
Registration is a free and easy way to support our truly independent journalism
By registering, you will also enjoy limited access to Premium articles, exclusive newsletters, commenting, and virtual events with our leading journalists
Already have an account? sign in
Register for free to continue reading
Registration is a free and easy way to support our truly independent journalism
By registering, you will also enjoy limited access to Premium articles, exclusive newsletters, commenting, and virtual events with our leading journalists
Already have an account? sign in
Join our new commenting forum
Join thought-provoking conversations, follow other Independent readers and see their replies