PGA Championship 2022 LIVE: Leaderboard & reaction as Justin Thomas beats Will Zalatoris in playoff
All the action from the final day at Southern Hills as Mito Pereira takes a three-shot lead into round four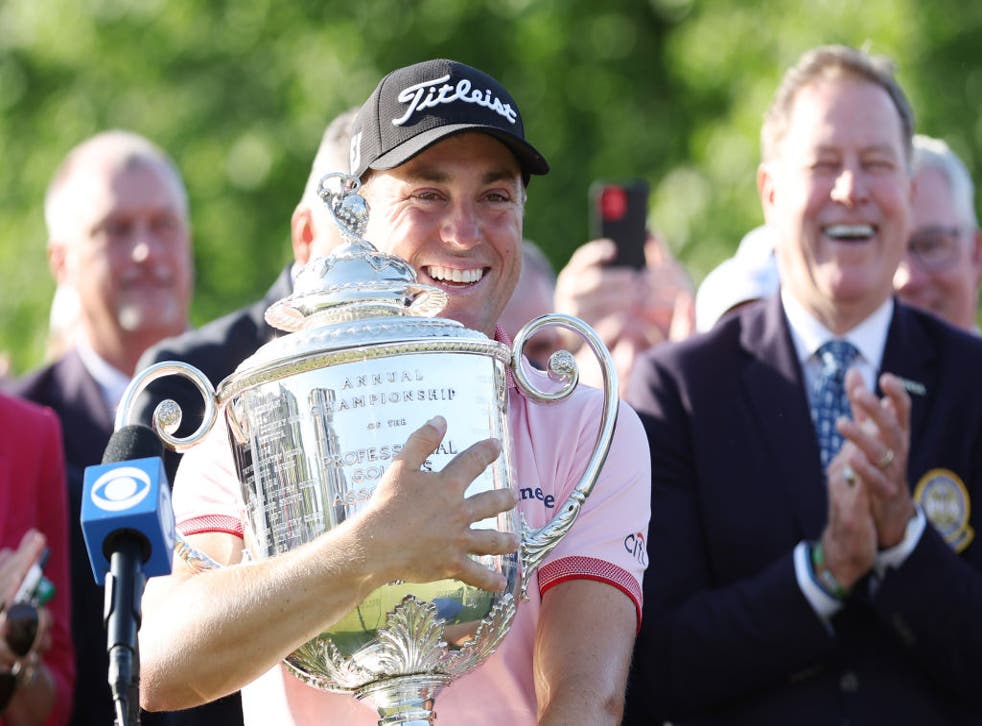 Justin Thomas overturned a record-equalling seven-shot deficit before beating Will Zalatoris in a play-off to win his second US PGA Championship following a dramatic climax at Southern Hills.
Chile's Mito Pereira held a one-shot lead on the 72nd hole after seeing his birdie putt on the 17th stop agonisingly short of the hole, but pushed his drive into the creek and ran up a devastating double bogey.
That left Thomas and Zalatoris to contest a three-hole aggregate play-off and Thomas birdied the 13th and 17th and parred the 18th to lift the Wanamaker Trophy for the second time, having started the day seven shots off the lead.
That meant the former world number one equalled the biggest comeback in US PGA history, John Mahaffey coming from seven behind Tom Watson after 54 holes to defeat Watson and Jerry Pate in a play-off at Oakmont in 1978.
Thomas had holed from six feet on the par-five 13th to match the birdie Zalatoris had made after finding the green in two, but Zalatoris missed from eight feet for birdie on the 17th after Thomas had driven the green on the 302-yard par four to set up a two-putt birdie.
Zalatoris then could not hole his lengthy birdie putt on the 18th and Thomas safely two-putted for par to get his hands on the Wanamaker Trophy for the second time following his 2017 win at Quail Hollow.
Follow all the reaction from an intriguing final day, below:
1653261619
Playoff: 17th hole
Not bad. Zalatoris has a tricky chip over the bunker and his main problem is getting the ball to stop. He leaves himself a seven to eight footer for a birdie.
Justin Thomas has to navigate most of the green for an eagle and does brilliantly to leave it a couple of feet shy of the hole.
Who's going to blink first?
Michael Jones
23 May 2022 00:20
1653261287
Playoff: 17th hole
Over to the par-4 17th then. Justin Thomas is first to tee off again. The green is drivable here but will he take it on?
He's got the 3-wood out and bombs it left-to-right. He carries it over the water, over the bunkers and onto the green! Eagle putt incoming.
Can Will Zalatoris match him?
He sets his tee shot off further to the right and is lucky to avoid the bunkers. He'll have a to chip one onto the green. A birdie may still be good enough for him here. Can he get it up and down?
Michael Jones
23 May 2022 00:14
1653260964
Playoff: 13th hole
Birdies all round. Zalatoris' putt is a cracker and he leaves it six inches from the hole for a tap-in birdie.
That puts the pressure on Justin Thomas who still has a bit of work to do to finish off this hole. He sets it of inside the left edge and watches it drop.
Michael Jones
23 May 2022 00:09
1653260809
Playoff: 13th hole
Oh stop it. 79-yards left for Justin Thomas and he takes an easy back lift before flicking the ball to within five/six feet for a birdie.
Can Zalatoris knock in his eagle putt?
Michael Jones
23 May 2022 00:06
1653260691
Playoff: 13th hole
Justin Thomas lays up just short of the green with his second stroke and will be looking to knock it in close and pick up a birdie. Will Zalatoris takes out the 6-iron and hits a looping right to left draw that lands on the green and finishes about 20-feet away. He'll have a putt for eagle.
Michael Jones
23 May 2022 00:04
1653260293
Playoff: 13th hole
Justin Thomas tees off first and finds himself in the rough over to the right. Will Zalatoris smokes his drive into the middle of the fairway.
Michael Jones
22 May 2022 23:58
1653260134
Thomas and Zalatoris in three-hole playoff
So, to decide the 2022 PGA Champion Justin Thomas and Will Zalatoris will compete in a three hole play-off on 13, 17 and 18.
That's a par-5, a drivable par-4 and the tricky par-4 18th.
Justin Thomas probably has the edge due to his experience but Zalatoris has looked good all week. Can he put it another three great holes?
Michael Jones
22 May 2022 23:55
1653259815
Missed! Double bogey for Pereira
A nightmare hole for Chile's Mito Pereira. He makes a double bogey six on the last to drop from first to third place. He misses out on a play-off and only two men remain.
Matt Fitzpatrick makes a final par for a round of 73 but the focus moves back to Justin Thomas and Will Zalatoris.
One of them will be the PGA Champion.
Michael Jones
22 May 2022 23:50
1653259551
That should be that
Pereira chips his fourth shot on 18 off the back of the opposite side of the green and has one last chance to make it into the play-off. He'll be able to putt from there but it's highly unlikely to go in.
If it does drop his adrenaline will probably carry him through the play-off to the trophy.
Michael Jones
22 May 2022 23:45
1653259341
Pereira in trouble
Justin Thomas has moved out to the range to get loose again. He'll be heading out with Will Zalatoris unless Mito Pereira can chip in from off the green.
After a drop shot, his third is knocked over to the left side of the dancefloor and is a long way from the hole. If he can get up and down from there though he'll make it into a play-off.
Michael Jones
22 May 2022 23:42
Register for free to continue reading
Registration is a free and easy way to support our truly independent journalism
By registering, you will also enjoy limited access to Premium articles, exclusive newsletters, commenting, and virtual events with our leading journalists
Already have an account? sign in
Register for free to continue reading
Registration is a free and easy way to support our truly independent journalism
By registering, you will also enjoy limited access to Premium articles, exclusive newsletters, commenting, and virtual events with our leading journalists
Already have an account? sign in
Join our new commenting forum
Join thought-provoking conversations, follow other Independent readers and see their replies