Tiger Woods loses two shots per tournament to shouts from over-exuberant fans, says Rory McIlroy
Woods agreed that he pays a price for attracting a minority of unruly onlookers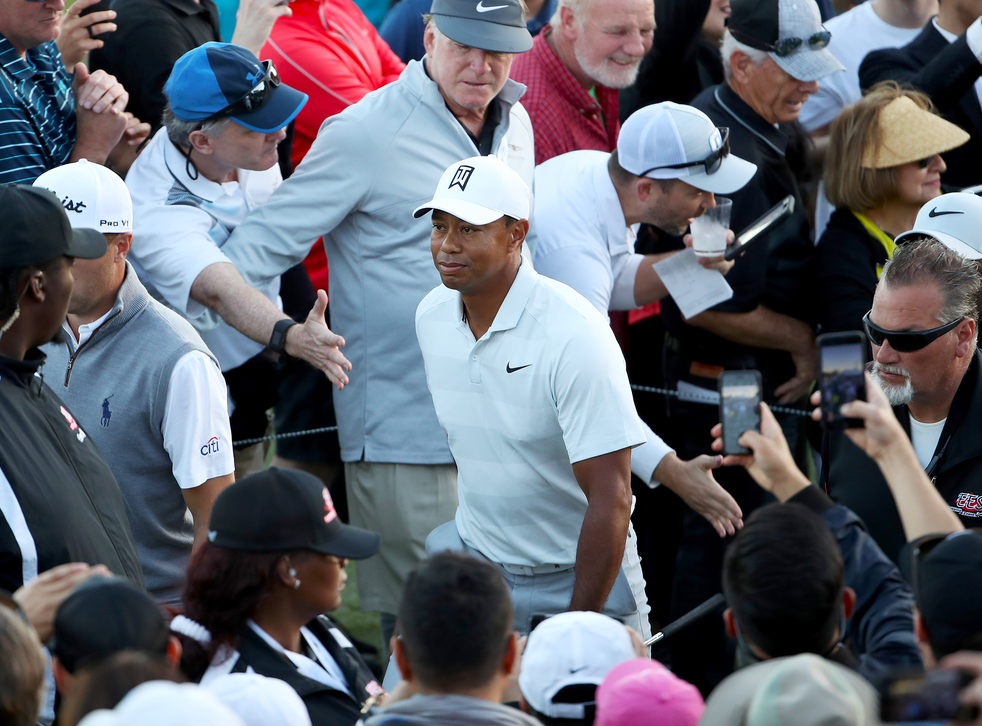 Tiger Woods continued his return to golf with his first appearance at the Riviera Country Club for 12 years, and with him came the return of one of golf's more tedious phenomena: the drunken imbecile.
"Mashed potatoes!" was one of the many enlightening hollers from the galleries as a minority of well-hydrated fans followed Woods and his playing partner, Rory McIlroy, in the blazing Californian sun.
"It might have always been like this, the whole Tiger mania," said an exasperated McIlroy. "But I swear, playing in front of all that, he gives up half a shot a day on the field.
"It's two shots a tournament he has to give up because of all that goes on around him. Whether that calms down the more he plays and it doesn't become such a novelty that he's back out playing again, I don't know, but it's tiring. I need a couple Advil just to... I've got a headache after all that.
"You've got a six-foot putt and they'll shout: 'It doesn't break as much as you think.' Just stuff like that, stuff they don't have to say. Whoever is teeing off at 8:30 in the morning doesn't get that and can just go about his business and do his thing. That's tough. Tiger has to deal with that every single time he goes out to play."
A couple of shots wouldn't have saved Woods from missing the cut at the Genesis Open, after opening rounds of 72 and 76, but the 14-time major winner believes he has paid a price through his career for the pocket of disruptive fans he seems to attract.
"It's cost me a lot of shots over the years," Woods said. "It's been a lot because all it takes is one shot on a Thursday and you lose the tournament by a shot on Sunday. What people don't realise, it's not just something that happens on Sunday afternoon – this is cumulative and it's par for the course. But I've dealt with it for a very long time."
Despite those frustrations, Woods was not despondent about his performance at what has traditionally been a course which yields little for his game.
"I haven't played golf in years, but I'm starting to come back and it's going to take a little time. I'm progressing and starting to get a feel for tournament golf again. I just need to clean up my rounds."
Bubba Watson leads the field heading into Sunday's final round on 10 under par. Northern Ireland's Graeme McDowell is well placed in the chasing pack, among five players within two shots of the leader. McIlroy is tied 42nd on even par.
Register for free to continue reading
Registration is a free and easy way to support our truly independent journalism
By registering, you will also enjoy limited access to Premium articles, exclusive newsletters, commenting, and virtual events with our leading journalists
Already have an account? sign in
Register for free to continue reading
Registration is a free and easy way to support our truly independent journalism
By registering, you will also enjoy limited access to Premium articles, exclusive newsletters, commenting, and virtual events with our leading journalists
Already have an account? sign in
Join our new commenting forum
Join thought-provoking conversations, follow other Independent readers and see their replies