From the Tour de France to The Hundred, the rise of manufactured sport is altering its very fundamentals
The idea of sport as a made-for-television event is nothing new, but this feels a step beyond: a willingness by governing bodies and bright entrepreneurs to renegotiate its rules, rhythms and traditions
Jonathan Liew
Chief Sports Writer
Saturday 19 October 2019 11:00 Comments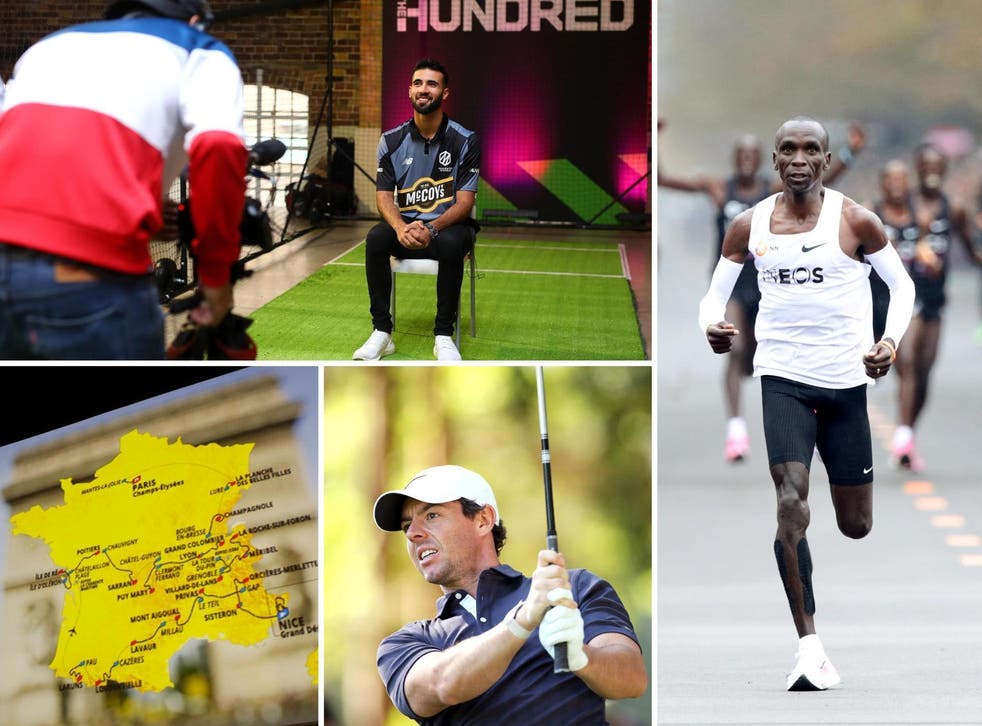 Perhaps the most surprising element of the 2020 Tour de France route, which was revealed in Paris this week, was the amount of surprise it generated. Riders and fans alike are by now well accustomed to the frequent claim that the following year's parcours, which is unveiled every autumn, will be "one of the toughest ever". But somehow, this one feels different: not simply because of its profile, but because of the glimpse it offers into where the sport – and perhaps sport itself – may be heading.
Traditionally, the Tour had its own inimitable rhythm: a ceremonial Grand Depart, a time trial or two, some flat stages for the sprinters, and then a gradual crescendo over weeks two and three as the race hit the high mountains. Over the last decade, however, under the direction of Christian Prudhomme, the stakes have gradually been raised. Little by little, the race organisers ASO have added frilly little novelty accoutrements – a cobbled stage here, a wall finish there – and above all more climbs, steeper climbs, earlier climbs, more relentless climbs.
And so we come to the 2020 iteration, described by Chris Froome as "brutal" and by seasoned Tour observers as one of the most unremittingly hilly in recent memory. It's not so much the volume of climbing that catches the eye so much as the frequency: the first mountain stage comes on day two, the first mountain finish on stage four, and the pace only intensifies thereafter, culminating in a murderous time trial up La Planche des Belles Filles on stage 20. Virtually every day threatens a shake-up of the general classification.
This is, of course, exactly what the organisers want. One of the more telling remarks from Prudhomme at the launch was that the Tour needed to appeal to what he described – with cherishably Gallic phrasing – as "notre civilisation du zapping": an attention-starved society with diminishing patience and an increasing lust for disruption, jeopardy, tactile thrills. A survey of cycling fans by the UCI governing body revealed that half think the sport is becoming "too predictable". For road cycling, this all points in one direction: fewer time trials, fewer slow-burning sprinters' stages, and a steady stream of manufactured disruption.
The Vuelta a Espana and Giro d'Italia cottoned onto this some time ago, introducing vicious "impossible climbs" like the Angliru and the Zoncolan, which stiffen to 20 per cent in some places. Now, it seems the Tour has drifted inexorably down the same path. Spare a thought for Mark Cavendish, one of the most vocal critics of cycling's mountain fetish, jettisoned by his team for this year's race, and for whom the five stage wins he needs to surpass Eddy Merckx's all-time record of 34 must seem more distant than ever.
Best pictures from the 2019 Tour de France

Show all 80
Give the people what they want. And then give them more of it. And more. Louder. And faster. This is as true in cycling as it is in other sports. Sunday night will see a television first: English cricket's inaugural player draft for The Hundred, a competition that illustrates the desperate measures some sports will take to chase eyeballs in a low-attention economy. Based on extensive market research and almost four years in the planning, The Hundred rips up the fabric of the domestic game in favour of an entirely new format, new rules and new teams. It lacks many of the components of what we traditionally think of as sport: a grassroots structure, a supporter base, organic rivalries, historical context. It promises nothing, in fact, but the spectacle of good cricketers being paid loads to smash it miles. Which, admittedly, is quite fun. But it's merely an extreme example of a wider trend: an increasing dissolution of the boundary between sport and televised entertainment.
Of course, the idea of sport as a made-for-television event will be nothing new to any Premier League fan forced to swap shifts at work because Sky have moved the fixtures around again. Similarly, television has long had an influence on the cosmetics of sports, from yellow balls in tennis to replay technology. But this feels a step beyond: a willingness by governing bodies and bright entrepreneurs to renegotiate the very fundamentals of sport – not just its aesthetics but its rules, rhythms and traditions – in an attempt to keep pace with the marketplace.
Some sports are further along the curve than others, but ultimately none is exempt. Golf has been flirting with more TV-friendly formats for years, with its latest wheeze taking place next week in Japan. On Monday, Tiger Woods, Rory McIlroy, Jason Day and Hideki Matsuyama will compete in a televised skins game, where each hole offers prize money to the winner. And perhaps the greatest triumph of manufactured sport in recent times was Eliud Kipchoge's 1:59 challenge in Vienna. Part inspiring triumph of human will, part weird shoe advert, it offered up an acutely TV-influenced vision of sport: one in which the audience will forgive virtually any amount of artifice if the spectacle is compelling enough.
And in any case, perhaps we're getting hung up on this concept of sport as some chaste, crystalline ideal of authenticity. Perhaps future generations will regard our scrupulous distinction between "sport" and "entertainment" as a quaint affectation, two parts nostalgia to one part pedantry, like splitting the difference between cinema and film. Perhaps it's pointless shoving things like Test cricket or bunch sprints down people's throats when the marketplace tells us so clearly that it doesn't want them. Ultimately people desire what they desire, and any self-respecting market economy will make sure that at the right price, they'll get it. What you call it: well, that's the least of anybody's worries.
Register for free to continue reading
Registration is a free and easy way to support our truly independent journalism
By registering, you will also enjoy limited access to Premium articles, exclusive newsletters, commenting, and virtual events with our leading journalists
Already have an account? sign in
Join our new commenting forum
Join thought-provoking conversations, follow other Independent readers and see their replies