Bahrain Grand Prix qualifying LIVE: F1 latest updates, track times, results, grid and pole position
Follow all the latest updates from the first grand prix of the season as Lewis Hamilton sets sights on a record eighth world title
Andrew Gamble
Saturday 27 March 2021 16:55 Comments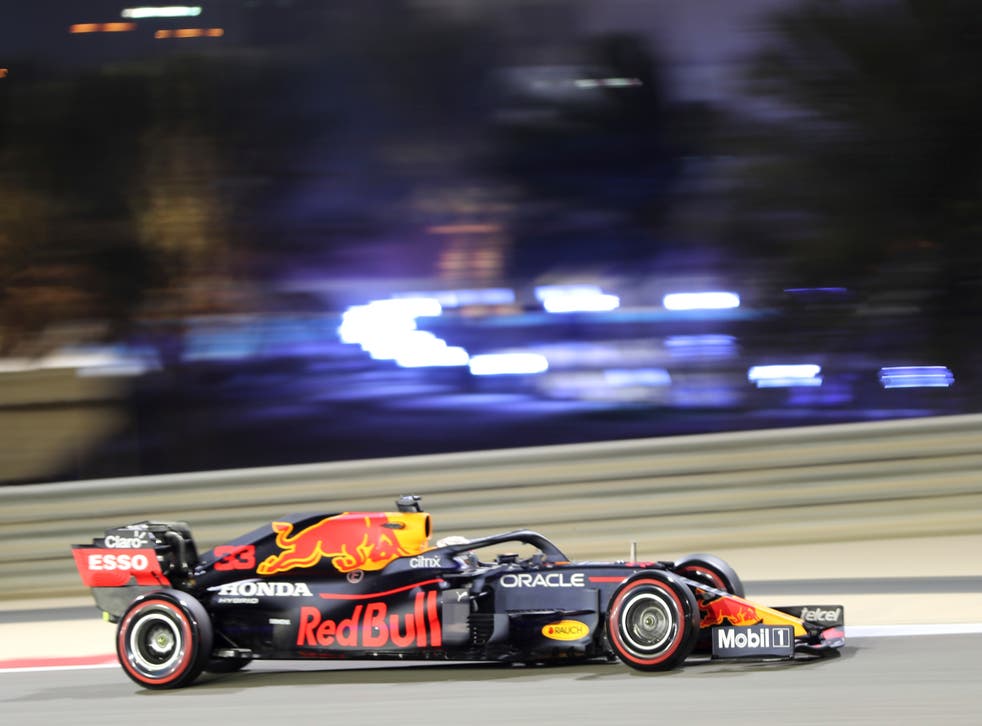 ed Bull's Max Verstappen took a superb pole position on Saturday for the season-opening Bahrain Grand Prix and will start the race immediately ahead of Mercedes driver Lewis Hamilton. Verstappen earned his fourth career pole to deny Hamilton his 99th, edging out the world champion by .39 seconds on his final attempt. "The whole weekend has been pretty good so far," Verstappen said. "We knew what our weaknesses were last year and it looks like we've addressed them." Verstappen praised Honda for improving reliability. "Honda have worked really hard to improve their engine," he said. "Their turnaround has been really good and their understanding of the engine is impressive. They are just flat out all the time and want to win." Hamilton's teammate Valtteri Bottas was .59 behind Verstappen in third, while Charles Leclerc qualified in an encouraging fourth for Ferrari. In another encouraging sign for Honda, Pierre Gasly was fifth for AlphaTauri, which also uses their engine. Verstappen clinched the season-ending Abu Dhabi last December from pole and now goes for the 11th win of his career. Hamilton seeks a record-extending 96th win. "We knew it was going to be a challenge, a bit of an uphill slog," Hamilton said. "Congratulations to Max. I gave everything I had." Verstappen led the first part of qualifying, known as Q1, ahead of AlphaTauri's 20-year-old Japanese driver Yuki Tsunoda. Both cars use Honda engines and the Japanese manufacturer is in its final season before leaving F1. Sebastian Vettel, who endured a torrid season last year with Ferrari, started the new one badly. He was among the five drivers eliminated from Q1 and starts 18th for Aston Martin. Michael Schumacher's son, Mick Schumacher, starts from 19th at the track where his father won the inaugural race in 2004, the year he clinched his seventh F1 title. Hamilton is looking to win a record eighth title. Ferrari duo Carlos Sainz Jr. and Leclerc topped Q2 ahead of Hamilton, an encouraging sign for the famed Italian manufacturer given last season's difficulties. Earlier in the day, Verstappen clocked the fastest time in the final practice when, in hot conditions, he was .74 seconds quicker than Hamilton. Vettel came back to the garage with about 20 minutes left in the session, telling his team some debris had hit his race helmet. Qualifying took place in the evening under cooler conditions as the sun set on the Sakhir desert track. Verstappen is continuing his form from pre-season testing and last year's season-ending Abu Dhabi GP, which he won. [AP}
Re-live all the action below.
1616863484
ALOSNO 'HAPPY' AFTER RETURN TO F1
Alonso is back in F1, and he made a statement during his first qualifying session.
 "The week has been difficult. I lack confidence in the rear of the car. You never know what to expect in the first session of the year but I am happy.
"I came with some confidence into qualifying and it was better than I expected. I need to get a good start tomorrow, to get away from problems.
"The adrenaline and the fun to drive is amazing. 57 laps in a row - that will be the first time since testing. Top 10 and to score points is the target. If we do a good start and strategy, anything is possible."
Andrew Gamble
27 March 2021 16:44
1616863237
DOMINANT, BUT WILL VERSTAPPEN WIN TOMORROW?
Andrew Gamble
27 March 2021 16:40
1616863015
CHRISTIAN HORNER PLEASED WITH 'FANTASTIC FIRST TEST' - BUT WARY OF MERCEDES
After watching Verstappen take the first pole position of the 2021 season, Red Bull boss Christian Horner said: "It's fantastic for us - that's our first pole since 2013 and Honda's for about 30 years.
"I think it's going to be very, very tight tomorrow. The whole team has worked hard over the winter and Honda have been fantastic.
"Mercedes - look at how they have turned up. Everyone was writing them off. It'll be massively hard for us to beat them but we'll be there."
Andrew Gamble
27 March 2021 16:36
1616862639
VETTEL WON IN 2011 - IS IT MAX'S TIME IN 2021?
Andrew Gamble
27 March 2021 16:30
1616862501
VERSTAPPEN VS MERCEDES
Verstappen on pole for the Bahrain Grand Prix, but the Dutchman is going to have to fend off the relentless Mercedes duo of Hamilton and Bottas by himself.
Sergio Perez starts 11th - Red Bull just can't seem to find a competitive replacement for Daniel Ricciardo nearly three years since his departure.
Andrew Gamble
27 March 2021 16:28
1616862333
ALPHATAURI OFF TO A GREAT START
Charles Leclerc said in his post-qualifying interview that AlphaTauri surprised him - and Gasly is as excited as the Monegasque driver.
The Frenchman, who remarkably won the 2020 Italian Grand Prix, has matched his career-best qualifying position as he starts in fifth tomorrow.
Andrew Gamble
27 March 2021 16:25
1616861910
YOU BETTER BELIEVE ALONSO IS BACK!
The Spaniard is a divisive figure amongst fans and critics alike but, as someone that grew up with his Renault and free-flowing locks dominating the sport for those two seasons, I am so pleased that Alonso is back.
He is a living legend and one of the all-time great drivers. I am thrilled to see him start ninth.
Andrew Gamble
27 March 2021 16:18
1616861740
BOTTAS HOPING FOR IMPROVED MERCEDES PERFORMANCE
The Finn starts third despite a tumultuous series of practice sessions.
"The session this morning wasn't easy and we had a couple of issues.
"This evening was a bit better, but we're not quite where we want to be - hopefully we can improve a little for tomorrow"
Andrew Gamble
27 March 2021 16:15
Register for free to continue reading
Registration is a free and easy way to support our truly independent journalism
By registering, you will also enjoy limited access to Premium articles, exclusive newsletters, commenting, and virtual events with our leading journalists
Already have an account? sign in
Join our new commenting forum
Join thought-provoking conversations, follow other Independent readers and see their replies