A final twist in the road for Brawn
Ross Brawn turned F1 on its head this year, leaving rival teams reeling. He reveals how it feels to follow those highs by losing his world champion driver, selling his team – and banking £70m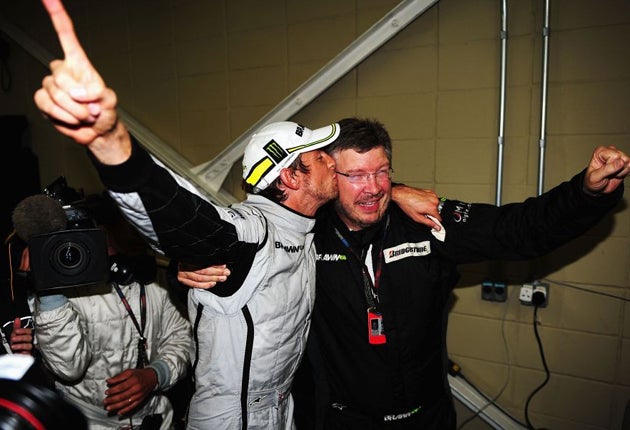 Everyone knows that in motor racing, Britain's got talent. After all, the past two years have yielded two British world champions.
Yet plenty in Formula One believe that Britain's greatest motor-racing talent is embodied not by the dashing Jenson Button or the debonair Lewis Hamilton, now team-mates at McLaren, but by a bespectacled 54-year-old engineer with a fondness for fly-fishing and sensible knitwear, who welcomes me into his office, near Brackley in Northamptonshire, with the demeanour of a wise, kindly professor. Not for nothing is Ross Brawn known in the pit lane as "the Owl".
There was a good deal of owlish wisdom in his decision, announced on Monday, to sell a 75 per cent stake of the Brawn GP team to his engine supplier, Mercedes, for at least a reported £70m. A year ago, Brawn GP did not exist. A year ago, indeed, Brawn was not even aware that the company he worked for, Honda, was about to pull the plug on its motor-racing operation. But it did, so he formed his own team, Brawn GP. And by the season's end the fledgling team held both the constructors' and the drivers' world championships. Talk about making yourself saleable. Moreover, he doesn't even have to vacate his office. The deal with Mercedes is such that Brawn stays in charge.
What he does lose is his name over the door. In a sport which sometimes appears to be powered as much by hubris as it is by the internal combustion engine, Brawn is a man with refreshingly low reserves of vanity. But even so, it must cause him a twinge of regret, after just one season, to see his name coming down, and that of Mercedes-Benz going up, doesn't it?
"Well, at some stage as a team owner you have to pass it on," he tells me. "I'm almost 55 and I'm not planning to do a Bernie [Ecclestone, still firing on most if not all cylinders at 79]. It was tempting to try to repeat this year's success [as Brawn GP] but it would have been an awful risk. We were already working with their [Mercedes'] engine group and all the stars aligned. It was an opportunity to give the team a very strong future."
That future will not now include Button, who was unveiled as a McLaren driver on Wednesday even though the great and the good of Formula One had volubly advised him to stay put. Unsurprisingly, Brawn echoed this advice, while conceding that it might be disregarded. "The logical thing would be for him to stay with us," he told me on Tuesday afternoon, "but of course logic doesn't always prevail."
In Brawn's world, logic does prevail, which brings us back to his own deal with Mercedes. The German manufacturer is offloading its 40 per cent shareholding in McLaren, the partnership increasingly compromised by McLaren's own ambitions in the road-car market. With Mercedes and McLaren looking like obvious candidates for divorce, Brawn GP and Mercedes became natural bedfellows. Yet 75 per cent of any bed is a lot to give up. It seems worth asking again whether it made Brawn wince to sacrifice his team's identity, albeit for an assured future.
"Well, yes, as I said to the staff, it's sad to see the team only in existence for a year, but what a year! We've had a wonderful time, and in many ways it was a difficult decision, but now we've joined the most prestigious brand in the automotive world."
Enshrined in the deal is his continuing position as team principal, a condition demanded by Mercedes, not Brawn, before signatures were committed to paper. "It was part of the attraction for Mercedes that the management team remains," he explains, modestly. "Obviously we will become subject to their budget discussions, but the racing decisions will continue to be made by us. As with everything in life, if we do a good job that will stay the same, and if we do a bad job things will change."
Such are the expectations he has created that a good job means only one thing: further world championships. Brawn was hailed as an engineering genius even before he forged an almost unholy alliance of technical wizardry and cockpit fearlessness with Michael Schumacher, first at Benetton and later, unforgettably, with Ferrari. He is also considered to be one of the most astute race strategists in the business. This is a fellow who rarely stops thinking about how to reach the chequered flag first.
But rarely does not mean never. Several times a year Brawn empties his high-octane mind completely of cars and racetracks, and almost perversely, this week is such a time. The Mercedes deal had scarcely been announced, and Button's future was still in the balance, when the Owl flew off to a remote atoll north-east of Mauritius, for a week of saltwater fly-fishing. I talk to him twice, first at some length in his office, and later over the phone. Today, that's where he'll be: waist-high in the Indian Ocean, far more interested in the wake of a bonefish or giant trevally than the wake of Button's high-profile departure. Back at Brackley, his secretary is under strict instructions not to contact him except in the event of a real emergency.
There was one such a year ago next week, an emergency which propelled Brawn into the most remarkable 12 months of even his eventful career. He and his chief executive, Nick Fry, were invited by their Honda paymasters to the Renaissance Hotel at Heathrow for what they thought was a budget meeting.
"Instead, we were very apologetically informed that the board had decided they couldn't continue in Formula One. Nick and I spent the rest of the day working out how we could turn out the lights and shut the doors in the fairest possible way to all our people – over 800 in the UK alone. We had no notion that we might continue, but that was a subject we broached once we'd recovered from the initial shock. Could we keep it going? It didn't look very sensible, but at the same time, we hadn't really understood the huge costs of closing a company."
Happily, Honda agreed to leave enough money in the pot to keep the car development programme going, around £2m, which bought time for Brawn and Fry to look into refunding and rebranding the team. "And Ferrari and Mercedes, through McLaren, offered us an engine, enabling our winter programme to carry on. Formula One showed a benevolent side that isn't always apparent to people, but the great thing about motor racing is that it's a club, and although most of the time you're trying to beat each other by whatever means possible, in dire times the club comes together very well.
"Ron Dennis, Jean Todt, Jackie Stewart, all rallied round to offer support, wanting us to stay alive. I see it happening now with Toyota, although their management don't seem to want to engage in a team-saving exercise. But Honda did engage, and all credit to them."
A year earlier, Brawn told the Honda executives he had decided to sacrifice the forthcoming 2008 season in pursuit of glory in 2009. He knew the car wouldn't be competitive in 2008, but he also knew that he could turn to his advantage the loudly trumpeted regulation changes for the 2009 season, especially those pertaining to his beloved aerodynamics.
"I'd been around long enough to see these things happen before. There were new regulations in 1994, and at Benetton we had the jump on everyone for the season. So this time we decided to redirect all our resources into the new car, and get all the aerodynamic research started early. Of course, it's possible that our poor performance in 2008 confirmed to Honda that they shouldn't continue, which was frustrating, because I didn't want to finish my Formula One career at the end of 2008, the worst championship I'd had for 15 years. And I knew we had a race-winning car for 2009."
After several months of the Formula One equivalent of rattling tins on station concourses, he and Fry secured the funding to test the new car's mettle in the only environment that really counts: on the track. When, I ask Brawn, did he begin to realise that it might be a car capable not just of winning races, but the championship itself?
"Well, you start to believe you're capable of challenging, but you always think it's going to be snatched away. I spent three years at Ferrari losing the championship in the last race, or very close to it, and two years ago we saw Lewis Hamilton going into the last two races with a 17-point lead, which should have been no contest. There's always a healthy degree of paranoia in this business, because you're relying on the performances of drivers but also on a complex piece of machinery. So even though we had a fantastic start I knew that the other teams would start to catch up. But if you throw everything at the car to make it faster, reliability suffers. Red Bull had a faster car than us , yet we finished more races."
A month ago in Brazil, where the championship was finally secured, Brawn was sapped of all his usual sangfroid and blubbed like a baby, understandably overwhelmed to have completed a journey, in 11 short months, from the brink of making 800 people redundant to the summit of the motor-racing world. Of course, it was a seismic season not just for him and his team, but also for the sport in general. What are his feelings about the so-called "crashgate" scandal?
"Well, we were involved with races where we would use our drivers strategically. At Suzuka in the late 1990s, Michael [Schumacher] built a lead while Eddie [Irvine] controlled the pace of the rest of the pack. And in 1997 we lost the world championship because [Heinz-Harald] Frentzen held Michael when [Jacques] Villeneuve was pulling away. The FIA won't accept it now, but that's how we did it in those days. This [Nelson Piquet Jnr's premeditated crash in the 2008 Singapore Grand Prix] was different. This crossed a boundary nobody had ever crossed before, and in many ways I'm glad it came out and got punished. I can safely say it will never happen again."
Can Brawn safely say, though, that his sport is as good as it can be? Or to put it another way, given sweeping powers beyond even those wielded by Ecclestone, what might he change? "I'd like a scientific approach to find how we can enhance the sport for spectators. The format has stayed the same now for a very long time – qualifying on Saturday, racing on Sunday – but is it the best format? Other sports, such as cricket, have changed dramatically in recent years. What can we do with our sport? Should we have two races on a Sunday? I don't know, and it's a problem that I don't know."
Right now, however, it's safe to speculate that the only problem exercising his mind is how to avoid casting a shadow over the bonefish he's stalking. "Fishing is a bit primitive at times," says the man who takes engines apart in his dreams, who has just signed his name away for £70m, "and I find that very appealing."
Join our commenting forum
Join thought-provoking conversations, follow other Independent readers and see their replies