Bernie Ecclestone tells teams to cut costs or else
Marussia and Caterham have gone bust in past two months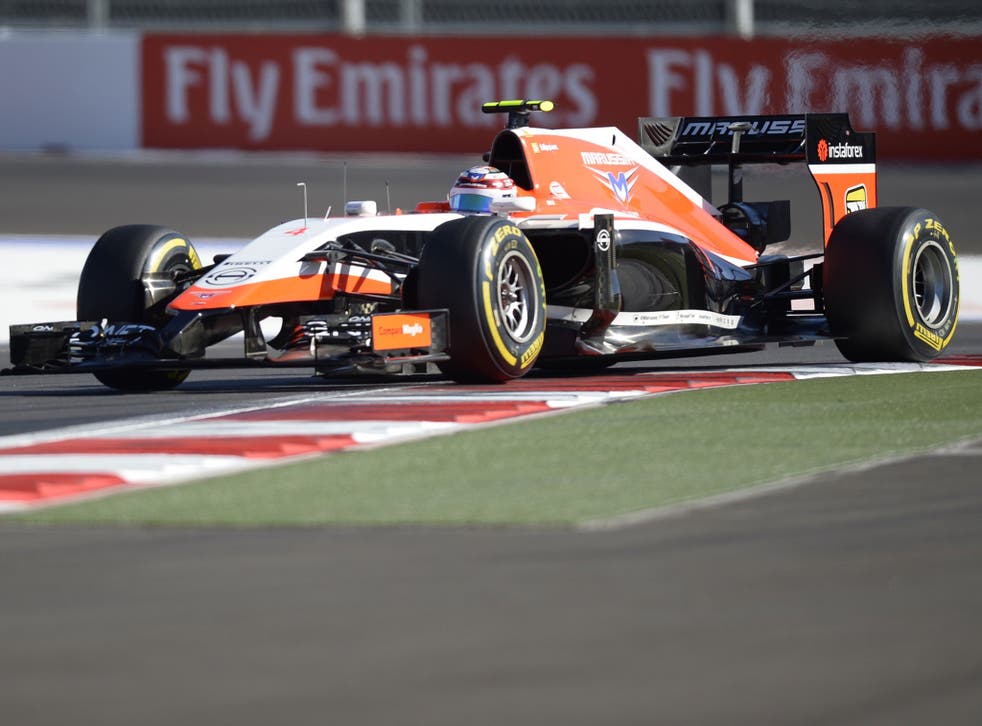 Bernie Ecclestone said Friday night that he is determined to force through cost cuts on Formula One teams after the failure of talks on Thursday.
Two teams – Caterham and Marussia – have gone bust in the past two months and Ecclestone said their demise has been fuelled by this year's switch from 2.4-litre V8 engines to 1.6-litre V6 turbos, which cost double at around £30m annually.
At Thursday's meeting of F1's decision-making body, the Strategy Group, Ecclestone attempted to engineer a return of the V8 engines in 2016, but he said: "Nobody wants to change the engines, they are all happy.
"The engine situation is unchanged. It's not exactly great progress. The next step is that we will have another meeting in January and the teams will have to come back with something positive. If they don't, we will say this is how it has got to be."
Mercedes has been the biggest beneficiary of the switch to the V6 engines and raced to victory this year with Lewis Hamilton at the wheel. The V6 engine regulations are due to be in place until the end of 2020 and Ecclestone said the only way they could be changed for next year is through a unanimous vote from all the teams.
"You're never going to get that because Mercedes will never agree," he said. "For 2016 we would get away without it being unanimous. That's for the January meeting. These people don't seem to be making any big effort to save on costs."
In April the Strategy Group vetoed a £120m cap on team budgets which was due to be introduced in 2015. That would have levelled the playing field and could have prevented the collapse of Caterham and Marussia.
Earlier this week Marussia sold nearly 1,000 items, from race suits to race cars, in an auction to pay off its bills. It still owns the prized F1 grid slot and if it can make it to the start of next season it will be entitled to an estimated £34m of prize money. Ecclestone says he has no intention of withholding this.
"If Marussia can find somebody who can prove they have enough money to run for the whole year, and we agree they are right, we would leave things as they are," he said.
Ecclestone himself got a boost on Thursday when he was re-appointed to the board of F1's parent company after stepping down earlier in the year to battle bribery charges. They were dropped in August when he paid a record £60m settlement, but his position as F1's boss has been the subject of speculation since then.
It was recently reported that F1's owner, the investment fund CVC, wanted drinks company boss Paul Walsh to become chairman of the sport and take over some of Ecclestone's duties. But the brakes were put on this plan on Thursday when Walsh became a director, but not chairman, of F1.
"It was never discussed by the board so he was never offered it," said Ecclestone. F1's current chairman Peter Brabeck-Letmathe reportedly needs to stand down due to a long-term illness and Ecclestone said: "We will find somebody. Lots of people are in the frame.
"It will probably come up at the next board meeting next year. I don't want to be chairman. That's the last thing I need."
Register for free to continue reading
Registration is a free and easy way to support our truly independent journalism
By registering, you will also enjoy limited access to Premium articles, exclusive newsletters, commenting, and virtual events with our leading journalists
Already have an account? sign in
Register for free to continue reading
Registration is a free and easy way to support our truly independent journalism
By registering, you will also enjoy limited access to Premium articles, exclusive newsletters, commenting, and virtual events with our leading journalists
Already have an account? sign in
Join our new commenting forum
Join thought-provoking conversations, follow other Independent readers and see their replies