Meet Callum Ilott, the British Ferrari driver following a well-trodden path to Formula One
Ilott will race in the GT World Endurance Cup after being named Ferrari's official test and reserve driver for the upcoming F1 season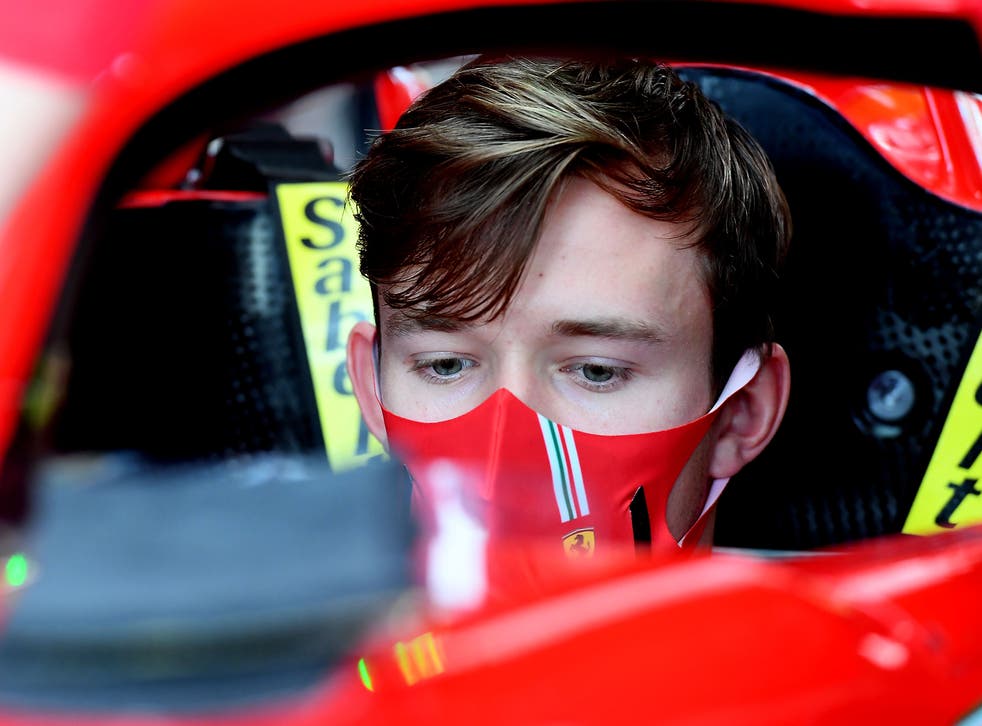 Only a select few experience the thrills of racing while donning the historic red of Ferrari. In fact, nowadays, even the very thought of being in northern Italy is like a dream – a relaxing break away from the harsh reality of 2021.
But for Callum Ilott, Maranello is merely the site of the relentless pursuit of his childhood dream, and he took another step last December when he was named as the official test and reserve driver for Ferrari in the upcoming Formula 1 season.
"It's quite nice to finally step into the F1 side of things within Ferrari, but the driver academy prepared me for this," he said. "You're always working to the next goal."
Just last week, Ferrari announced his new goal and confirmed that the British driver will race for Iron Lynx in the 2021 GT World Endurance Cup. While F1 remains his primary objective, Ilott has set his sights on competing and succeeding in a series that challenges drivers in different ways than the pinnacle of motorsport.
"GT is a very different step to what I've been progressing up to, so it's quite an interesting challenge – it's obviously not as fast as I'm used to! I'm really excited for the endurance side of things. I haven't done a race over an hour long before and doing longer stints will help me in the long run," he said.
"It's a different atmosphere with teammates. Instead of competing, you're working together and I think there's a lot to learn both for and from it – getting experience for every different type of car is never a bad thing."
The 22-year-old believes his team is strong enough to contend for wins, with Ilott suiting up alongside Italian duo Davide Rigon and Antonio Fuoco to drive a Ferrari 488 GT3 Evo 2020.
The Briton is excited for the wheel-to-wheel racing that occurs in GT, but he is aware of the innate differences between the series and F1 or F2.
"I think I will be in for a shock when we come to the first race and there's 60 cars on track! I haven't experienced being able to overtake constantly every lap before – hopefully I'm not the one getting lapped because I'd be having a bad race – but I'm looking forward to that."
It may not be the dramatic travelling circus of F1 just yet, but the GT World Endurance Cup boasts many of the most famous races in the world, including Monza, the Nurburgring and Spa 24 Hours – all tracks that Ilott enjoys.
"It's hard to fill the season up with just five races, but in terms of their quality, we're heading to some really good tracks," he said. "Obviously the Spa 24 Hours is going to be something I've never experienced before, and it's probably the biggest race I'll have this year."
Ilott is ready for the new experience that GT offers, but an old tradition remains at the forefront of his mind. A member of the Ferrari Driver Academy, Ilott could perform for Haas, Alfa Romeo or Ferrari in a practice session this season. If he dresses up for the Prancing Horses, he will be the first British driver this century to drive for the famous manufacturer in an official race weekend session.
"To represent Ferrari, firstly for myself and then as a Brit, would be amazing," he said. "I'm really excited to continue this journey and enjoy it because there's a lot to learn, a lot to see and hopefully more opportunities will come from it."
While being the official test and reserve driver for the Ferrari F1 team in 2021 is exciting, the opportunity is bittersweet for Ilott after he came so tantalisingly close to realising his dream at the highest level. He admitted he was left with a mixture of emotions when he got the call.
"It was a bit of a shame to miss out on the F1 seat. I just need a little bit of patience. I'll be better prepared, I'll know more than if I was going [into F1] now, and hopefully I can put myself in an even better position for next year.
"I'm always one for saying whatever situation you are in, you just need to make the most out of it and do what you can – so I have to work as hard as possible.
"Of course, I'd love to be in F1 already but I have a great opportunity to learn and experience a lot of things that some others haven't."
It was another near-miss for Ilott, who narrowly lost out on the F2 championship – and a seat at Haas – to Mick Schumacher. He may not have claimed the title, but the Briton insisted that he proved himself in 2020.
"It was a big shame that I didn't take the championship – I really had the ability to do that – but it's just a championship at the end of the day. There were so many highlights to that year, but I feel I have definitely shown what I'm capable of in various circumstances. It's helped my career massively and put my name at the top of the list where it should be."
There has been a wave of young talent emerging within F1, and the grid will have an average age of just over 27 years in 2021. Ilott has progressed through the ranks alongside the likes of George Russell and Charles Leclerc – and the Briton picked the duo out as two drivers that impress him most.
"I was teammates with [Russell] in 2015 and I've seen him go from low patches to taking the GP3 and F2 titles. It's incredible to see the way [Leclerc] works. When he was in F2 with Prema, I was in F3 with the same team so I got to see how he was working – that progression from F2 to Alfa Romeo and then Ferrari was something. They're being rewarded now with a great opportunity."
Despite admiring Russell and Leclerc, Ilott was frank when asked whether he mimics his driving style on past greats.
"You have to just develop as your own driver. There's always the more aggressive or the safer drivers, and I think you have to discover yourself. It's quite difficult to copy others.
"It's always interesting to hear the comparisons – I got compared to [Fernando] Alonso recently for my wet pole lap in Budapest – but I never base myself on someone else."
He may not copy others, but Ilott's route towards the goal of Formula 1 is a well-trodden path with the likes of Aston Martin's Lance Stroll, Red Bull's Sergio Perez and Leclerc all coming through the Ferrari Driver Academy.
While Ilott would have wanted to join the big leagues for 2021, he is remaining optimistic ahead of his venture into GT.
"It's all part of the experience."
Register for free to continue reading
Registration is a free and easy way to support our truly independent journalism
By registering, you will also enjoy limited access to Premium articles, exclusive newsletters, commenting, and virtual events with our leading journalists
Already have an account? sign in
Register for free to continue reading
Registration is a free and easy way to support our truly independent journalism
By registering, you will also enjoy limited access to Premium articles, exclusive newsletters, commenting, and virtual events with our leading journalists
Already have an account? sign in
Join our new commenting forum
Join thought-provoking conversations, follow other Independent readers and see their replies