Why climate will be the winner when revolutionary 4x4 cars race through the Saudi Arabian AlUla desert
Extreme E is a new groundbreaking sport which will see drivers including former F1 world champion Jenson Button take on the sands of AlUla and some of the most spectacular – and unseen – environment on the planet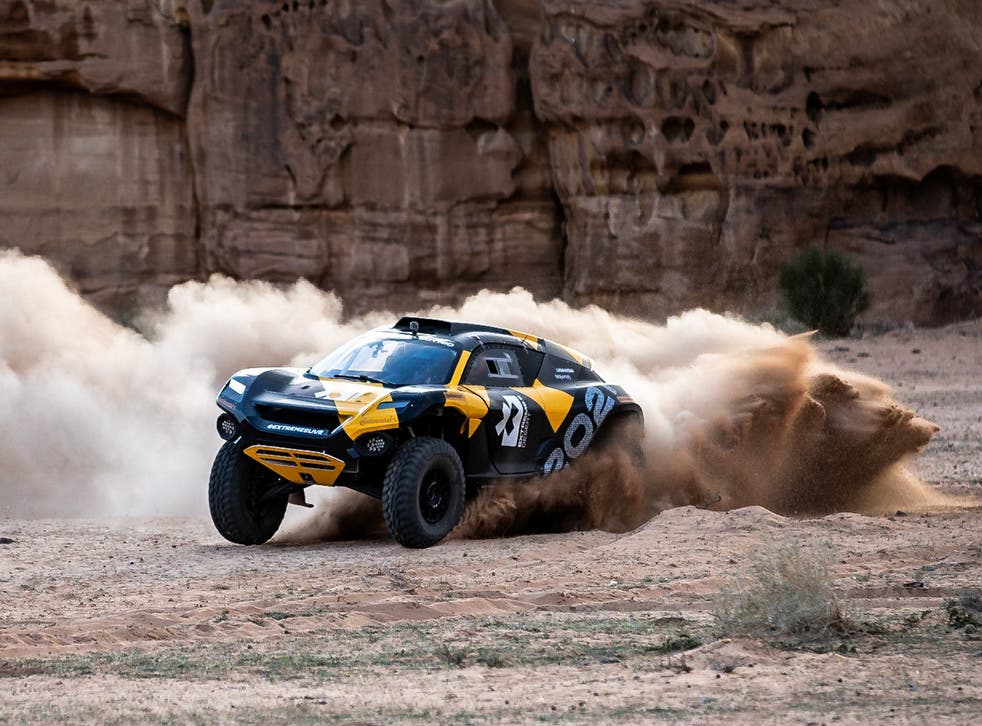 A new rally-style series is going to the ends of the earth, before we hit the end of the world. Mixing environmental conservation with rough-and-ready motorsport might seem impossible but a carefully designed approach lets Extreme E be kind to our environment while facing hard facts.
If you asked most people to think about car racing, what comes to mind is Formula One: the roar of the engines, the crowds, the spectacle of an iconic race track. Nowhere on that list would be environmental awareness, let alone an event hundreds of miles from a whiff of glamour, or petrol.
A man who knows the difference well is legendary F1 designer Adrian Newey, who joined Extreme E as a founding member of the Veloce team. Going from grands prix to off-road electric rallying, with a team who are themselves stepping from racing virtually in computer games into some of the most rugged environments on earth, might seem like a big leap but he says it's a motorsport like any other, in competition terms.
"I guess in some ways it's back to much earlier in my career where the teams are much smaller and that's all part of the excitement. I've learned to grow and adapt as Formula One's got bigger and bigger but the essence of motorsport, the competition is always the same: we're trying to find ways to make the car go faster and beat our competitors."
The first race event takes place on the sands of AlUla, Saudi Arabia. Over 26,000 kilometres of dunes and rocky outcrops are some of the most spectacular – and unseen – environment on the planet. AlUla opened for tourism in 2017, with visitors able to see heritage sites and ancient tombs there but Extreme E goes further into the desert, to landscapes made critically vulnerable by the effects of climate change.
Veloce, like all teams in Extreme E, have had just a few days to prepare their Odyssey-21 electric SUV for a season of racing across the world that starts in April and ends in December. Unlike most racing series, the cars in Extreme E don't go back to factories for repairs and upgrades between events – they're transported on the St Helena, an environmentally adapted former Royal Mail ship. The St Helena lets the series take equipment for sport (and the scientific work they're doing alongside it) across the globe with minimal impact.
Each team has one car and a three-by-two metre pallet of equipment to last them the season. To make it more complicated, the single car is shared by two drivers.
"It's the first season of the cars, so it's going to be down to the teams, in engineering terms, to get the best setup for a particular venue," Newey explained, on what Veloce can do to prepare their 4x4 for the challenge. "Then it's down to the drivers and within the two drivers, one male and one female and you've got the extra angle of how they compete against each other."
Although motorsport like F1 and the World Rally Championship isn't gender-separated (and women have competed in both) they are overwhelmingly male. Extreme E bucks that trend by instructing teams to pick a male and female driver for their cars, evening out the numbers, if very much not the terrain they'll be racing on. Drivers including former Formula One world champion Jenson Button, rising star Jamie Chadwick and rally driver Catie Munnings, while team owners include Lewis Hamilton and Nico Rosberg.
Extreme E goes to locations so remote that it faces challenges almost no other series does. How do you charge electric cars, hundreds of miles from the nearest plug socket? Let alone do it quickly, between stages? The solution is hydrogen fuel cell generators, which can supply power to the cars with water as the only waste product. Batteries are better for a race car getting chucked around a brutal landscape but hydrogen from electrolysis is a way of storing electricity generated from clean sources and transporting it wherever the series needs.
Because of environmental concerns there are no spectators at the races and Extreme E has a projects side that will make sure they leave places better than they find them, details of which will be unveiled later this month – in AlUla, a unique ecosystem with 228 native plant species and home to endangered wildlife like the Arabian leopard, the projects will work against areas becoming barren and the global problem of desertification. There's no point showing up to a fragile iceberg, saying "oh dear" and making it worse, after all. The idea is to get hold of something sport gives us; hope, via the evidence we can reverse what's happening, as well as marking how important the situation is.
Newey says he understands the cynicism. "What's so different is that it's trying to raise global awareness of ecology, within a sports arena. So at the same time as having that awareness, you've got the excitement of what's going on in the build up to the competition. Detractors might say, 'well, how can relatively heavy 4x4s going around the world, possibly be billed as ecology?' But you can level the same criticism against David Attenborough shows, behind there, there's a carbon footprint but few people would argue that David Attenborough should be stopped from making them. I think this is exactly the same. I hope it will raise awareness and people can see that things can be reversed and act appropriately."
Extreme E's teams of drivers and scientists hit the sands of AlUla over 3-4 April, and the racing will be broadcast on the BBC, ITV, Sky Sports and BT Sport in the UK.
Register for free to continue reading
Registration is a free and easy way to support our truly independent journalism
By registering, you will also enjoy limited access to Premium articles, exclusive newsletters, commenting, and virtual events with our leading journalists
Already have an account? sign in