Why AlUla and Extreme E make a perfect duo in the fight against climate change
The brand new motorsport series took to the sands of the spectacular AlUla desert aiming to promote electric vehicles and raises awareness of the climate crisis
Thursday 15 April 2021 16:48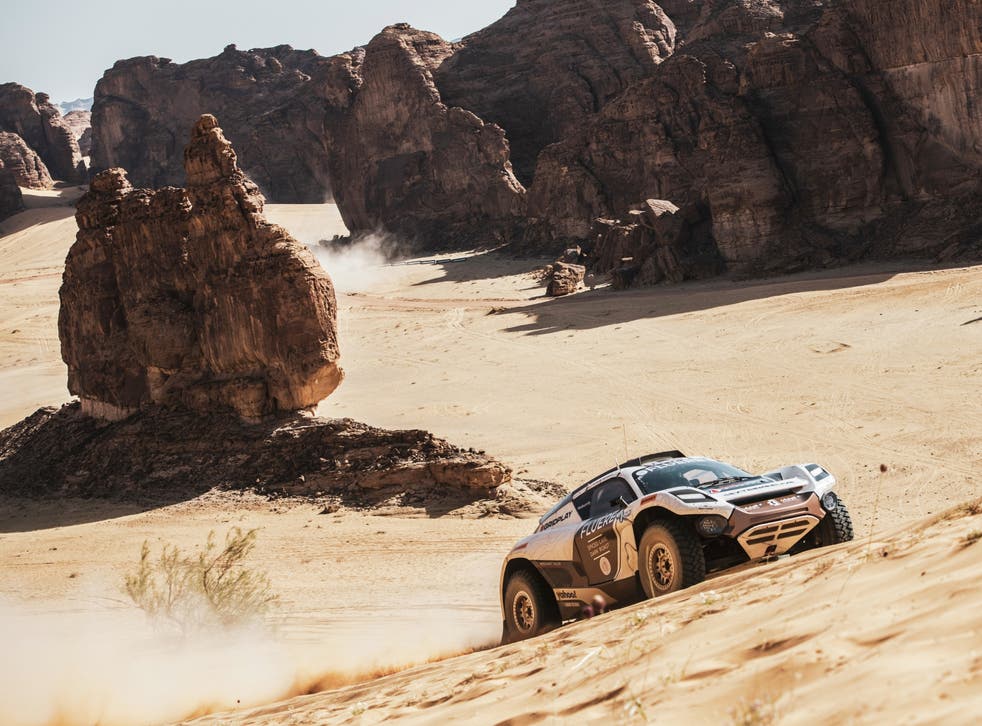 At first glance, the Saudi Arabian desert region of AlUla might seem like an odd choice as a place to raise awareness of the climate crisis and promote green energy. This is the stated mission of Extreme E, the new all-action motorsport series which took to the desert sands of AlUla last weekend in an entertaining debut of SUV racing, featuring teams owned by Nico Rosberg and Lewis Hamilton, as well as drivers including Jenson Button and rising stars like Catie Munnings.
Extreme E aims to put on a show but it carries a promise to be more than just entertainment. Organisers have chosen five 'extreme' race locations around the world, from the Amazon rainforest to the Arctic ice, aiming not only to raise awareness of specific environmental problems like deforestation and melting ice caps, but to leave a legacy of sustainability in their wake. The race vows to be carbon negative by minimising its footprint and offsetting any unavoidable emissions.
So Saudi Arabia might seem like an unnatural host for the inaugural race – yet dig deeper and it soon makes sense. The country is determined to become a pioneer in the global energy revolution, diversifying its economy away from fossil fuels like oil towards renewables and tourism. The 'Saudi Green Initiative' aims to reduce the country's emissions by generating half of its energy from renewables by 2030, while it also announced ambitious proposals to plant 10 billion trees across the Kingdom.
Many of these trees will be planted in the desert. Saudi Arabia is determined to confront grave environmental challenges head on, and to open its doors to tourism in a sustainable way that preserves its remarkable worlds both natural and historic, like AlUla's UNESCO World Heritage site of Hegra, a rare archeological treasure trove in a picturesque setting.
And this is where Extreme E comes in, aiming to raise awareness of the degradation of fertile land in dry climates, known as desertification. AlUla has a breathtaking landscape which forms part of the longest continuous desert on Earth, but water is a scarce resource and the natural environment can be harsh. Such rare locations, showcased to the world by an extraordinary new motorsport, deserve careful preservation.
"The exciting thing for us is that the racers really seemed to love the course," says chief management and marketing officer of the Royal Commission of AlUla, Phillip Jones. "It's not anything like they've seen before, and I think that positions us nicely for similar races of this magnitude in the future and becoming a regular feature on the circuit, because we've shown what we can deliver against this amazing backdrop."
As Rosberg told The Independent in AlUla: "The whole location, its been a great start for the championship. I've never been [here before] and that's why I want to make sure I take some time to have a look AlUla. I'm proud to be here." Ultimately AlUla wants to host more global events like this one, within a sustainable plan that makes visiting not a damaging process but an enriching one for the region, the landscape and in the battle against the broader climate crisis.
"As a leading global oil producer," Crown Prince Mohammed bin Salman said last month, "we are fully aware of our share of responsibility in advancing the fight against the climate crisis and that, as our pioneering role in stabilising energy markets during the oil and gas era, we will act to lead the next green era."
Read more:
There are specific environmental challenges which the country faces from desertification to threatened coastal habitats along the Red Sea, which Extreme E's legacy projects were determined to help. Race organisers acquired an ex-military vessel, the St Helena, for travel to race locations in order to minimise air-miles, but it also served another purpose, carrying a fully equipped laboratory and team of scientists to carry out conservation work.
One of Extreme E's projects in Saudi Arabia was protecting the endangered Hawksbill Turtle, whose nesting sites are at threat from rising sea levels and coastal erosion. Teaming up with the conservation group Ba'a Foundation, volunteers including team drivers like Jamie Chadwick and owners like Rosberg took to a beach 50km up the coast from the city of Yanbu, where the Foundation is undertaking litter clearance, beach fencing and careful nest relocation.
The series also aims to promote the use of energy-efficient vehicles as it travels around the world. The cars which raced between AlUla's giant sandstone rocks were fully electric, powered by revolutionary hydrogen fuel cells which output only water as a waste product, which was used elsewhere on site.
"Racing electric vehicles powered by 100 per cent clean energy in hot and dusty extreme desert environments is the sort of demonstration we need to accelerate the adoption of new climate friendly technologies," said Professor Richard Washington, a member of Extreme E's scientific committee. "Sport strives to break boundaries, to cross seemingly impossible thresholds, often in a team setting. That is also what we need to do to solve the climate problem. Extreme E is a convergence of these endeavours."
So, far from being incongruous, AlUla is an ideal setting for Extreme E's lift off – just as Extreme E fits neatly into Saudi Arabia's 2030 vision to become a leader in the green new world.
Register for free to continue reading
Registration is a free and easy way to support our truly independent journalism
By registering, you will also enjoy limited access to Premium articles, exclusive newsletters, commenting, and virtual events with our leading journalists
Already have an account? sign in