F1 Canadian Grand Prix: Felipe Massa and Sergio Perez released from hospital after high-speed crash as Force India driver penalised for 'changing his racing line'
Massa and Perez collided at the start of the final lap which resulted in both drivers hitting the tyre wall hard and nearly taking out third-place Sebastian Vettel
Ian Parkes
Monday 09 June 2014 08:15 Comments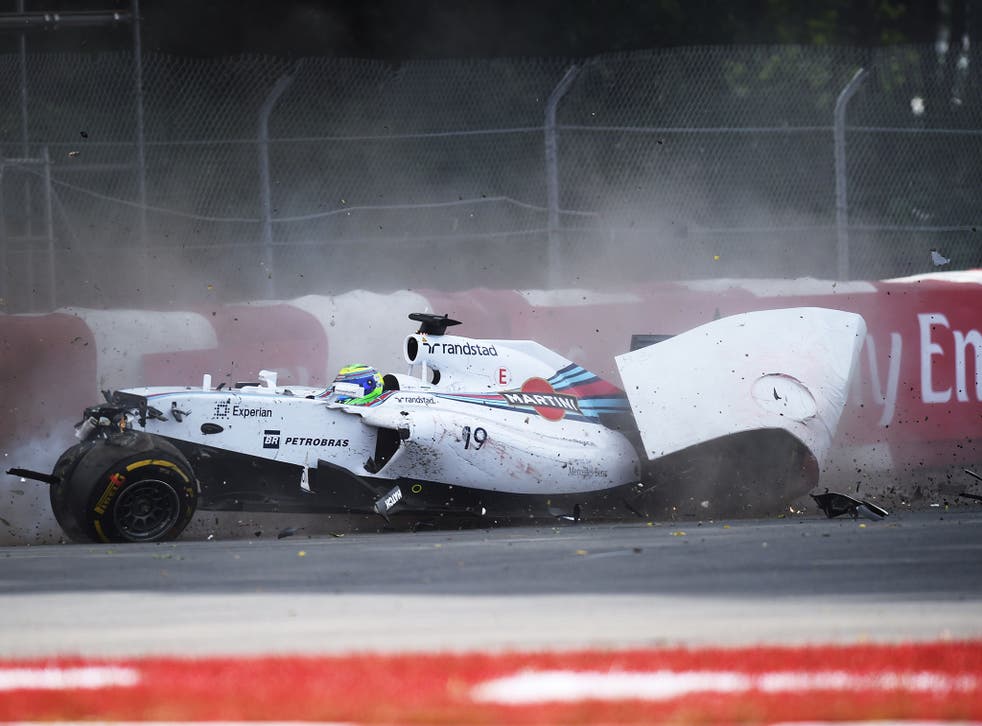 Felipe Massa and Sergio Perez have both been discharged from hospital after undergoing precautionary checks in the wake of their high-speed crash during the Canadian Grand Prix.
The incident came on the final lap of the race at the Circuit Gilles Villeneuve, with Massa and Perez scrapping over fourth place behind debut race winner Daniel Ricciardo in his Red Bull.
As Massa pulled out from behind Perez to pass, the Mexican made a small move to his left, resulting in the Brazilian in his Williams smashing into the left-rear wheel of the Force India.
The repercussion saw Perez ram into a barrier to his right, whereas Massa hurtled straight on into a tyre wall at turn one, narrowly avoiding the Red Bull of third-placed Sebastian Vettel en route.
Although both men remarkably emerged unscathed from their cars, as a precaution they were initially assessed at the track medical centre, and then airlifted on to hospital.
A statement from world governing body the FIA read: "Following the accident between Sergio Perez and Felipe Massa on the final lap of the Canadian Grand Prix, it has been confirmed both drivers extricated themselves from their cars and were immediately transferred to the medical centre for preliminary checks.
"The results of these checks were entirely positive.
"However, as a precautionary measure they were both transferred to Sacre Coeur hospital for further examination. Both of them have been discharged."
Perez, meanwhile, has been handed a five-place grid penalty for the next race in Austria on June 22 as he was deemed by the stewards to have "changed his racing line which caused the impact" with Massa.
PA
Register for free to continue reading
Registration is a free and easy way to support our truly independent journalism
By registering, you will also enjoy limited access to Premium articles, exclusive newsletters, commenting, and virtual events with our leading journalists
Already have an account? sign in
Join our new commenting forum
Join thought-provoking conversations, follow other Independent readers and see their replies