F1: Gerhard Berger suffers broken arm while skiing off-piste just over two month's after Michael Schumacher's life-threatening ski crash
Berger competed with Schumacher during his career and suffered the injury when he collided with a hillside drainage pipe when skiing in Austria
Jack de Menezes
Monday 10 March 2014 10:58 Comments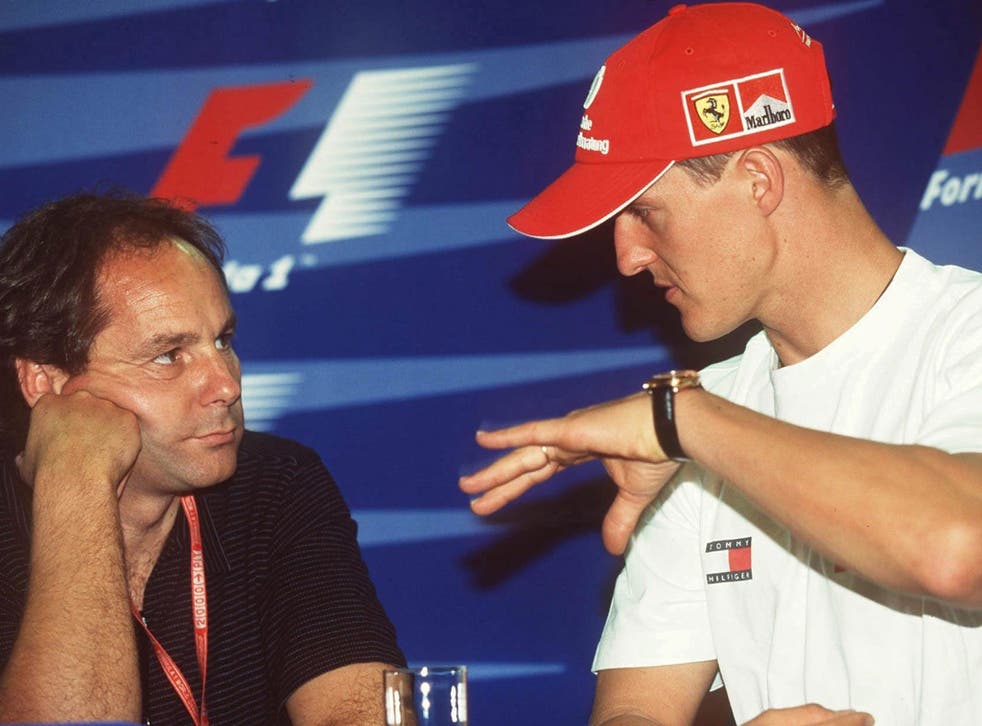 Former Formula 1 driver Gerhard Berger has suffered a broken arm while skiing in Austria, just 10 weeks after his old rival Michael Schumacher's life-threatening accident that has left him in a coma in Grenoble University Hospital.
Reports in Austria claim that Berger was skiing off-piste on Thursday in foggy conditions, with Kronen Zeitung suggesting the 54-year-old crashed into a hillside drainage pipe and breaking his arm in the process. The former Benetton, Ferrari and McLaren driver had to be airlifted to the nearby St Johann am Tirol hospital, though he was discharged over the weekend.
Berger's incident comes just over two months after Schumacher's tragic accident that has left the seven-time world champion battling severe head injuries, with the 45-year-old having undergone two operations to relieve pressure on his brain and remove haematomas that had formed from the impact of hitting his head on a rock.
Moving scenes as fans hold silent vigil for Michael Schumacher's 45th birthday

Show all 10
Schumacher was also skiing off-piste, although he was believed to be just eight metres from the ski run and travelling at normal speed when the accident happened.
Berger claimed 10 grand prix victories during his 13-year career behind the wheel in F1, with his most successful stint coming as Ayrton Senna's team-mate following the fallout between the famous Brazilian and Alain Prost.
The pair formed a close relationship that was retained until the three-time world champion's untimely death on May 1 1994 at the San Marino Grand Prix, a track that nearly claimed Berger's life in a serious accident when he crashed his Ferrari at high speed at the Tamburello corner – the same bend that tragically took Senna's life.
It later transpired that the front wing failed on Berger's Ferrari, sending him into the wall at 180mph, and his car burst into flames in which he was trapped in for 16 seconds before being pulled to safety, escaping with burns and broken ribs.
McLaren sent a message of support to their former driver on Monday morning, with the caption "get well soon" accompanied by a picture of Berger sitting alongside Senna.
Since his retirement in 1997, Berger has become a prominent figure in the paddock having firstly worked with BMW-Williams, and then the formation of the Toro Rosso team that joined the grid in 2006.
His latest role is with the FIA after Berger was asked to assist the re-structuring of the junior motorsport ladder in an effort to develop young talent and help them reach their full potential.
Attempts to awaken Schumacher continue with his manager Sabine Kehm confirming last week that "Michael is still in the wake up phase".
She added: "The situation has not changed. Any medical information published which is not confirmed by the team of doctors treating Michael or his management has to be considered as not valid."
The news of Berger's accident comes just days before the start of the new season, with the 2014 campaign set to get underway in Melbourne this weekend with the Australian Grand Prix.
Register for free to continue reading
Registration is a free and easy way to support our truly independent journalism
By registering, you will also enjoy limited access to Premium articles, exclusive newsletters, commenting, and virtual events with our leading journalists
Already have an account? sign in
Join our new commenting forum
Join thought-provoking conversations, follow other Independent readers and see their replies