F1 Singapore Grand Prix: U-turn over drivers' radio ban as FIA relents to fairness plea
FIA race director Charlie Whiting admits it'll be difficult to monitor coded messages
David Tremayne
Saturday 20 September 2014 09:51 Comments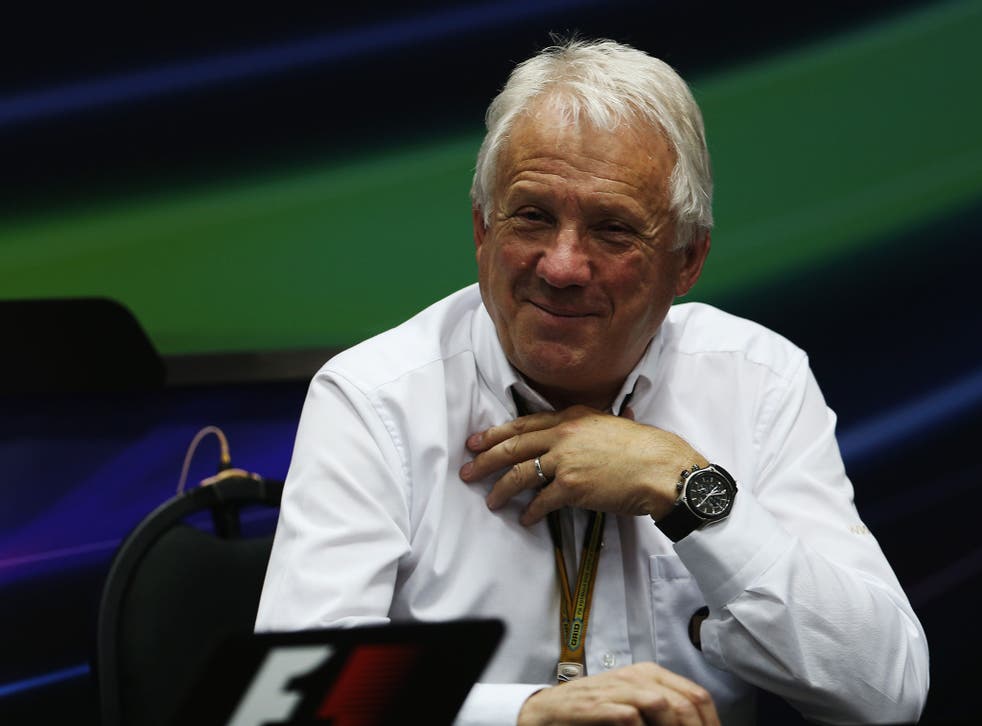 Formula One has backtracked on a planned clampdown on radio and pitboard messages for reasons of fairness, but remain determined to end driver "coaching" during races.
Governing body the FIA has responded to teams' concerns that the ban would have cost and reliability implications.Williams' Felipe Massa was the most outspoken when he said there were real dangers drivers' lives could be put at risk.
Messages about the operations of an F1 car's complex systems will be allowed for the rest of the season. But teams will still be forbidden from giving driving advice, such as how to improve cornering technique, via radio. The full ban will now start next year.
The FIA decided after speaking with team managers ahead of Sunday's Singapore Grand Prix that more time was required. "When one looks into it in more detail it became quite clear that some teams would be at a serious disadvantage compared to others," FIA race director Charlie Whiting said during practice at the Marina Bay Street Circuit on Friday. "Not just in their new know-how or their ability to react in the short term, but also in hardware choices that were made a year ago.
"The two types of dashboards that are available to the teams, one will simply show a great deal more than the other. So in the interest of fairness, we felt it would be better to introduce it in two stages and that is what we have done."
F1 Singapore Grand Prix - in pictures

Show all 23
Meanwhile, Lewis Hamilton set the fastest time on Friday on a day when Mercedes team-mate and title rival Nico Rosberg suffered an unfortunate setback.
The Englishman had complained of wayward handling but was able to dislodge Red Bull's Daniel Ricciardo and ended the day just ahead of Fernando Alonso's Ferrari. Rosberg was on a flying lap on the super-soft tyre when the session was stopped following a heavy crash by Lotus driver Pastor Maldonado.
The German decided not to try again in order to focus on race preparation, leaving Hamilton top, 0.133 seconds quicker than Alonso.
"Today was a work in progress," Hamilton admitted. "We made some changes between the first and second sessions and, whether it was those changes or the track itself, the balance didn't feel right. It felt like we lost a bit of performance.
"Pole here has always been very important. The right side of the grid, for example, always seems to get the better starts. That's obviously my target for qualifying, and I'm feeling good this weekend."
Rosberg, meanwhile, had been right behind Alonso and Hamilton in the earlier practice session but had his second one ruined by Maldonado. Yet again the Venezuelan demonstrated his attraction to walls by driving his Lotus heavily into one and bringing out the red flag.
When the session resumed, Rosberg ended up an unrepresentative 13th fastest. "I had a good feeling in the car," he said. "The only pity was that I had to abandon my quick lap due to the red flags. Although I didn't get the second part of that lap, in the first part the car felt great."
Register for free to continue reading
Registration is a free and easy way to support our truly independent journalism
By registering, you will also enjoy limited access to Premium articles, exclusive newsletters, commenting, and virtual events with our leading journalists
Already have an account? sign in
Join our new commenting forum
Join thought-provoking conversations, follow other Independent readers and see their replies