Isle of Man TT 2015: John McGuinness rides his luck in chasing a Senior record
The 43-year-old competes in today's Senior race knowing victory in the flagship event will draw him level with the legendary Mike Hailwood. This year has been tough but, he tells Jack de Menezes, one of the charms of the TT is things quickly change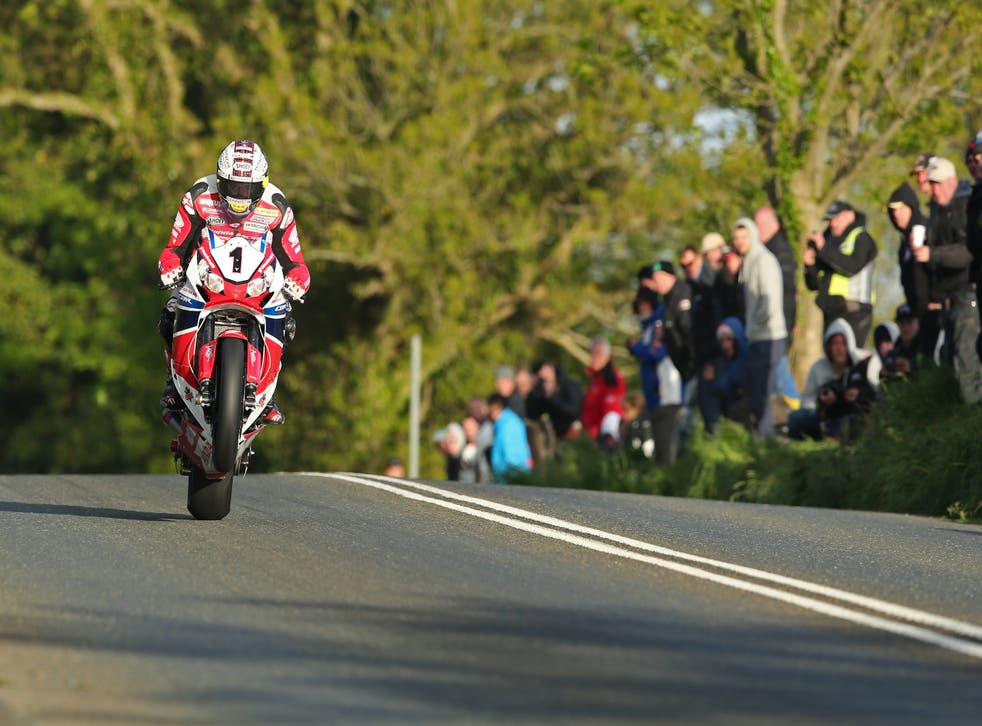 Each year more than 40,000 motorbike enthusiasts arrive on the Isle of Man for an event like no other.
The TT sees the island virtually shut down for two weeks, allowing the public roads to be transformed into the most dangerous race circuit in the world – a playground for the best motorcycle riders on the planet.
Over 37 miles of mountain routes, A roads, B roads and village high streets are turned into potentially fatal carriageways, with serious accidents an unwelcome yet regular sight. To date, 246 riders have been killed while competing on the Snaefell Mountain Course since the first death 104 years ago, the most recent of which came last week when Frenchman Franck Petricola suffered a fatal accident during practice. The dangers are just as real for the spectators, marshals and photographers who line the streets where bikes will flash past at speeds close to 200mph.
You would not be the first to ask why, but until you visit the TT you won't know the answer to that question. Upon arrival on the island you are engulfed in everything that is the TT; thousands of bikes fill the streets, merchandise and advertising are simply everywhere, and fans will be marking out their territory hours before the roads close and the action begins.
It has a special feeling, and there is none more special than winning the flagship event, the Senior TT, which takes place on Friday. It is the big one, the race they all want to win, yet no one has been able to match Mike Hailwood's record of seven Senior victories since he last took the chequered flag in 1979. The man closest to his mark is John McGuinness, the "King of the Mountain", who on Friday could equal that Senior record.
"It's the oldest race," says McGuinness. "The blue-riband race, 108 years old, it's the race to win. It's normally the quick one. I don't know, it's just the Senior TT, it says it all, doesn't it? Just says all the right things."
At 43, McGuinness knows that he may not have long left in the saddle. His last victory in the Senior came in 2013, but the circumstances surrounding the race were quite incredible. He was not at his best, with just third place finishes in the Superbike and Supersport races and a second in the TT Zero. To make matters worse, his then Honda team-mate Michael Dunlop had won all four major solo races that week, and was on course to equal Ian Hutchinson's record of a "Famous Five" in the Senior.
Yet McGuinness, ever a man for the big stage, as his 22 TT victories to date show, turned it on when it mattered most. "You get motivated through different things, you've done this, done that, or not quite been there. I was struggling in 2013 when Michael Dunlop was winning everything and then boom, we won the Senior, and I stopped him, so there's no reason why we can't have a real good result on Friday," adds the man referred to as the "Morecambe Missile".
"It was the best feeling in the world. It was the hardest race I've ever done, I was knackered by the end of it because I put everything into it. I just need to do that again, just find that and there's no reason why I can't. The bike's good, the team is 100 per cent so I want it for myself. I don't want my career to finish, I'm 43, not a million miles away from the end but I don't want to just roll over, I want to keep pounding laps in and see if we can sneak another one."
But for some reason or another, the buzz word in the Honda camp is "tough" this week. McGuinness acknowledges with his very first word that results have not gone as he had hoped, and his team-mate Conor Cummins, a local rider from Douglas in the Isle of Man, uses the exact same word to assess his week so far.
With the works Honda Racing team not quite where they want to be, McGuinness knows something is missing, although as we speak he is still savouring a return to the top step of the podium after riding the Mugen Shinden on Dunlop tyres to victory in the TT Zero race.
"At this point of the TT I've had five races, five finishes, one win and some silver replicas so it's not bad, it's not disgusting, but it's not where I want to be," admits McGuinness. "I definitely wanted to be a bit stronger on my Superbike.
"The TT is funny, you know, you've got to try and draw a line under what's happened. Like the first race for us, [we had trouble] with the fuel filler and I lost all my tear-offs on the first lap. You only need a couple of interferences like that and the race is done when you're going that quick."
Yet that success on Wednesday morning gave McGuinness a 22nd overall victory, second only to the record haul set by Joey Dunlop in 2000 when he took his 26th win around the Mountain Course. Should McGuinness come home in first on Friday afternoon, he will be in touching distance of the Irishman's landmark, so surely there's an inevitable distraction of getting closer and closer each year?
"Not really, not really," he says calmly. "I never ever dreamt that I'd win 10, 20 or whatever, I didn't really have a plan, just keep nicking one or two, and while we can we can, you know.
"My all-time hero is Joey, to match him would just be awesome, but I don't know. I haven't got a crystal ball. I don't really look at it. I never think about it until somebody asks me, I don't think about it at all. When somebody asks me, 'Can you match Joey's record?' I think, 'Well, it would be nice to do it', but I'd get shot if I went to Ireland if I got any more, they'd murder me if I went over."
McGuinness finished Sunday's Superbike race in fourth, yet despite a podium finish being within touching distance, he evidently has eyes only for the top step.
Join our new commenting forum
Join thought-provoking conversations, follow other Independent readers and see their replies