Le Mans 24: Marcel Fassler, Andre Lotterer and Benoit Treluyer see off Posche and Toyota challenge to drive Audi to 13th Le Mans 24 Hours title
Trio overcame turbocharger problems to win famous race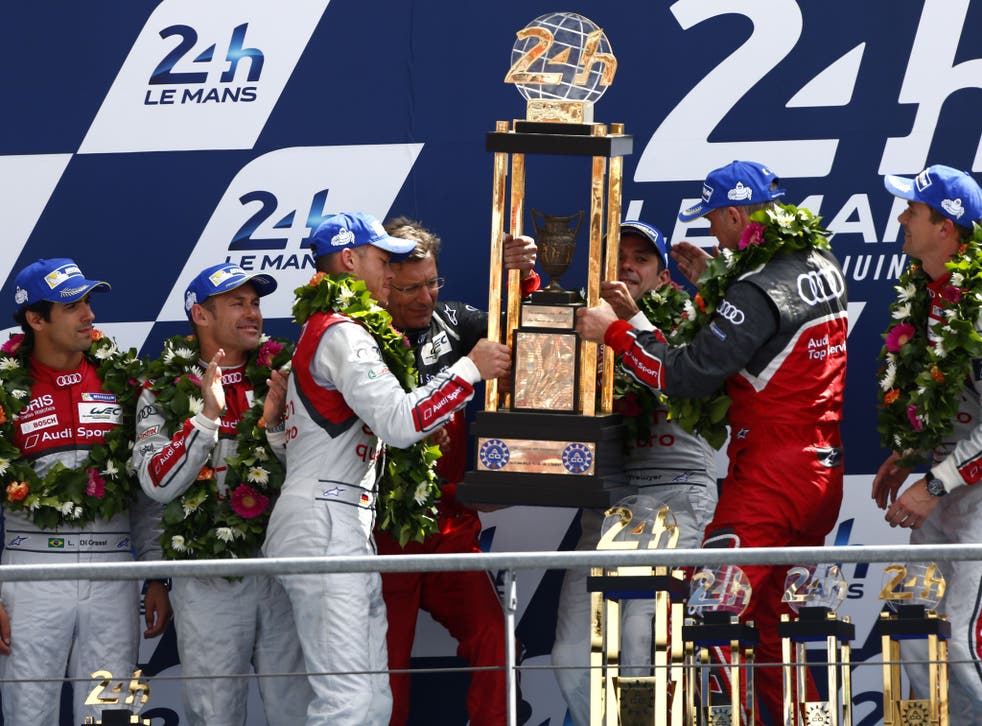 Marcel Fassler, Andre Lotterer and Benoit Treluyer overcame turbocharger problems to drive Audi to its 13th title at the Le Mans 24 hours on Sunday.
It was the trio's third victory in the world's most famous endurance race. Their Audi No 2 finished three laps ahead of Audi No 1 driven by Lucas di Grassi, Marc Gene and defending champion Tom Kristensen.
Sebastien Buemi, Anthony Davidson and Nicolas Lapierre took third place at the wheel of Toyota No 8, five laps off the pace. Pole-sitter Kazuki Nakajima's Toyota No 7 retired in the 15th hour while leading because of an electrical problem.
In its return to Le Mans after a 16-year absence in the top category, Porsche fell out of contention in the 22nd hour.
Audi did not impress in qualifying with slower times than Toyota and Porsche, but it proved more reliable in a race defined by the teams' ability to solve mechanical problems.
Lotterer's Audi No 2 took the lead in the 22nd hour when Timo Bernhard's Porsche No 20 got stuck in the pits until the end of the race because of a drivetrain problem. The Porsche No 20 finished 38th.
In the penultimate hour, Neel Jani's Porsche No 14 went back to the garage while in fifth place to fix a gearbox issue. It managed to get back on the track in the last minutes to wind up 37th.
Despite this disappointing performance, Porsche still remains the most successful manufacturer at Le Mans with 16 titles.
Porsche and Audi swapped the lead in the second half of the race.
Treluyer's Audi No 2 took the lead from Nakajima in the 15th hour. Gene's Audi No 1 then hit the front in the 17th hour when the Audi No 2 headed back to the garage to change a turbocharger. Kristensen's Audi No 1 was also hit by a turbocharger problem in the 21st hour and surrendered the top spot to Bernhard's Porsche No 20 in the 21st hour.
Toyota was in contention in the first half of the race, swapping the lead with Porsche from the third to the fifth hour until an unscheduled pit stop by Brendon Hartley's Porsche No 20 allowed Stephane Sarrazin's Toyota No 7 to pull away.
In the second hour, a sudden downpour caused the crash of two contenders. Nicolas Lapierre's Toyota No 8 and Marco Bonanomi's Audi No 3 were fighting for third place when a slippery track led the Toyota to lose traction and bounce off a barrier before clipping the Audi, which got also hit by Sam Bird's Ferrari No 81.
The accident brought the safety car out for about 40 minutes. Lapierre was able to drive his car back to the garage to have it repaired while Bonanomi was forced to retire. The Toyota No 8 dealt with balance issues for the rest of the race.
AP
Join our new commenting forum
Join thought-provoking conversations, follow other Independent readers and see their replies