Michael Schumacher's family 'deeply touched' after FC Koln and Schalke unveil banner in support of the seven-time F1 world champion
Schumacher is currently being treated in the Grenoble University Hospital after suffering severe head injuries in a skiing accident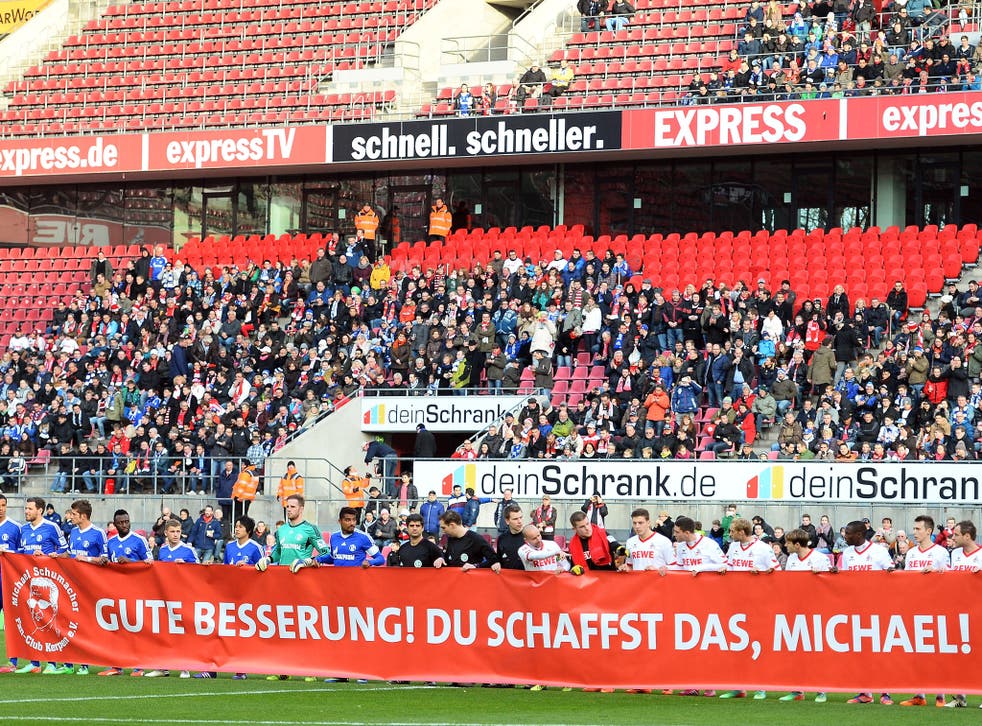 The family of seven-time Formula One world champion Michael Schumacher have expressed their gratitude to Bundesliga clubs FC Koln and Schalke after they paid tribute to the racing driver ahead of their friendly last Saturday.
Schumacher is currently recovering from a tragic skiing accident in which he suffered severe head injuries after hitting a rock, with doctors treating the 45-year-old in the Grenoble University Hospital in France.
Players from both clubs displayed a banner before kick-off, which read: "Get well soon! You can do it, Michael!"
Schumacher is a keen footballer in his spare time and a lifelong Cologne supporter having grown up in near-by Hürth, and has often been seen taking part in charity matches alongside a number of well-known professionals.
Issuing a statement on his official website www.michael-schumacher.de, Schumacher's family wanted to thank everyone who had sent their messages of support, which included both football clubs and also the fan club in Kerpen.
"We are deeply touched by all the messages to get well soon for Michael which still are being sent. That gives us strength. Thank you all so much," the statement read.
"Thank you to the fan club in Kerpen, to FC Cologne and Schalke 04, but also to everybody else and other fan groups who are supporting Michael.
"We all know, he is a fighter and will not give up."
Schumacher has given over €50m to charities that include UNESCO, UNICEF and Childline, as well as helping different programmes in Senegal, Sarajevo, Peru and the2004 Tsunami disaster in which his own bodyguard Burkhard Cramer and his (bodyguard's) two sons were killed.
The latest official update on Schumacher's condition came from his manager Sabine Kehm last week, in which she confirmed he remains in a "stable condition". It was the first time that Kehm spoke without using the word "critical" to describe his state, after the ex-Benetton, Ferrari and Mercedes driver underwent two operations to relieve pressure on his brain caused by swelling.
Moving scenes as fans hold silent vigil for Michael Schumacher's 45th birthday

Show all 10
Join our new commenting forum
Join thought-provoking conversations, follow other Independent readers and see their replies