MotoGP British Grand Prix 2015: Bradley Smith aiming high at Silverstone with new Tech3 deal after getting to grips with 'bizarre' Yamaha
After adjusting his riding style to get the most out of the Yamaha M1, home-favourite Smith believes he can give the British crowd what they want this weekend
Anouska Christy
Thursday 27 August 2015 12:40 Comments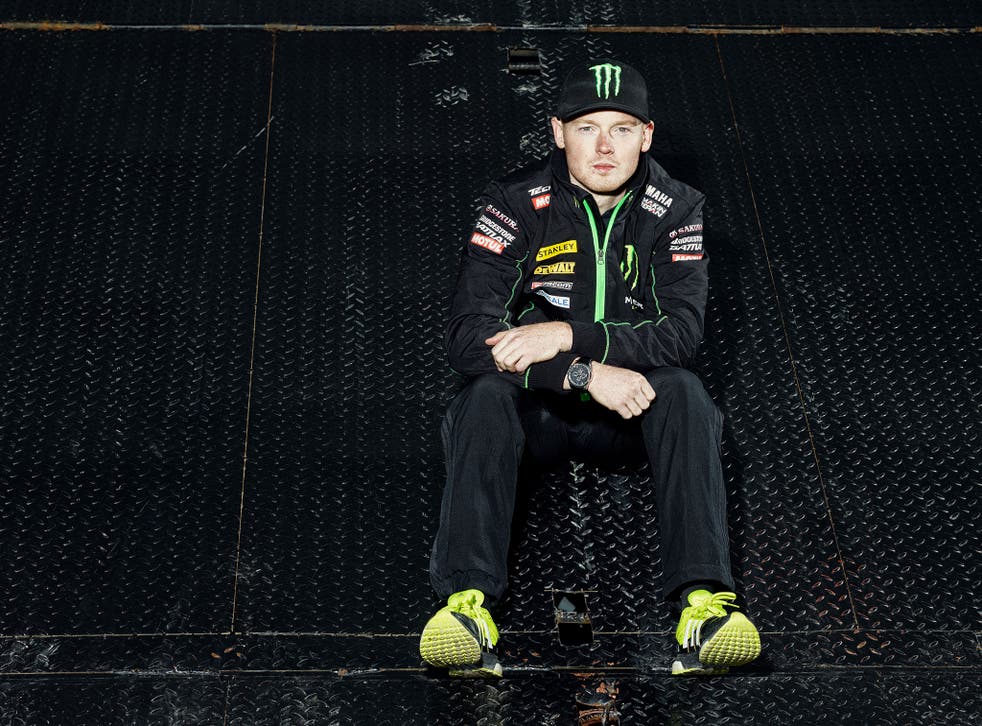 "I didn't get a summer holiday, I chose to do the Suzuka 8-hour race, I'd much rather be racing than on a beach somewhere," says Bradley Smith after standing on the top step of the podium in Japan with team-mates Pol Espargaro and Katsuyuki Nakasuga.
He admits it would've been nice to have a few weeks off though as not having the break is starting to take its toll and he's only just over half way through the MotoGP season. The project had been thrown upon Smith and the opportunity for him to win this achievement for Yamaha was too good to miss while contract negotiations were underway. Beating former MotoGP World Champion Casey Stoner, who crashed his Honda on his fifth lap of the 8-hour race, Smith goes on to say that whilst the win felt good, it doesn't compare to a MotoGP podium finish.
Going into the British Grand Prix this weekend, the Oxfordshire born, 24-year-old racer is in fifth place in the MotoGP championship standings and leading the satellite rankings after an impressive year which has seen him finish between fifth and eighth consistently. He has now announced after a long wait that he will renew his contract with the Monster Yamaha Tech 3 team for 2016.
It hasn't been a smooth journey since he first collaborated with Tech 3 back in 2011, but Smith has worked extremely hard and possibly suffered more than most in the transition from the junior class to be on top of his game in the premier class.
Halfway through last season, he left Germany's Sachsenring having crashed five times over the weekend, pretty much had no contract and his career with both Tech 3 and probably MotoGP looked to be coming to an abrupt end. Knowing there was nothing anyone could do and no real interest from any other teams, Smith wrote a heartfelt message to his team during the holiday, promising to give 100 per cent and that he would not let them down whatever their decision was to be.
More than three months later with two races left in the season, Smith produced the proudest moment of his career to date – taking third at Australia's Phillip Island. Sharing the podium with nine-times world champion Valentino Rossi and Jorge Lorenzo, Smith didn't hide his emotions as the tears ran down his face: "It was a surprise to me, I didn't know I was on the podium until I was halfway round the cool-down lap. It didn't sink in immediately and then it was a rush of emotion because it was such a shock achievement. More so because it's hard for a satellite rider to get on the podium in MotoGP so it was an over-achievement really which made it even more special."
Cementing the relationship with Tech 3 and with Yamaha further, Smith describes how he's had to change his riding style a lot: "Yamaha is unlike any other motorcycle. There's only one way to ride it and that is a strange old-school way. Up until now, I've always believed you have to brake as late as you possibly can, mid-corner speed isn't so important and then fire it out of the corner as fast as you can. You're basically stopping and starting - making corners like a 'V' shape.
"With Yamaha, you have to ride in more of an 'U' shape. You need to carry that speed through the swoop of the corner and it is difficult to get your head around. I've had to learn a lot of self-control, knowing that I can brake later, but knowing that I shouldn't, so I can release the brakes as soon as possible and carry as much corner speed as I can through the middle. You have to very disciplined, it's a bizarre concept but it does work."
Yamaha have dominated this season with Rossi leading the championship standings up until now, with his team-mate and double world champion Jorge Lorenzo equalling him on points at the last race in Brno. Although mathematically feasible, defending World Champion and factory Honda rider Marc Marquez is unlikely to reclaim the lead with his 52-point deficit and just seven races left in the season. As a betting man, Smith's money is on Lorenzo.
"Because of the record he has for the remaining part of the season," he says. "He has been so consistent for the last five years – he's won more than three or four races out of the last six rounds of the Championship. He always finishes the second half of the season incredibly strong and he always seems to choose whatever Yamaha introduce and make it work for him. I think it's definitely going to go in his favour.
"It doesn't look likely that Marc can claw it back. I don't think it's affected his confidence because we still see him riding in the same manner that he always has. But it has bought him to question himself which I think never happened last year. I think he has asked himself, 'Am I good enough?' and 'Can I do this?' a few times this year."
Marquez is only in his third season of the premier class however, and still holds two championship titles to his name at the age of 22, although his racing career is in its eighth year. Smith himself began professional racing in Barcelona while still at school and it's a subject that is close to his heart. Feeling very strongly about the minimum age in pro-racing, Smith advises: "You should finish school, then go racing, then turn professional. Until that point you shouldn't be encouraged not to go to school to do the sport.
"You can turn professional at 16 or 18 years old and that is still in my opinion too early. We have plenty of athletes who are talented enough to do it at that point. It's something that is important to me and I will continue to push for it for the future, I want to see a minimum age limit inside GP racing so school comes first, racing should be second. It shouldn't be the main focus point at a young age.
"Moving from Moto3 to MotoGP is a very touchy subject. I advised Jack [Miller] for what it was worth, not to do it. Both he and Danny [Kent] are in similar situations where they're battling for a Championship title and every weekend they're fighting for pole positions, first positions in sessions, and winning races. To throw them in the deep end inside MotoGP where they're lucky if they get inside the top 15 let alone the top ten, it's very difficult for a young rider to accept that and emotionally it's quite draining. If you take all the stresses of riding a MotoGP bike in general, with electronics, bike balance, 255-horsepower, that's hard enough in itself. Then tell that rider that you'll no longer be winning races and no longer ever be competitive inside the top ten, at least for the next two years, emotionally you're going to cripple that person.
"We know, inside of MotoGP having confidence and self-belief is 95 per cent of the game. You're basically destroying everything that rider has built up in the last season, within a couple of weeks. It's good to go to Moto2 and ride at the level. Not to say that anyone is a bad rider but in Moto3 you're basically racing against an average of grade C racers, in Moto2 you're racing against B riders but in MotoGP you're racing against some A* riders and the rest are all A's. The average is that high at that level. There's a stepping stone for that reason. They should use that"
A highlight of Smith's career came when he was racing in Moto2. One of his fondest memories from a British round was when he qualified in 28 position on the grid and battling throughout, he crossed the finish line in second place which remains great moment in his first year with Tech 3 in the feeder class.
"Last year was also special to Smith as he relives: "I was riding in sixth place, when I realised I had a cracked wheel that led to a puncture. I came into the pits and went back out just to finish, but on the cool-down lap, I honestly believed Valentino or Jorge were behind me, because the reception I got from the crowd was amazing. It can be hard to hear the crowd over the GP bike, but I couldn't believe the support I received – I didn't even finish in the points. I just came back out to finish the race and I guess they had respect for that, but that feeling will stick with me for a long time"
Looking forward to his home round this weekend, Smith is hoping for his best result yet and knows he is setting a big goal for himself: "I want fourth place. Silverstone is a track that I really like and that Yamaha like, so my goal is high and I will be pushed along by the British crowd."
Commenting on what Monday mornings feel like after a race weekend however, Smith continues: "I can only imagine what it is like for a drug addict. It's a bit like that for us on a Monday morning. It's like you just have zero enthusiasm, zero motivation, you don't have a purpose because the job is done."
After ten years of professional racing Smith finally feels like he's in a position mentally to really deal with the reality of MotoGP: "I'm still learning every week, but from an experience point of view, I think I'm at that point where now I know the system and I've finally found my feet inside of MotoGP."
MotoGP is broadcast on BT Sport in the UK with every race exclusively live throughout the season. Coverage of the 2015 Octo British Grand Prix starts on Friday at 9am on BT Sport 2 with the MotoGP race live from 12:45 on Sunday and for the first time in Ultra High Definition on BT Sport Ultra HD.
Register for free to continue reading
Registration is a free and easy way to support our truly independent journalism
By registering, you will also enjoy limited access to Premium articles, exclusive newsletters, commenting, and virtual events with our leading journalists
Already have an account? sign in
Join our new commenting forum
Join thought-provoking conversations, follow other Independent readers and see their replies