Organised chaos of the Sky lane at Monaco
The F1 channel gets closer to the action – and the fans – than other sports broadcasters. Matt Gatward joins the team at the most famous, and most intimate, grand prix of them all
Matt Gatward Comments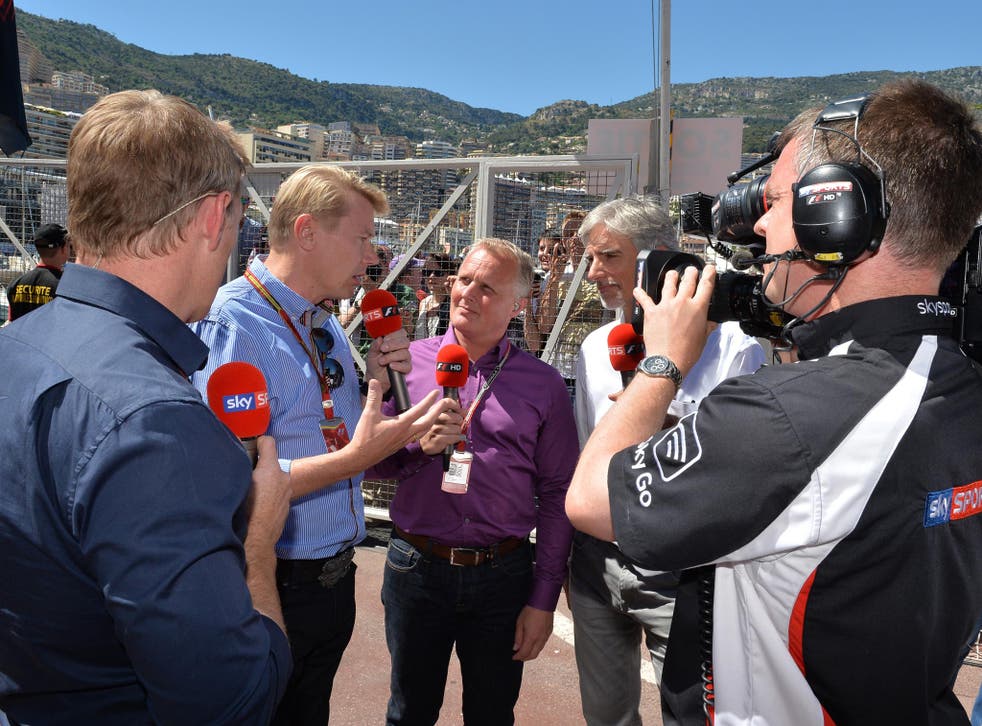 Martin Brundle charges up the three flights of stairs and falls breathlessly into the Sky commentary box with minutes to spare before the race roars into action. It's just one of the many logistical difficulties that pepper the path of those trying to bring the Monaco Grand Prix to the screen.
Through the camera lens, Monte Carlo is all yacht parties, Ferraris, high heels, glamour and glitz; behind the scenes it's cables, crew members and organised chaos. And when you break a key piece of broadcasting kit and lose a presenter on the eve of the race, it only gets tougher.
At this street circuit (one of only two on the Formula One map) the commentary box, paddock, TV compound, pit lane and grid are spread out, rather than in one area as at most Formula One venues. The space they occupy hugs the famous harbour and each is separated by narrow walkways which are bustling and brimming with the Formula One masses – from the autograph-hunting fans to media to drivers to champagne-sipping hangers-on (for which Monte Carlo is a magnet). It means the difficulties in overtaking are not the sole preserve of Lewis Hamilton and friends (or enemies). And it leaves Brundle, driver-turned-commentator, zooming from his now famous pre-race grid walk to the booth to talk track with the main man with the microphone, David Croft.
"That's what I love about live TV," says Brundle, who joined Sky from the BBC when the broadcaster formed its own F1 channel in 2012. "I always I think it's a little bit like the swan on the lake: it looks calm and serene above the water and then underneath it's paddling like crazy. You think: 'This is never going to happen...' and somehow you get those magic words – that countdown to 'live on air' and off you go and it all comes off. It never ceases to amaze me."
One of the reasons Brundle and Co are presenting each grand prix on the hoof is the decision not to use a studio but rather to be out and about mingling with the masses from the paddock to the pits, choosing from the array of backdrops: yachts, fans, mountains or beautiful buildings.
"There's just much more action in the background," says Kate Strophair, Sky F1's floor manager, who is tasked with making the show run smoothly. "It's so much better to watch." But surely it's more dangerous and there's more potential for mishaps?
"We love it when it's organised chaos," adds Simon Lazenby, the lead presenter, as he tucks into a sandwich in the sanctity of the Portakabin-cum-canteen during a break in filming. "I think the fans do too because it's much better telly. It's not so sanitised.
"Monaco weekends are hectic – but they are the most fun too. The atmosphere is great. There are so many fans here. We love it when unexpected things happen because you are only as good as what's happening around you. Everyone is, and if there's lots going on then it's more entertaining for the viewer.
"I did rugby [from a studio] for 10 years, which was great but one of the frustrations was the access. This way is so much better. It's all part of the show. Bernie [Ecclestone] knows that and that's why he lets us out there. He knows access as close to the event as you can get is what the sport needs."
The proof comes later in the day when Strophair grabs Flavio Briatore as he mingles in the paddock and the team politely shove a camera in his face. Dragging the Italian into a studio would have been trickier. For some reason Noel Edmonds, who also wanders by, is allowed to continue merrily on his way.

For the live action Sky, which takes 70 staff to each grand prix as well as over 19,000kg of kit, which takes three days to construct at each venue, is in the hands of FOM (Formula One Management), from whom it takes the feed. But as the only company with a channel dedicated to the sport they need this out-and-about access so they can cover the pre- and post-race action – and also to create feature segments for use during the week.
"Because we can be in the pit lane with the cameras, if there's stuff going on with the cars we can show it straight away, speak to the mechanics or the drivers," adds Strophair. "A lot of it is luck, being in the right place at the right time, but it's easier if we are out there."
"Other sports are trying to follow suit," adds Lazenby. "Brundle's grid walk was probably the first time it was done: it was the nearest you'd get to sportsmen before they were about to 'kick off'. Now look at the way they are wiring people up with microphones in T20 cricket and trying to interview players as they come off the pitch at half-time in rugby. Inside the ropes, that's what it's about.
"The drivers know this is business as well as sport. Yes, you're a sportsman trying to concentrate on the task but you're also there to serve a purpose and that's to get that brand in front of as many people as possible. That's why the drivers are more accommodating and that's why Bernie likes what we're doing because we're trying to give them different ways to expose brands.
There must be many a transfer deadline day football reporter watching Sky's F1 coverage wondering why fans aren't climbing all over Lazenby, Brundle and Damon Hill when cameras are rolling – or, worse, making obscene gestures in the background, as happened to one outside Norwich City's ground.
"The fans are respectful – they don't usually mess about when they are on camera but there are occasions when they get a bit close," says Strophair. "There was a photographer earlier whose lens was pretty much in the back of Damon's head. So I politely asked him to move along. But, look, that's part of it. It's great for the fans to be able to get so close."
But what about Brundle's grid walk, surely that takes organised chaos to new extremes? "That's absolutely nuts here," admits Strophair. "You can't see the wood for the trees. It's so busy."
"But Martin's a great ad-libber," adds Lazenby, "and it used to be that he was the only one who did it. Now everyone loves the idea so there's loads of media on the grid. He's now having to muscle people out of the way. In the heat of battle he's having to get his elbows out."
And, sure enough, come the race, he does just that, grabbing among others Sir Patrick Stewart, Niki Lauda and Alain Prost amid the mêlée while narrowly avoiding getting clonked by the odd camera. And it makes for great TV.
At least these days he can be heard above the din. The controversial decreased volume of the new engines must have helped covering the sport – if for no other reason than to delay the onset of tinnitus.
"Last year [with the v8 engines] I couldn't hear myself think at the street circuits," admits Lazenby. "Do I miss it? You know what? I'm quite happy with my hearing as it is! Damon Hill will back me up – he loves it like this."
Back in the commentary box, one in a long row at the top of a temporary stand erected on the harbour's edge, there's barely much more room for Brundle to spread out than he had on the grid. "It's like being in an egg box," he admits. Croft, who has commentated on 152 grands prix, agrees it's a squeeze. "It's compact, it's small, it's not a patch on China, where we can see the whole track, but it's the best view we're going to get in Monaco."
As if the unique nature of Monaco doesn't create enough problems, the team create one of their own when the SkyPad (the hi-tech gizmo loved by Gary Neville that's become a fixture of the company's punditry) is smashed while being loaded into a box – another peril of studio-shunning. Analyst and former Formula One driver Anthony Davidson has to adapt and coverage suffers as he is forced to use a more basic monitor.
Sky also loses Ted Kravitz, its pit-lane reporter, who has vast and unique knowledge of Monaco's twists and turns, as he flies home pre-race for family reasons. "It's just one of those things," says Davidson. "We wish him well." And they make do admirably – if less expertly – full of the excitement of being in Monaco.
"It's special here," Croft says. "Seriously, look out the back [he slides the commentary box door open to reveal a view of the marina]. That's incredible. There's nowhere else I'd rather be on the planet than here in this box this weekend. You've got the Champions League final, the Heineken Cup final, but this is the epicentre of the sporting universe."
Sky Sports is the only place to watch all 19 grands prix live, alongside US Open golf, international rugby union, Test cricket and US Open tennis
Register for free to continue reading
Registration is a free and easy way to support our truly independent journalism
By registering, you will also enjoy limited access to Premium articles, exclusive newsletters, commenting, and virtual events with our leading journalists
Already have an account? sign in
Join our new commenting forum
Join thought-provoking conversations, follow other Independent readers and see their replies