The madness of the NFL Draft and the critical nature of hitting on a quarterback
This week's draft in Cleveland provides optimism for every team that success is just one pick away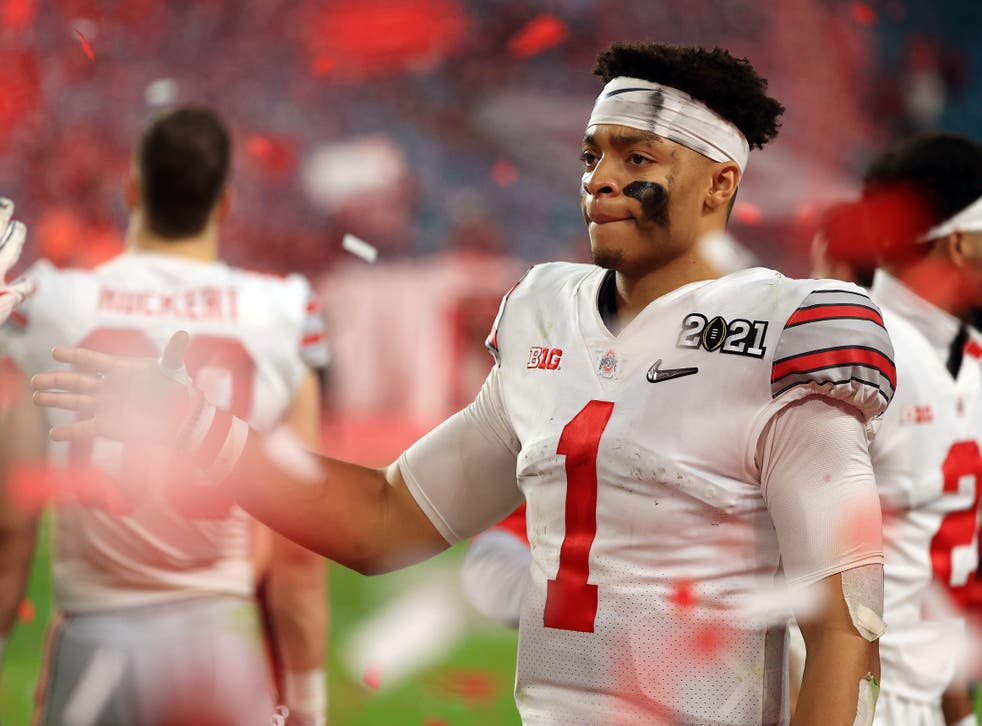 The madness of the NFL Draft finally subsides on Thursday evening when the Jacksonville Jaguars are put on the clock. While Trevor Lawrence is almost certain to go first, it will not be long before we experience plenty of thrills and spills in one of sport's great administrative events.
Rumours have been swirling for weeks around the league, with each team scrambling to gather snippets of information that might sway them when their turn arrives. While anonymous reports threaten to derail a young prospect's journey before it's even begun.
Lawrence heads what is expected to be a special class of quarterbacks, with Zach Wilson, Justin Fields, Mac Jones and Trey Lance all tantalising prospects.
Part of the compelling nature of the NFL is the everlasting hope embedded in fans due to the draft, which can spark the start of a glorious journey. Quarterback remains the most critical position in sport, with its ability to exert influence like no other, which breeds fascination each year, though the allure of this year's class is particularly strong.
Joining the Jaguars, the top 10 alone features guaranteed landing spots for quarterbacks in form of the New York Jets and the San Francisco 49ers, while the Atlanta Falcons, the Detroit Lions, the Carolina Panthers and the Denver Broncos are all contemplating a rebuild with a new signal caller. That's forgetting a potential trade-up scenario from the New England Patriots, while the Washington Football Team and the Chicago Bears could also make a splash if the right opportunity emerges.
So what exactly are these teams seeing in Lawrence and co.? Veteran quarterback Josh McCown witnessed the heir apparent arriving in New York when the Jets drafted Sam Darnold in 2018 at third overall, a move that fizzled out, and eventually saw Gang Green send him to Carolina this off-season.
"You want to see elite traits picking in the top 10," McCown says. "Patrick Mahomes, a dynamic athlete, he's got an unbelievable arm.
"Lamar Jackson, an unbelievable athlete, he can really run, that's an elite trait. Kyler Murray is a bit of both, a quick guy who can make plays with his feet but also a good passer - those are elite traits.
"Sam Darnold was exceptional out of the pocket, Justin Fields can really run and throws a very nice deep ball. There has to be something you deem as an elite trait."
So while Lawrence has a case for being the most well-rounded prospect in decades, the alternatives all have elite traits that could change lives.
Wilson dazzled at BYU while showcasing a spectacular variety of jaw-dropping throws, Ohio State's Fields is the quintessential dual-threat quarterback, which is now almost essential to succeeding in the league. Lance has special athleticism, but Covid-19 has dealt him the unfortunate card of inactivity, with North Dakota State playing just once last season. While Mac Jones has attracted praise for his quick-witted play and composure in the pocket during his time at Alabama.
For any of this year's class to succeed or even thrive at the next level, the role of the incumbent or veteran presence as a back-up will be an underrated presence, helping to either nurture their talent and cope with the daunting task that awaits or leave them stranded by themselves.
"There's a saying, 'More is caught than taught. I think that applied with Sam," McCown adds, recalling his time with Darnold, who became a prime example of failing to surround a talent with a sufficient structure or enough talent to thrive. "There were things I was saying, for the first seven or eight weeks of the season before he got injured. But when he was able to watch me do it and put those things into practice, I think it was better for him, it helped him build his tool kit to prepare.
"How he was going about leading a team. I think that's the most important thing, as a veteran player, I love the game so much, if you can help a young player, pass along some good practices, help somebody else's journey be better, it gave me a great sense of fulfilment.
"Those three games I played in place of Sam, I didn't play very well, but at the end of the day, I think there were things he gained from that, they might not show up on the stats sheet, but hopefully throughout his career he finds value in it."
Watch the NFL Draft live on Sky Sports NFL and NFL Game Pass on Thursday 29 April, with live coverage starting from 8pm, and catch a special NFL Draft show from Sunday here.
Register for free to continue reading
Registration is a free and easy way to support our truly independent journalism
By registering, you will also enjoy limited access to Premium articles, exclusive newsletters, commenting, and virtual events with our leading journalists
Already have an account? sign in
Register for free to continue reading
Registration is a free and easy way to support our truly independent journalism
By registering, you will also enjoy limited access to Premium articles, exclusive newsletters, commenting, and virtual events with our leading journalists
Already have an account? sign in
Join our new commenting forum
Join thought-provoking conversations, follow other Independent readers and see their replies