Super Bowl 2021: Tom Brady guides Buccaneers past Chiefs - Five things we learned
Kansas City Chiefs 9-31 Tampa Bay Buccaneers: Rob Gronkowski grabbed two touchdowns to roll back the years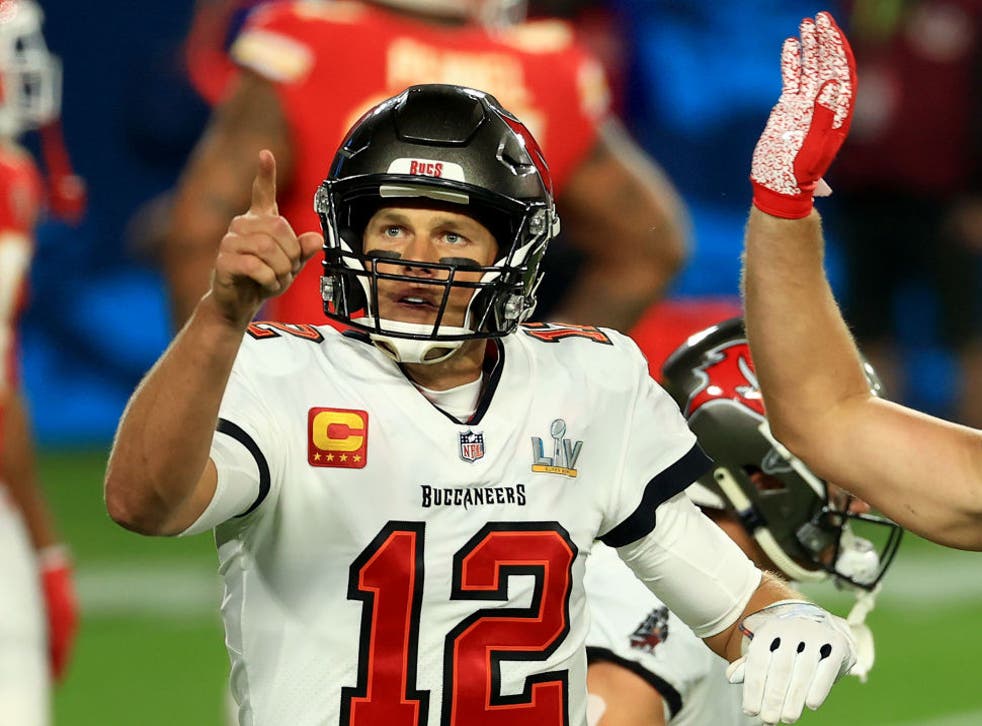 Tom Brady produced a masterful display to guide the Tampa Bay Buccaneers to a 31-9 victory over the Kansas City Chiefs at Super Bowl LV.
Brady was given ample support throughout a one-sided contest at their own home, Raymond James Stadium, with Shaq Barrett and Jason Pierre-Paul leading the defence which swarmed Patrick Mahomes throughout.
READ MORE: How Tom Brady cemented his legacy as the greatest of all time
Brady tossed two touchdowns to Rob Gronkowski and another to Antonio Brown, while Leonard Fournette, with 135 yards from scrimmage, rushed for another.
Todd Bowles' defence ensured Mahomes finished the game without a touchdown, with the only Chiefs points coming from the boot of Harrison Butker.
The victory sees Brady move to seven Super Bowl titles, his first in his debut season since departing New England.
Here are five things we learned from Super Bowl LV:
Gronkowski proves his greatness
Rob Gronkowski, multiple touchdowns, multiple Super Bowls (LII and LV). Only Jerry Rice (XXIV and XXIX) has achieved that.
Indeed, the hulking tight end validated his decision to come out of retirement to join Brady in Florida, with their two connections for touchdowns underlining their historic relationship. Now with 13 play-off touchdowns, the iconic pair surpassed Joe Montana and Jerry Rice for the most by a quarterback-receiver combination in post-season history.
Travis Kelce may well be the most prolific tight end in the league right now, but Gronkowski provided a telling reminder of his greatness when it mattered most, proving himself as the best to ever do it at the position.
READ MORE: Eric Bieniemy, Todd Bowles and the injustice facing minority coaches in the NFL
Chiefs ill discipline gifts Bucs opportunities
The Kansas City Chiefs should have been the more composed team at Raymond James Stadium tonight, a year on from their triumph at Super Bowl LIV, but instead, Tom Brady and co. appeared to lure them into a series of sloppy mistakes.
A slew of penalties advanced the Bucs at crucial moments, including Antonio Hamilton straying offside as Ryan Succop struck a field goal, presenting a first down that Brady gleefully dispatched by connecting with Rob Gronkowski for a touchdown, chalking up four bonus points.
Even the Chiefs' instinctive brilliance was undone when Tyrann Mathieu snatched a deflected Brady pass, only for Charvarius Ward's holding penalty to wipe away a blemish on another sublime display for No 12.
Not only were the Chiefs error-prone, they allowed emotions to spill over, with Chris Jones swiping at  Ryan Jensen and Mathieu exchanging choice words with Brady following a dubious holding penalty on Mike Evans.
The hole that their ill discipline put them in ultimately proved too great even for Mahomes and this explosive offense.
Rare Mahomes struggle provides compelling watch
The turf toe appeared to be bothering Mahomes from the outset, but even a fully fit version would have struggled with the defensive game plan Todd Bowles produced tonight.
The defensive mastery against such a mercurial talent provided a gripping watch as Mahomes struggled to solve the puzzle.
The two high safety looks and enough pressure from the Buccaneers' tenacious front four saw Mahomes scrambling all night, which ultimately resulted in some of his signature throws, including one with his body almost parallel to the turf in a desperate heave on fourth down in the fourth quarter.
It's been a tremendous two-year run since anybody was able to befuddle Mahomes and now attention turns to just how he will rally next season.
Fournette secures redemption
Leonard Fournette was discarded to the scrap heap by the Jacksonville Jaguars at the start of this season, with the former No 4 overall pick from the 2017 draft deemed useless by a team that finished with a 1-15 record.
Initially as a complimentary piece to balance out Brady's explosive offense and provide depth, Fournette, or Playoff Lenny following his eye-catching displays in recent weeks, has carved out a crucial role for the Bucs.
Redemption had already been secured, but here he grabbed the limelight on the biggest stage, completing what could only have been a dream five months ago.
The ferocious nature of his running has proven invaluable, but his wiggle and bounce in the pocket to snatch a second opportunity to break free was a joy to witness here.
Brady ends GOAT debate
To some it was already over, but with this comprehensive victory over the reigning champions, Tom Brady emboldened his claim to be the greatest quarterback ever.
A seventh ring, moving to 7-3 all-time in the big dance, and now with a second team, has added some shine to his part in the greatest quarterback-head coach partnership with Bill Belichick following their 20-year dynasty in New England.
Brady produced a polished game tonight, at a still unbelievable 43 years of age, using screens and, notably, play action alongside a punishing run game to marshall this Bucs offense.
Whatever happens beyond this season, and Brady does intend to play until he is 45 years of age at least, his formidable resume will now surely never be caught.
Join our new commenting forum
Join thought-provoking conversations, follow other Independent readers and see their replies