Team GB's Mo Farah's inspirational former PE teacher to cheer him at London 2012
Mark Blunden
Friday 03 August 2012 16:58 Comments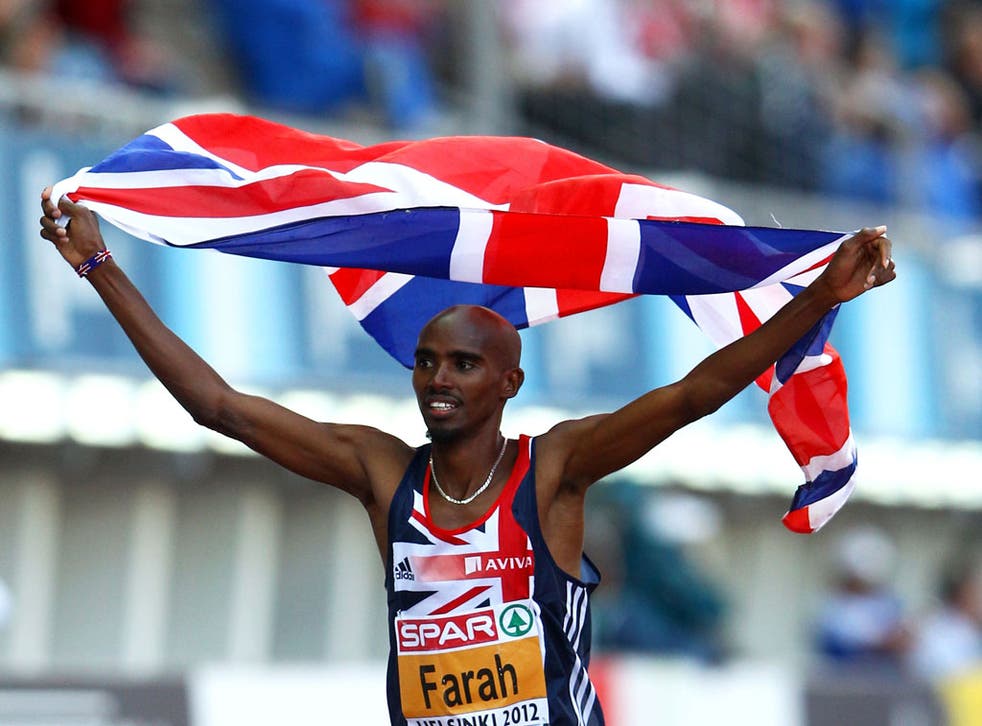 Out of the 80,000-strong crowd who will see Mo Farah compete tomorrow the proudest spectator will be his best man and former PE teacher Alan Watkinson.
Mr Watkinson took Farah under his wing when he arrived in London from Somalia aged eight and helped propel him on a journey that would see him become one of Team GB's most loved stars.
Farah went on to become ranked number one in the world over 10,000m and fourth at 5,000m.
The runner came to Britain with his father and two younger brothers to escape Somalia's devastating civil war.
When he started junior school he was equipped with only three English phrases: "excuse me", "where is the toilet?" and, unhelpfully, "c'mon then".
Mr Watkinson met him three years later when he was struggling academically at Feltham Community College and suffering from the language barrier - Farah has since become an award-winning athletics writer.
He noted that Farah had a passion for football but it was his speed on the pitch where he shone.
Mr Watkinson said: "If he was going to have an chance to progress, someone was going to have to take him under their wing - there were so many distractions that could get in the way."
He entered Farah for a cross country course and finish second.
A few weeks later he finished fourth in a county championship, despite not having spikes.
Soon afterwards Mr Watkinson told him he could run for Great Britain.
He won seven school cross country titles and Mr Watkinson signed him up with an athletics club.
By the time he was a gangly 14-year-old, Farah won the English schools cross country championship.
Mr Watkinson drove Farah to athletics meetings, using the trips around the M25 as impromptu English lessons.
The father-of-one said today: "Mo's a gregarious, loveable guy, he's modest and what you see is what you get.
"When I watch the race on Saturday, it will be a mixture of very, very excited and very nervous.
"I think he will handle it much better than I will, Mo is very calm and feeling positive.
"I've only seen him very, very nervous once and that was when he was getting married.
"I got tickets for the 10,000 metres through the ballot, it was a pure fluke."
Mr Watkinson is also likely to be one of the most vocal fans - when Farah became the first Briton to win 5,000 at the 2010 European Champions, he was out of his chair shouting at the television.
The pair are close friends and Mr Watkinson was best man at Farah's wedding when he married his long-term girlfriend, Tania.
Guests also included Steve Cram and Paul Radcliffe, a long-time supporter of Farah who paid for driving lessons so he could compete.
Mrs Farah will not be in the stadium tomorrow because she is due to give birth to twins early next month.
The long distance runner has become a role model for young Somalis.
Yussef Ahmed, the co-ordinator of Islington Somali Community Group, said: "Mo means so much to young Somalis. Somalis usually come to the UK as refugees and their biggest concern is how to settle with a different culture and language.
"It can be difficult and many young Somali men lose their self-esteem and some turn to crime and anti-social behaviour.
"But in the past five years things have begun to improve – and Mo has been a part of that. He has been a role model."
Farah's aim after 2012 is to switch to marathon running.
Mr Watkinson, who works at School Sport Partnerships in Hounslow, said: "Marathons would be a fresh challenge for him - he started off as a child running the mini-London Marathon, which he won three or four times.
"Hopefully he will be able to fulfill his goal on the track."
After the Great Britain preparation camp in Portugal, Farah went to France for altitude training and is now in the Athlete's Village.
The pair were texting each other at the weekend discussing the atmosphere in the Park.
Mr Watkinson said: "Mo got to the Olympics through incredible hard work and preparation, he feels ready and I am incredibly proud of him."
Register for free to continue reading
Registration is a free and easy way to support our truly independent journalism
By registering, you will also enjoy limited access to Premium articles, exclusive newsletters, commenting, and virtual events with our leading journalists
Already have an account? sign in
Join our new commenting forum
Join thought-provoking conversations, follow other Independent readers and see their replies