The Independent's journalism is supported by our readers. When you purchase through links on our site, we may earn commission.
Shelagh Fogarty: Martine's journey from Tube horror to Paralympics Games celebration
She laughs off suggestions that her appearance at the Games is inspiring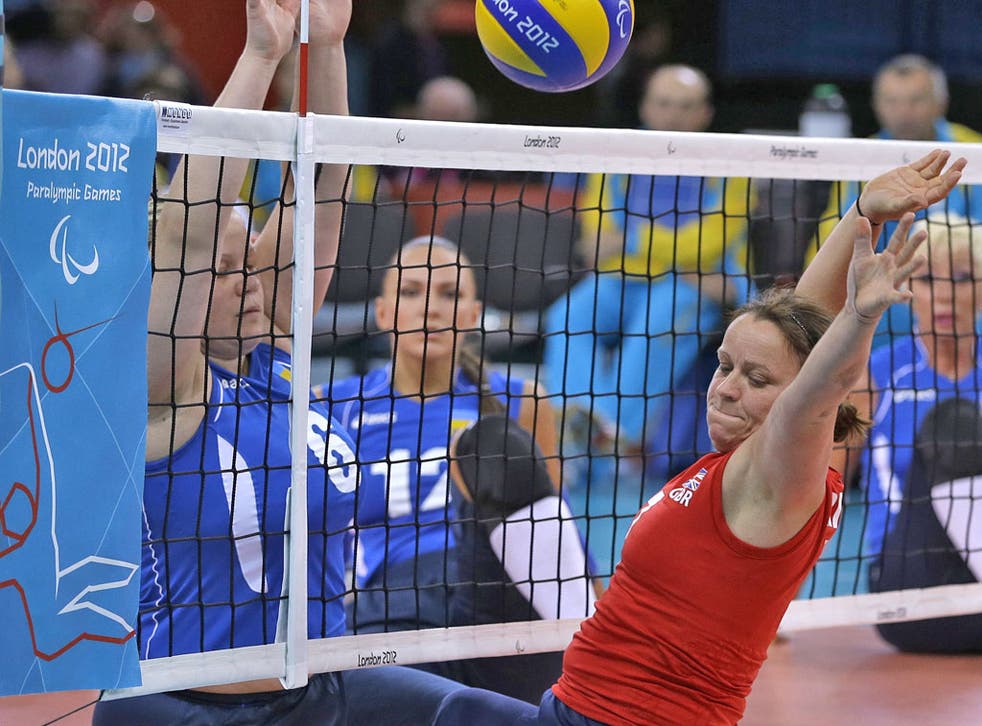 When the faces of the people who died in the 7 July bomb attacks in London were broadcast the world over, during the Olympic Opening Ceremony, Martine Wright could have been forgiven for shuddering. She came closer than most to being in that sad roll of honour.
Click HERE to view 'Sitting volleyball: everything you need to know' graphic
On that day seven years ago she had changed her travel plans and ended up on a Tube train just feet from the man who was to detonate a suicide bomb on the Circle Line at Aldgate. You probably know the rest – massive damage to her legs, which would later be amputated above the knee, and certainly only still alive because of the quick actions of an off-duty Metropolitan Police officer.
So when she positioned herself, agile and ready, on a Paralympic volleyball court yesterday it was the completion of a journey she herself has said she feels she was "meant to be on".
The 3,000-strong crowd who turned out to watch the women's GB sitting volleyball team play Ukraine probably all knew that at least one player on court was different from the rest, not because of her disability, but because of the story which led her to it. There are plenty of other athletes here at the Paralympic Games whose disability has its roots in war and violence – think of the Rwandan men's sitting volleyball team, made up of Hutus and Tutsis whose savage war left almost a million dead, or the former soldiers who lost limbs in landmines.
The 7 July attacks, though, will for ever be linked to the day London won the chance to host the Games. I remember broadcasting 5 Live Breakfast from Stratford on the morning after the big announcement from the IOC. The message from the editor? "Celebration". The tone of the programme from 6am-9am was just that. And then came the bombs.
Even as we were on air people like Martine already lay injured underground. As we left Stratford and the story emerged, the smiles faded to horror and disbelief. Martine didn't know it that morning – she was hanging on to her life – but she was heading this way even then.
After recovery and rehabilitation she learnt to fly, married Nick, and gave birth to Oliver. Then came sitting volleyball and a Paralympic dream. So when little Oliver waved his banner saying "Go Mummy Go!" in a crowd which included Boris Johnson and Barbara Windsor, he and the rest of us knew that she would.
She came on at the end of the second set after a nervous start by her team-mates. The court is smaller than for standing volleyball and the net is lower so the game is often considerably faster. The players don't exactly sit for long. Quick slides and lunges and deep serving make it a high-octane experience all round. Wright and her team-mates rallied and produced some impressive blocking against the European champions Ukraine. She was central to a pretty determined rally which went GB's way to huge cheers from the crowd. They play the Netherlands next and she says that's her main focus, not the attention she receives for her experience on 7 July, 2005.
While she laughs off suggestions that her appearance at the Paralympic Games is inspiring to fellow athletes and spectators alike – "it's just me" is her retort – she must know that everyone who recoiled at the events of that day watch her perform and understand, even just for one fleeting moment, Prospero's appeal to his daughter Miranda (enacted at the opening ceremony) to marvel at humanity.
Join our new commenting forum
Join thought-provoking conversations, follow other Independent readers and see their replies