Tokyo Olympics: Flora Duffy wins Bermuda's first ever gold ahead of GB's Georgia Taylor-Brown
Georgia Taylor-Brown suffered a puncture during the women's triathlon but fought back to finish second as America's Katie Zaferes won bronze, but no one could compete with the dominant Flora Duffy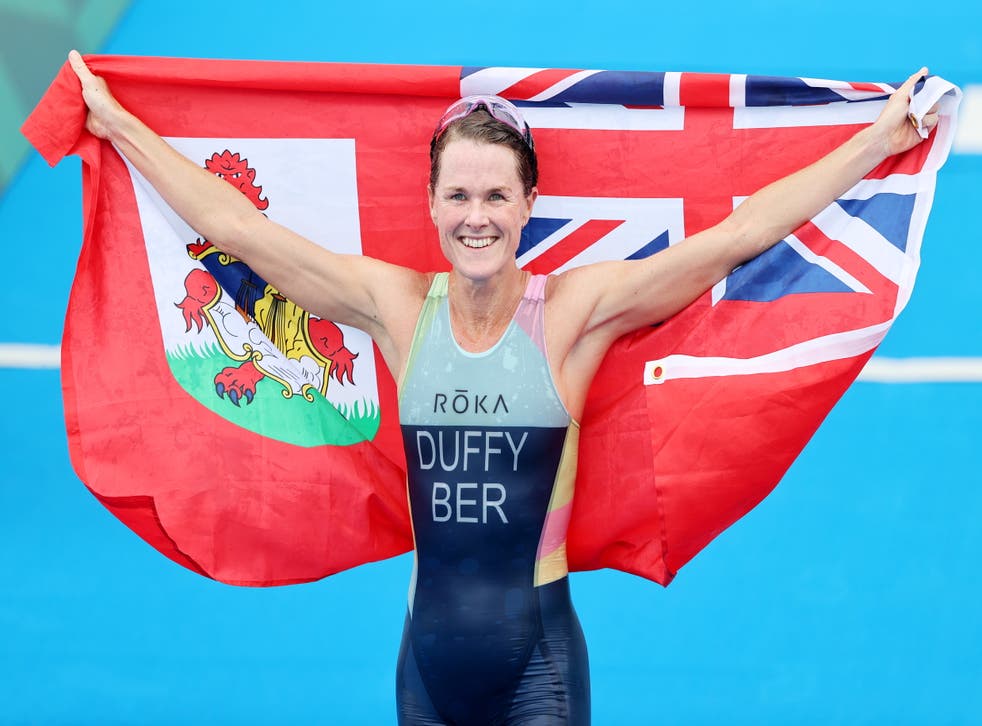 Multiple world champion Flora Duffy added the Olympic title to her collection to win Bermuda's first ever gold medal, as Britain's Georgia Taylor-Brown won silver despite suffering a punctured tyre in a rain-soaked women's triathlon in Tokyo.
Taylor-Brown and her friend and training partner Jess Learmonth were in the lead group as they emerged from the swim and stayed there throughout the cycle until Taylor-Brown's misfortune late in the ride. It left her with ground to make up but she transitioned well and began picking off rivals, including Learmonth, to hunt down a hard-earned medal.
The race came a year too late for Katie Zaferes, the US star who was World Triathlon Champion in 2019 and would have been the standout favourite 12 months ago when the Games was originally scheduled. She endured a difficult 2020 littered with crashes and injury struggles, before her father passed away in April. She began the final leg on Duffy's tail before fading, but dug in to win a gritty bronze.
"I did have a panic," Taylor-Brown said of the puncture. "I decided not to stop and change my wheel and just see what happens now. I went really hard for the first lap of the run. I suffered after that but it paid off. I was biding my time, I was five seconds off (Zaferes) for quite a while. I didn't want to push it too soon because I was really suffering but I really wanted to move up and get the silver medal."
Her gutsy performance produced a second triathlon silver after Alex Yee's second-place finish in the men's race.
"I'm extremely proud [of her]," Learmonth said of Taylor-Brown. "Most people don't understand or know much about what she's been through. You wouldn't believe how talented she is. I cried when we came over the start line. I wish everyone would know how amazing she is."
Taylor-Brown crossed the line more than a minute after Duffy to find the Bermudan on the floor in joyful tears. Duffy carried the weight of a nation around a sodden Tokyo Bay – she is something of an A-list celebrity on the Atlantic island, even if she lives in South Africa and trains in Colorado – but the pressure never showed as she controlled the race. Bermuda becomes the smallest country to win a summer Olympic gold medal, with a population of 64,000 – about the size of Macclesfield.
As she realised her triumph was complete in the final 100m, Duffy broke into a broad smile, then crashed to the floor holding the finish tape and let the tears flow. This glory seemed like an unlikely destination after her first Olympic experience at Beijing 2008, when she was suffering with an eating disorder which caused bouts of fatigue and depression. She didn't finish the race and quit the sport soon afterwards, returning to Bermuda to work in a shop, and it seemed like the end of her triathlon road.
But she knew in the back of her mind that she wanted one day to return to a sport that was in her blood. She had grown up by the beach and learnt a natural gift for all three of triathlon's disciplines from a young age, winning competitions aged eight and quickly making a name for herself on an island where word gets around. She also spent time at an English boarding school and could have represented Britain as Bermuda in an overseas territory of the UK, but was proud to wear her national flag.
After Beijing, Duffy took stock. She enrolled at the University of Colorado where some friends were studying, and it was there she met coach Neal Henderson. He realised she needed guiding back into sport and into a healthy lifestyle, and encouraged her to join the cycling team. An urge to swim came next, then finally to run. Her triathlon career was relaunched.
Duffy improved quickly, winning a series of world championships and then Commonwealth Games gold in 2018. Running was always her speciality and so when she left her bike behind and set out on two feet in charge of this Olympic race, 64,000 people on an island on the other side of the globe would have known this was her moment. Now, aged 33, Duffy has achieved her crowning glory and made history for a nation.
Join our new commenting forum
Join thought-provoking conversations, follow other Independent readers and see their replies