Tokyo Olympics: Karsten Warholm smashes world record to win sensational 400m hurdles gold
It was another astonishing moment in this Olympic Stadium as the 46-second barrier was broken for the first time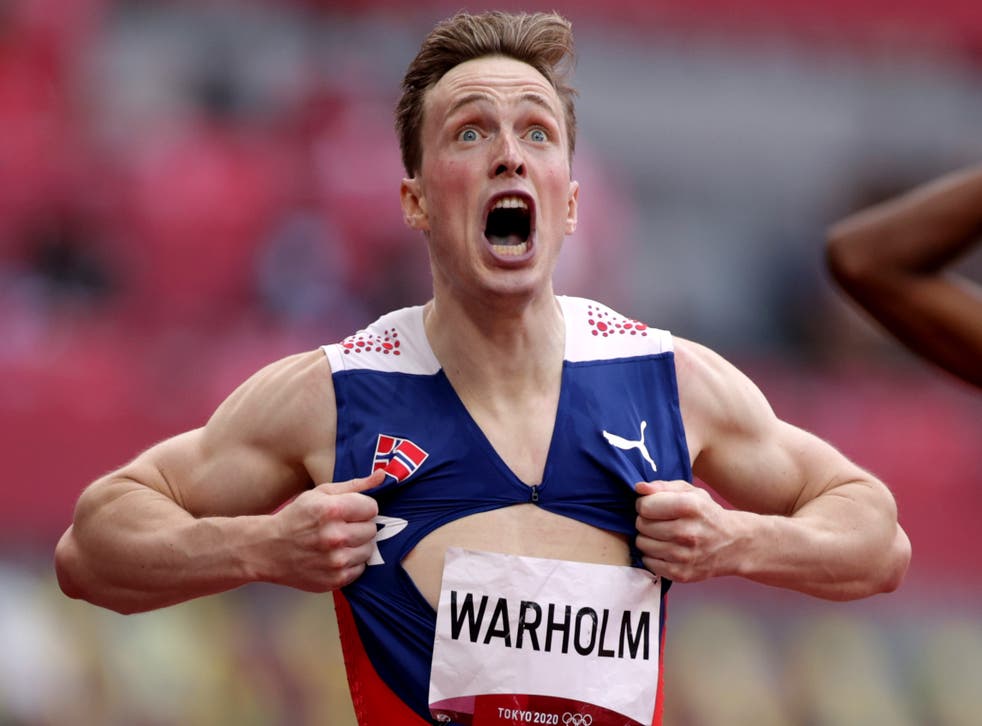 Karsten Warholm smashed the men's 400m hurdles world record to add Olympic gold to his collection of titles in sensational style. The Norwegian approached the final hurdle with his great rival, America's Rai Benjamin, on his shoulder, but adjusted his stride to attack and pull away, clocking an astonishing 45.94 sec to eradicate his previous record of 46.70.
Benjamin took silver having run his own stunning time of 46.17, which would have won every previous Olympic final emphatically. And if you'd told the Brazilian Alison dos Santos he would clock 46.72, he would have assumed he was collecting gold, not a distant bronze.
It was another astonishing moment in this Olympic Stadium, which has served up some thrilling track and field already. Only a few minutes earlier Germany's reigning world champion Malaika Mihambo won women's long jump gold with her final attempt as she leapt to 7.00m exactly, knocking America's Brittney Reese and her leading mark of 6.97 down to silver. Nigeria's Ese Bruhme took bronze while Britain's Jazmin Sawyers finished eighth with 6.80.
Then came the incredible finale of the morning's athletics. Warholm vs Benjamin was always likely to be one of the rivalries of the Games, one which had been brewing long before the start line. Warholm broke the world record earlier this year in Oslo with what now seems a tortoise-paced 46.70, which had come in response to Benjamin's 46.83 in the US trials. They met in the semi-finals here, slowing at the finish and almost crossing the line hand-in-hand.
They matched each other almost stride for stride in the final and came off the final bend well ahead of the rest, but one step made the difference: Warholm adjusted his stride pattern going into the final hurdle and it allowed him to spring forwards as Benjamin stuttered before clearing it. Then Warholm was ahead, chest arched forwards, arms swaying, hurling himself towards the line. When he saw the time he fell into an emotional heap.
"Sometimes in training, my coaches keep telling me this could be possible with the perfect race," Warholm said of the prospect of breaking 46 seconds. "But it was hard to imagine it because it's a big barrier, and it's something you don't even dream about."
Benjamin felt a mix of emotions – proud to have been part of history but baffled to have finished second. "If you would've told me that I was going to run 46.1 and lose, I would probably beat you up and tell you to get out of my room," he said. "I'm happy to be part of history."
Join our new commenting forum
Join thought-provoking conversations, follow other Independent readers and see their replies