Tokyo Olympics: Katie Ledecky returns to win sixth Olympic gold after Ariarne Titmus takes 200m crown
Ledecky struggled as Titmus dominated the 200m and 400m freestyle events, but she was back to her best at her favourite distance to clinch a first gold medal of the Tokyo Games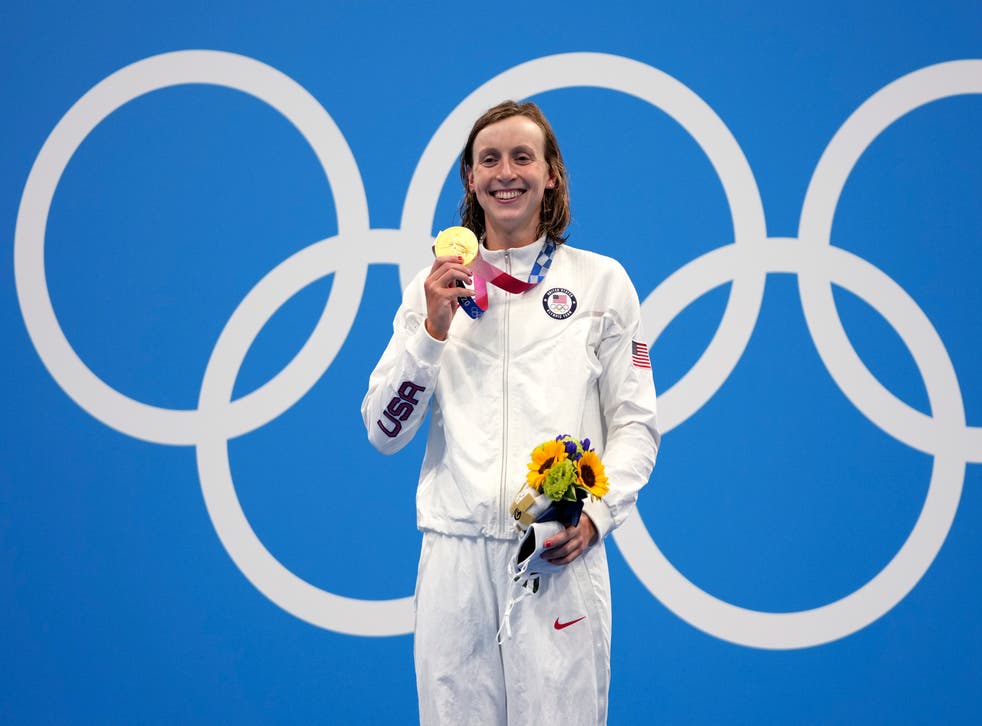 Katie Ledecky added to her swimming legacy with victory in the inaugural 1500m freestyle final to collect her sixth Olympic gold medal and her first of the Tokyo Games, but only after 20-year-old Australian Ariarne Titmus had completed her comprehensive dethroning of the American in the middle distances with victory in the 200m freestyle.
Ledecky has been the dominant force in women's freestyle since grabbing the world's attention with 800m gold at London 2012 aged only 15. A string of world titles followed at 200m, 400m, 800m and 1500m, as did four more Olympic gold medals in Rio, and she added No 6 with trademark dominance.
She went out fast and established a two-length lead which grew as the final went on. The 24-year-old appeared in total control with her metronomic stroke in full working order despite her earlier exertions, finishing in 15min 37.34sec – the 12th fastest time in history. The other 11 are all hers, of course. Ledecky's US teammate Erica Sullivan paced her swim brilliantly to pick off the rest of the field in the final 600m and earn silver for a US one-two. Germany's Sarah Kohler won bronze.
The 1500m freestyle is Ledecky's favourite event and its new Olympic status for this Games offered the perfect opportunity she needed, having lost her 400m crown earlier this week to Titmus, and then failing to medal in the 200m an hour before this race. Titmus's double sets up a mouthwatering prospect of the two going head to head once more in the 800m, on what is likely to be neutral territory.
Over the shorter distances it is Titmus who now wears the crown. There was to be no gyrating of handrails or startling of innocent volunteers this time: her coach Dean Boxall went viral two days ago for his enthusiastic celebrations after 400m gold, but here he reeled it in a touch, raising a couple of triumphant fists and issuing a few high-fives in tribute to her prodigious talent.
What was so striking was the way Titmus measured her move, not derailed by the gap opening ahead of her. Titmus and Ledecky were neck and neck for most of the four lengths, trailing Hong Kong's Siobhan Haughey who went out fast. But in the final 50m Titmus showed her strength, powering to the front to finish in 1min 53.50sec, an Olympic 200m freestyle record. Haughey, the grand-niece of former Irish prime minister Charles Haughey, held on for silver and Canada's Penny Oleksiak won bronze.
"On the last lap I knew I had Katie covered, but Siobhan was the person that was there and I felt my legs starting to go, but I'm happy to get it done," said Titmus. "I don't think it will sink in until I go home and have a rest – when you're in this situation you have to compartmentalise everything. Once I stop racing I will release everything, but now I'm thinking about going onto the relay and the 800m, I don't want to celebrate too much but I am really proud of what I've achieved.
"I feel so fortunate to be here and to do what I love. I'm from a small town in Tasmania and it just goes to show if you believe you can do something you can 100 per cent do it if you work for it."
There were no surprises in the men's 200m butterfly where Kristof Milak of Hungary romped to a dominant victory, setting an Olympic record too. Malik was expected to win and looked totally unmoved doing it, while Japan's Tomoru Honda celebrated silver and couldn't have been more excited, grinning for the cameras and posing with peace signs.
Join our new commenting forum
Join thought-provoking conversations, follow other Independent readers and see their replies