Kelly Gallagher interview: First Briton to win Winter Paralympics gold medal
Simon Usborne speaks to Kelly Gallagher, the first Briton to win a Winter Paralympics gold, and charts the remarkable story of the visually-impaired skier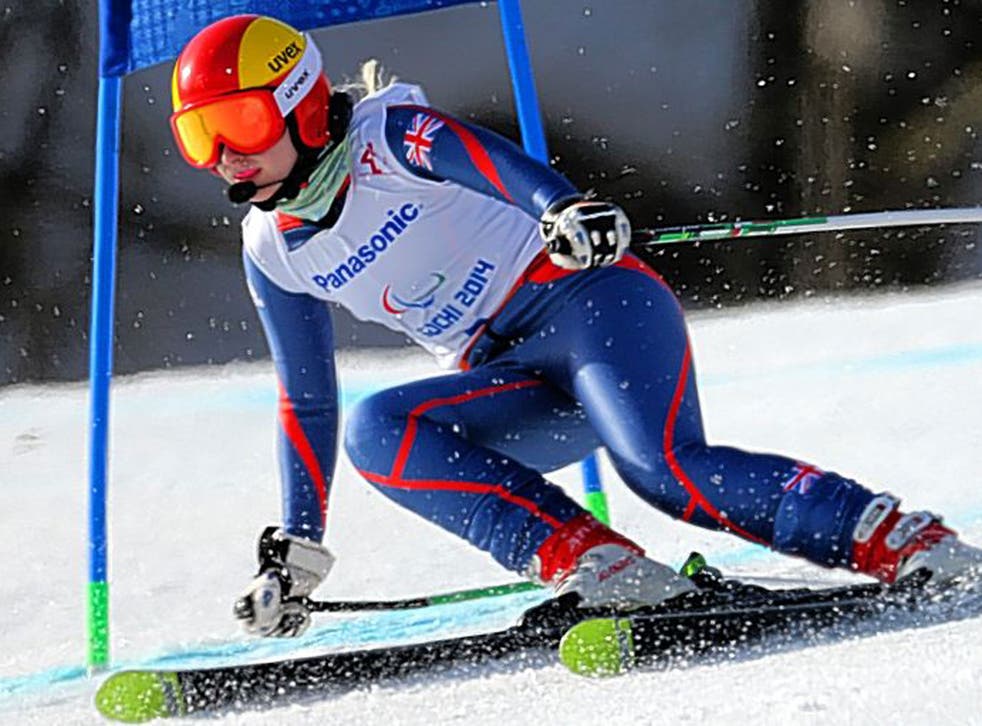 As a young girl growing up in a generally snow-free Northern Ireland, Kelly Gallagher's favourite toy was a skiing Barbie. Thanks to the doll's gaudy outfit, Gallagher could make out its appearance, but only if she held it close to her eyes, which from birth have been severely affected by a form of albinism. She never imagined she could ever ski herself.
"She had pink ski boots and a fashionable pink jumpsuit and she was just awesome," Gallagher recalls. "I must have been about six or seven and I had to wait another 10 years to get on snow myself. But once I clicked into those skis I thought, this is it – catch me if you can."
Now aged 28, Gallagher is among four women who have elevated a hitherto unheralded sport. Early on Monday morning, she won Britain's first Winter Paralympics gold behind her guide and best friend, Charlotte Evans. Fellow Brits Jade Etherington and her guide, Caroline Powell, won a bronze medal in the same Super-G event at Sochi, adding to the silver they bagged in the downhill on Saturday.
"It means so much," Gallagher says shortly after her medal ceremony. "We were clocked in training at 104kmh [65mph]. When you think I wouldn't sit on a car bonnet going that fast, the idea that I'm doing it in a catsuit with only a back protector is a really special thing."
Being almost blind is notably absent from this consideration, because Gallagher, whose eyes alone cannot tell her whether she is standing still or going downhill fast, has never felt disabled. Not long after those Barbie days, she began to inline skate and refused to be seen with a white cane. Aged 17, during a French family holiday, she insisted on a diversion to Andorra and her first ski lesson.
"Things got lost in translation at first when I explained to the instructor that I couldn't see," she says. "He said, yes, the visibility is quite bad today." Gallagher, who is unable to drive or cycle, persevered and became instantly hooked. "I can't find that speed in any other activity. There's just nothing I can compare it to."
It's not clear when visually impaired snow-lovers first put blind faith in other skiers, but they have only had a place at the Paralympics since the 1998 Winter Games in Nagano. They follow closely behind full-sighted racers who wear luminous bibs, receiving directions from them via audio headsets.
Evans, a former solo racer who began working with blind skiers while recovering from injury in 2009, met Gallagher four years ago. "At first, it was more Kelly the athlete and me kind of like the carer, but it's definitely equal now," she says. "My job is to get her down as safely and quickly as possible, things that don't usually go together, but it works."
James Redpath is an adaptive skiing instructor and administrator at the British Disabled Ski Team, which is managed by Disability Snowsport UK. He hopes success in Sochi will trigger greater awareness and funding. "We basically run the team on a shoestring," he says. "We only have two full-time members of staff… If we are going to progress it's very important that this changes."
John Dickinson-Lilley is a visually impaired skier whose Sochi dreams were dashed when his guide retired last summer after getting a "proper job". John, 35, who funds his training while working as head of public policy for Sport England, is appealing for a new guide before the next Winter Paralympics in South Korea.
"These results aren't from big corporate sponsors or loads of public money, but huge commitment and individual investment," he says. "They could be great news for the sport and will hopefully inspire a new generation of young disabled people to take up all kinds of skiing."
The sport offers visually impaired people more than thrills and freedom, says Dickinson-Lilley, whose eyesight began to fail due to a brain condition when he was 13. "It makes you more independent and mobile because it sharpens your ability to perceive things around you."
As the sport develops, Gallagher finds even less to separate her from able-bodied skiers. "We can guess the kind of speed we're doing but when I saw it up there, I thought, this is something to be proud of – we're up there with the best in the sport and it's really exciting."
Join our new commenting forum
Join thought-provoking conversations, follow other Independent readers and see their replies