Modern girl masters all the old skills
Her five disciplines may seem dated but Prentice is Britain's latest superheroine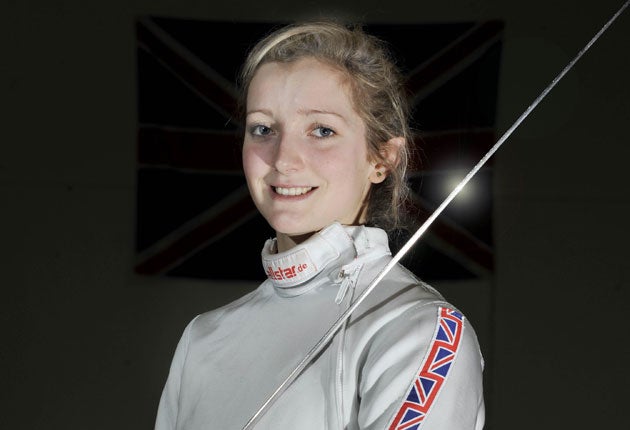 The Greeks usually had a word for it, but one of their early sports fans, old Aristotle, apparently had several. "The most beautiful sportsmen of all," he opined of the pentathletes when the original Olympics took off in ancient Athens, his philosophy endorsed by Baron Pierre de Coubertin, who adapted the event for the modern Games "because it produces the ideal, complete athlete, testing a man's moral qualities as well as his physical resources and skills".
In a sporting world disfigured by excess, "mod pen" is still regarded by some as an anachronism, yet it remains the most authentic of Olympic pursuits, symbolic of what De Coubertin – and Aristotle – thought the Games should be about, though it is no longer merely men who make it a thing of sporting beauty.
Modern pentathlon, embracing five sports – running, swimming, fencing, shooting and riding – has long been an understated activity in Britain, but it is efficiently run and successful. The most demanding of all disciplines, and the hardest to train for – it used to be spread over five days – is now compressed into a one-day dawn-to-dusk affair, partly to make it more televisual.
Britain has an outstanding track record, based on the team gold medal brought home from Montreal by Jim Fox and his men in 1976, and subsequently the World Championship won by Richard Phelps in 1993. The dashing Sergeant – later to be Captain – Fox led the charge down sport's super-highway. But since then, the Foxes largely have been vixens. In the past decade it has been British women who have taken over from the men, with Steph Cook's stunning Olympic gold in Sydney 2000, where Kate Allenby won bronze, Georgina Harland's third place in Athens and Heather Fell's silver in Beijing, as well as some notable team triumphs in global competition.
In Bath, these latter-day Lara Crofts, seven of them in the world top 40, are preparing for a serious assault on London 2012 under performance director Jan Bartu, who competed for Czechoslovakia against Fox in 1976 and, in his 12 years here, is right up there with cycling's Dave Brailsford and rowing's Jürgen Gröbler as one of the most consistently successful GB coaches.
And among "Jan's Angels" there is a new girl on top – Freyja Prentice, a 20-year-old blonde from Aberdeen, who, at No 11 in the world, has nudged ahead of Fell and with other team-mates Samantha Murray, Katy Burke, Mhairi Spence, Louise Helyer and Katy Livingston, typifies a sporting blend of beauty and the beef. Fit and feisty, all could be candidates for the catwalk rather than the podium.
Prentice, a world junior silver and senior and junior team gold medallist, was born in Stavanger, Norway, where her father, originally from South Africa, was an oil rig drilling supervisor. She was named Freyja after a Norwegian goddess; it also happens to be a brand of chocolate her New Zealand-born mother, a former racehorse trainer, was especially fond of. "I've always been hyperactive and my mum tried to get me into as many sports as possible," she said. "I joined a pony club in Aberdeen but I tried a bit of everything before I was spotted by a pentathlon coach."
At 15 she was in the GB development squad and joined the full elite programme at Bath, one of Britain's most productive sports hubs, a year later. She is now in the second year of a biology degree at the university.
"The standard among the girls is amazing," she says. "We are all friends because there is a team element as well, but we all want to beat each other, so even our training sessions are like a competition."
Only two from each of the women's and men's teams can compete in London so this is a vital year for gaining qualification points. It starts with the first event of the World Cup series in Palm Springs, California, next month, with the final in London on 9-10 July. The World Championships follow later that month in Medway, Kent. "You can tell there's a complete change of atmosphere here," says Prentice. "Everyone has returned from the Christmas break raring to go. We are all intently focused because the Games are only a year and a half away."
Bartu describes Prentice as "almost the ideal individual for the sport because of her all-round athletic ability. What she needs now is more experience to raise her game. She needs to compete as much as possible."
Prentice, whose boyfriend David Atkinson is also a pentathlete, concurs: "I've been going away with team-mates like Heather [Fell], who I really look up to, who have done it for years and things that bother me don't bother them. They say, 'Just don't worry about it'. I need to learn what to worry about and what not to. When you are in a World Championship situation you can't start panicking if you want good results."
The mod pen remains the ultimate Olympic test and, with the new biathlon-style combined running and shooting, it is even harder graft. But with Prentice no longer the apprentice, and the men's squad led by European silver medallist Sam Weale re-gaining some of the ground lost to the women, Britain can be optimistic for 2012. "We have athletes in both groups who can go all the way," says Bartu. Never mind Aristotle, even Homer would nod in agreement.
British Olympic Association
The British Olympic Association are the National Olympic Committee for Great Britain and Northern Ireland. They prepare the "Best of British" athletes for – and lead them at – the summer, winter and youth Olympics, and deliver extensive support services to Britain's Olympic athletes and their national governing bodies to enhance Olympic success. Go to olympics.org.uk
Join our commenting forum
Join thought-provoking conversations, follow other Independent readers and see their replies