Rio 2016: What a wasted opportunity not making Nicola Adams our flag bearer
What would it have said about our country for a black bisexual woman  to be our representative at Friday's opening ceremony?
Ian Herbert
Rio de Janeiro
Wednesday 03 August 2016 21:23 Comments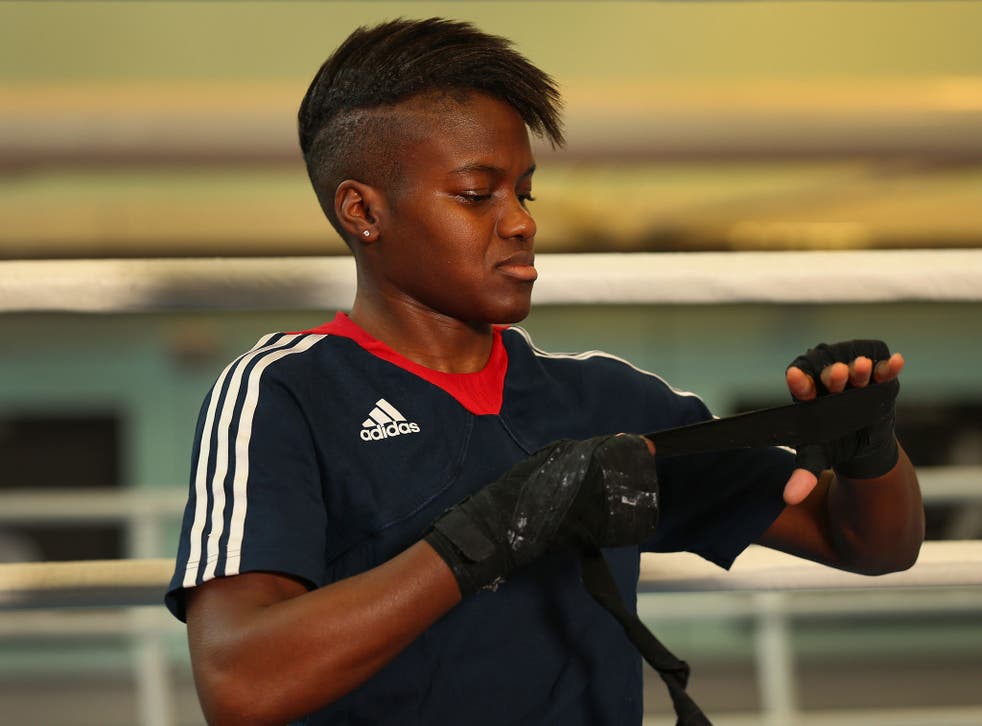 The prospect of Nicola Adams becoming the British flagbearer had only just been extinguished when she arrived to talk about her Olympics hopes and the sights she has set on becoming the first British boxer since 1924 to successfully defend a gold medal.
The Team GB people had broached the subject that a British Olympic Association panel preferred Andy Murray, but the smile which ignited our ten-minute conversation revealed that there was no problem. There is never an edge with her and a competitiveness with the ego taken out. Murray would be a worthy flagbearer she said. "He's a nice guy and I am always at Wimbledon watching him!"
It was when the flag talk was over and Adams ventured into a broader discussion of her life since the London Olympics - her struggle to find women to box against in her early days, four years without a proper fight from the age of 13 to 17– that you realised what it would have meant for her to carry the flag. "I was still sparring the guys [at that time]. I still spar the guys now."
There is a bigger, more emblematic reasons of course. What would it have said about our country for a blac, bisexual woman to be our representative at Friday's opening ceremony? It would put right an inequality, too. Since the 1908 Olympics, only three women have been chosen as our flag bearers - Anita Lonsbrough, Lucinda Green and Kate Howey. Never has Britain sent more women to an Olympics overseas than here, so when better then to put that right? Sir Bradley Wiggins, another contender, has said that he would be pleased to see a woman getting the honour. Needless to say, Adams didn't venture into such waters.
Instead, she took the conversation elsewhere. The problem with sport is so often the self-absorption it fuels, yet here was a competitor willingly providing a sense of how it is to be her.
"I had a little girl come up to me saying she had been doing ballet for five years, then she saw me win Olympic gold and now she is boxing. That's nice to hear," she said. "I would love to think that they are thinking they want to come into boxing after seeing me compete. There were people that never even knew women's boxing existed before the 2012 games. Now everybody knows that there's women's boxing. I was just happy with the reception I received."
Since London, there have been four hard years of work and a life in two places: the English Institute of Sport in Sheffield all week, leaving her two dogs - a Pomeranian called Bailey and a Doberman, Dexter - with her mother, Dee, every Sunday night after weekends in Leeds.
Adams is the reigning Olympic, World, European and Commonwealth champion, though there seems no doubt what Rio means. "I have seen re-runs of [Muhammad] Ali and Sugar Ray Leonard winning their golds and I always thought 'wow, I want to create more history'. I thought I would love to be able to compete in front of a crowd like that and go to an Olympics. I was able to fulfil my dream."
It is self-evident that for her that Olympic gold is the pinnacle. That cannot be said of Murray, even though he arrives as a proud Briton and will articulate that at a press conference on Thursday.
Adams said she would like an acting role one day that entails action in it. Recent opportunities have been limited to roles as extras, with the chance to play herself in the BBC's Waterloo Road having to be passed up as she was too busy boxing. Something like Game of Thrones and the Walking Dead are her favourites. "I'd love to be the first female Bond – I've been the first everything else!"
After these Games, there will also be the prospect of genuinely seeing her compete. The headguards which have always been worn at Olympic competition are being removed for the men in these Games and the same will follow for women thereafter. "You will be able to see a lot more of the boxer's face and personality of what's going on," she said.
Adams sees the British boxing contingent here – the biggest at any Olympics – capable of surpassing their five golds from London. "For me it's been different from London because I'm a lot more confident now," she said. "I know what it's like to go to an Olympics Games now. I know what the pressure is like. I know what it's like to be in the media, in the arena in front of 10,000 people. I feel a lot more rounded as an athlete. There's more expectation, but I like it. I like the fact that people believe I can win a gold medal and I'm capable of doing it and I will be doing everything possible to achieve that.
She is box office and she would have set the Olympics off with a statement of what it is to be British in these times. What an opportunity wasted.
Register for free to continue reading
Registration is a free and easy way to support our truly independent journalism
By registering, you will also enjoy limited access to Premium articles, exclusive newsletters, commenting, and virtual events with our leading journalists
Already have an account? sign in
Join our new commenting forum
Join thought-provoking conversations, follow other Independent readers and see their replies