Nicole Cooke: I hated cycling, I was in pain, I wanted to quit
Just 11 months ago, injury almost forced her to give up. Today, the Welsh wonderwoman is the Olympic and world champion and has rewritten history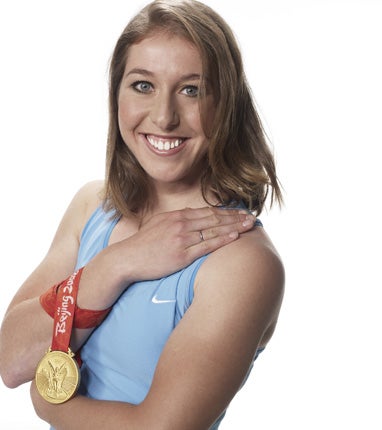 Nicole Cooke is sitting comfortably on a sofa, chatting contentedly about her life and recent golden times. The sudden rumble overhead fails to put a spoke in her wheels. "It's just the trains," she says.
Well, we are just down the road from Waterloo station, in a studio built under some old railway arches. And this is the woman who rode to Olympic glory against a "Bohemian Rhapsody" backdrop in Beijing 10 weeks ago. Thunderbolts and lightning assailed the 66 competitors in the women's cycling road race in the Chinese capital that unforgettable Sunday. It was all very, very frightening, and yet one rider held her nerve amid the meteorological dramatics in the 102.6km test of endurance.
Cooke timed her effort to perfection, swooping past Emma Johansson of Sweden and Tatiana Guderza of Italy on the uphill climb to the finish line in the shadow of the Great Wall at Badaling. In doing so, of course, she launched the Great British gold rush. It was the first of 19 chunks of the most precious metal that came Team GB's way, Britain's greatest Olympic haul for 100 years.
At the belated victory parade through central London last Thursday, the heroes and heroines of Beijing spoke of how they were still basking in the reflected golden glow, of their vague plans to get back into the full swing of training, of their intentions to start setting new goals somewhere down the line. All of them except Cooke, that is.
She has already got back on her bike and taken on the world's best again. She has beaten them too. At the World Championships at Varese in Italy last month she won the 138km women's road race in another astutely judged sprint, holding off the flying Dutchwoman Marianne Vos. Welsh lightning had struck for a second time in six weeks. It was the first time that any rider, male or female, had won a world and Olympic road race title in the same year. It showed that this 25-year-old pedal-pushing phenomenon from the village of Wick in the Vale of Glamorgan happens to be a champion among champions.
After Bradley Wiggins struck Olympic cycling gold in the individual pursuit in Athens four years ago he confessed it took him 12 months to get over the anticlimax that followed. No such demons have bedevilled Cooke; she has already seen them off. "Straight after the Olympics, I realised there was a chance to write cycling history," she says, reflecting on her momentous double. "No one had ever won a world and Olympic title on the road in the same year. I had that opportunity after Beijing and it was an inspiration to me when I got straight back into my training. I was riding on a wave of excitement and joy after the Olympics."
And yet the remarkable thing about Cooke and her trailblazing, wave-riding annus mirabilis is that she very nearly spent it in retirement. Eleven months ago she was struggling in the saddle after an operation to her left knee. She was considering the prospect of quitting competitive cycling.
"It got to the point where I thought, 'Right, I might actually stop this'," Cooke says, revisiting the dark days of last November. "I was thinking, 'It's really sad. I'm really not enjoying the cycling. It's giving me a lot of emotional pain. I'm going out and all I'm thinking about are negative thoughts about the negative situation I'm in, and that my Olympic dream is gettingfurther and further away'.
"I had a knee injury. I had an operation in September and in mid-November I started getting the pains again. I was thinking, 'Oh my god, I've had an operation to correct this and the problem's still there.' Something that had given me so much freedom – the buzz, the whole pleasure of being outdoors and riding under your own power – had turned into something I was just hating. I was riding so slowlyand in so much pain. Also, one of my big dreams, to try and be Olympic champion, was looking like it wasn't going to happen. I was thinking, 'This really isn't nice. I think I need to leave it because I can't carry on like this'."
It was Andy Walser, a bike designerin Switzerland, where Cooke has her training base (in Lugano), who persuaded the woe-stricken Welshwoman to give her Olympic dream another chance. "Andy's a very close friend," she says. "He was my bike mechanic and helped me through it. He said to me, 'It doesn't matter if you stop because you're still Nicole; you're still the same person. It doesn't change anything really; you just won't do races. But maybe you do still want to race and you're feeling so bad because your dream is so strong. If that is the case, let's try and sort it out.'
"And he took me to see a doctor he'd worked with before with other athletes, Fabio Bartolucci, and he was able to offer advice and guidelines on how I could try and progress. And things started progressing. They were going OK – still not great – but then in March Fabio took on my coaching as well, and with his medical knowledge he was able to really help prescribe the training for my needs and my limits. And since then it's all been going well. It is a big turnaround. I think it's because I really believed in my dream and really wanted to make it happen and didn't give up when perhaps I might have done."
It was the same back in 2000, when Cooke's dream was just to compete on the Olympic stage. That was dashed by the British Cycling Federation's refusal to challenge an age restriction imposed by the sport's world governing body, the Union Cycliste Internationale. Cooke was 17 at the time. She had to stay at home while the women she had beaten to the British road race title headed Down Under to compete in Sydney.
"It was very disappointing," she says, "because it didn't make any sense at all. It was crazy that they wouldn't support me in my ambitions and in something that would have ultimatelybeen good for British cycling. I was British champion. I was the best female British road racer at the time. But it was something that I just had to accept and move on from. There was no point dwelling on something which was out of my control."
Cooke moved on to win four world junior road race titles. In 2002 she won the Commonwealth Games road race gold in Manchester at the age of 19. And since then even physical misfortune has failed to halt her climb to the global peak of her sport. The knee surgery she underwent last year was not her first; she had a similar operation in 2004. She also suffered a broken collarbone in 2005.
If only the future international sportsman who was in the year above her at Brynteg Comprehensive in Bridgend had shown such an iron will to maximise his considerable talents. Not that the teenaged Gavin Henson made very much of an impression on Cooke. "He was on the same school bus when I didn't ride to school," she says when asked if she can remember the Wales, Ospreys and British Lions centre. But what was he like? "Well, he was in the year above and a rugby boy," Cooke says, shrugging her shoulders. An enigma back then too, it would seem.
Unlike Cooke. Highly intelligent, highly articulate and highly engaging, at 25 she has achieved a feat that proved beyond even the Principality's princely high hurdler, Colin Jackson. Cooke's Beijing success was the first by a Welsh Olympian since the equestrian rider Richard Meade won team and individual three-day event golds at the Munich Games in 1972.
"Oh, it is special, yeah," she says. "It's not something I thought about in the build-up to Beijing, but it was so wonderful being able to share the Olympic success with the people back in Wales. When I went back to Wick at the end of August I'd never seen such a spirit in the community. It wasn't just there; it was all over South Wales. They had flags in the gardens and on houses: Welsh flags, Union Jacks, bunting, everything. It was such a transformation of the area, not just the village or my street.
"That's something which meansa lot to me: that it inspired so many people and brought happiness to other people."
Cooke, as it happens, is in London on an inspirational mission. She is taking part in a photo-shoot to publicise the Nike Here I Am campaign (nikehereiam.com), a push to get more girls and women involved in sport.
"I think it's a fantastic opportunity,because winning the first gold medal at the Olympics really brought the focus on to the women's side of sport," she says. "It showed that womenare up there and able to achieve things. And I can use my example. I startedcycling for fun, because I enjoyed it.
"The campaign is about trying to get people to take part in sport, and cycling is such a good example, where there's a social side to it. You can go for a pleasurable bike ride, finish with a coffee, go home – and you've had that workout and got that buzz inside you. It's more than just the participation. There are so many benefits from sport; if you can just encouragepeople to get started, then the hard part's done."
And the hard part for Cooke now? Might that be four years of mounting expectation and then defending her Olympic crown on the streets of London, lining up on home ground with her hard-earned title on the line?
Significantly perhaps, there is no trace of fear in Cooke's features as she ponders the question. Her blue eyes light up at the prospect. "Well, it will be different," she says. "But it's such a feeling to be Olympic champion. It's incredible. And I'm taking all the positives from it. It's great to know that I've proven that I can be right on the top, at the highest level in the sport of cycling. And it means that I can do it again. It's really wonderful to have that feeling.
"If I had the chance of going to London as Olympic champ or not, I'd choose Olympic champ every time. So yeah, it'll be a wonderful experience... I just can't wait."
Life and times

Name: Nicole Denise Cooke.

Born: 13 April 1983, Swansea.

School: Attended Brynteg Comprehensive in Bridgend, in the year below Gavin Henson.

Height: 5ft 5in.

Weight: 9st 1lb.

Early career: At 16 became the youngest rider to win the senior women's title at the British National Road Race Championships.

Turning pro: Joined Ausra Gruodis-Safo team (learned to speak Italian). Went to Swiss-based Univega (she lives in Lugano), now rides for Team Halfords-Bikehut.

Medal count: Gold in the 2008 Olympics road race (GB's 200th gold in modern Games); gold in the 2008 Varese World Championships (first woman to hold both titles in same year); gold at 2002 Commonwealth Games in Manchester.

And another thing: 2003 BBC Wales Sports Personality of Year.
Join our commenting forum
Join thought-provoking conversations, follow other Independent readers and see their replies