No golden swansong for Goldenballs as outrage greets Beckham TeamGB decision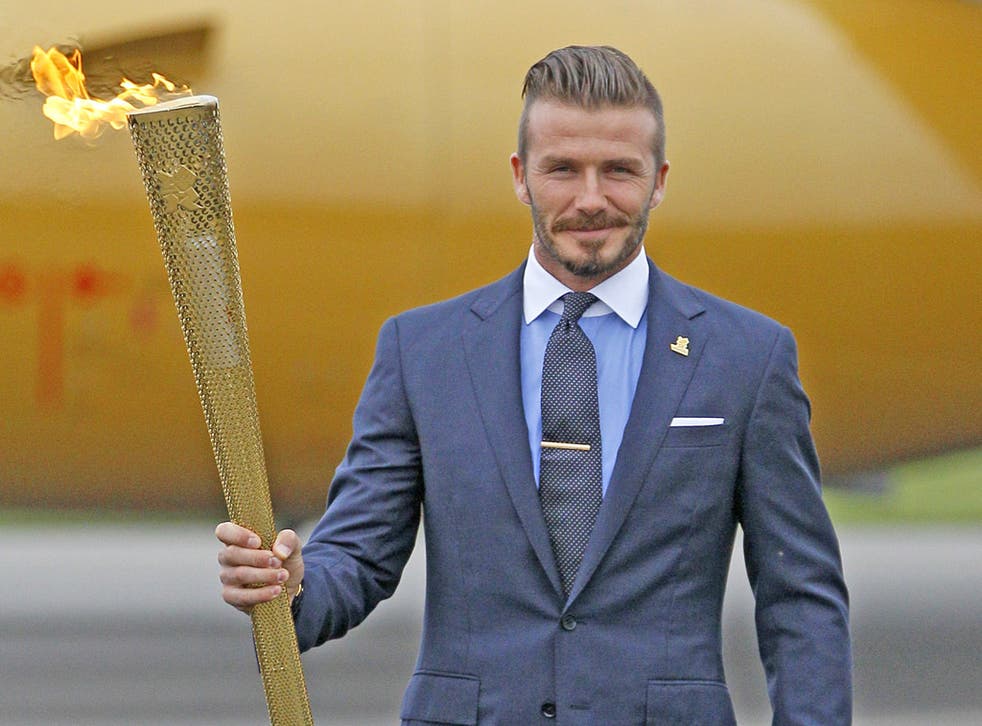 He, along with Seb Coe and Tony Blair, is widely credited as the man who brought the games to London.
He certainly brought the flame to Cornwall. But there is to be no golden swansong for Goldenballs himself.
Manager Stuart Pearce has left David Beckham out of the TeamGB football squad.
The man himself, now aged 37, but not as past his footballing prime as he might be, released a typically magnanimous statement, claiming, "There will be no bigger supporter of the team than me. And like everyone, I will be hoping they can win the gold."
But elsewhere reaction was markedly less philosophical.
"Well .... What a ******* joke ..... Dissapointend and outraged and very sad ..... A point will be proved I'm sure," said his sister Joanne on twitter.
"Stuart Pearce does make some stupid decisions , ie [Scott} Parker captain of England and no beckham in gb Team , clueless !," said the outspoken former footballer and now pundit Robbie Savage.
Stuart Pearce can only select three players over the age of 23 for his Olympic squad, who will now be the Welshmen Ryan Giggs and Craig Bellamy, and the English defender Micah Richards, who was unlucky not to be in England's Euro 2012 squad (Stuart Pearce had earlier ruled out anyone who'd gone to Euro 2012).
Becks had been placed on Stuart Pearce's shortlist of potential players, and he had travelled to the US twice to watch him.
"There are arguments for and against DB selection. What i don't understand though, is why string him along by including him in a short list?" asked Gary Lineker, also on twitter
Today's decision comes despite the fact that Beckham has played a central role in bringing the Olympics to London.
In Singapore 2005, during the final push in the bid to stage the Games, Beckham said he was dreaming of the day the Olympics would be hosted in his old east London "manor".
He has also played a key role in recent months, accompanying the Princess Royal to Athens in order to collect the Olympic torch and bring it to Britain - on board a gold-painted Airbus 31, named The Firefly. Beckham also lit the Olympic cauldron on the tarmac at RNAS Culdrose shortly after its arrival.
The Olympics almost certainly represented David Beckham's last opportunity to represent his country on the football field, with his statement suggesting he was as surprised as he was upset by his exclusion.
"Everyone knows how much playing for my country has always meant to me, so I would have been honoured to have been part of this unique Team GB squad.
"As a Londoner I was really proud to have played a small part in bringing the Olympics to my home town as part of Seb's [Coe] team and I can't wait for the Games to begin and will enjoy every moment along with the rest of Great Britain."
Lord Coe has said Beckham will still be offered a role at the games.
"Team selections are up to the coaches and managers of each sport. David [Beckham] has been an extraordinary supporter, probably our number one supporter, of the Games from the very beginning and is keen to continue his enthusiastic support right to the end.
"He really gets this. He is from East London and knows how important the Games and sport are to young people. He is a great role model and we are lucky to have such an advocate. I will be talking to him about a Games time role."
Join our new commenting forum
Join thought-provoking conversations, follow other Independent readers and see their replies