Superhuman efforts change attitudes to Paralympic sport for good
Sold-out venues and fierce competition have lifted the Games to a different level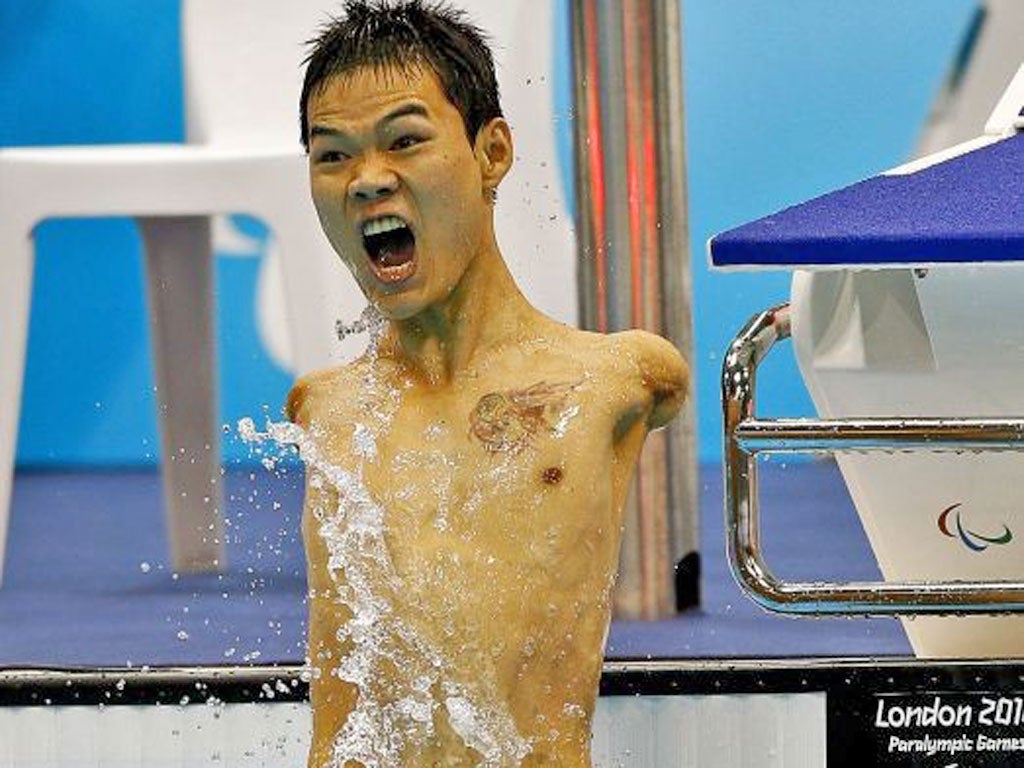 It was on the first morning in the Aquatics Centre, scene of so much notable achievement only a couple of weeks earlier from Michael Phelps, Missy Franklin et al, that Zheng Tao walloped his head against the end of the pool to stop the clock in his heat. That night Zheng did the same again, swimming smack bang into the wall and stopping the clock inside world-record time. Zheng has no arms.
See the ability not the disability, Oscar Pistorius had instructed on the eve of the Games. There were times over the past 11 days of competition in pool, stadium, velodrome and beyond when it was impossible not to see both and nowhere more so than in the pool where the swimmers were stripped bare, their impairments plain to see.
Xu Qing, another Chinese swimmer without arms, won four gold medals. Then there was Bradley Snyder, winning a gold medal exactly a year to the day after being blinded by a Taliban bomb. His coach, as with all blind or visually impaired swimmers, taps him on the head with a pole to warn him he is coming to the end of each length.
Of course it goes beyond the pool. I watched a cyclist with one leg ride 64 kilometres up, down and around the undulating Kent countryside. This was different, different to anything this sport-crazy country has seen before. And it was the same, the same as what had happened some two weeks earlier in the same venues. This was elite sport even if all the competitors were not of the elite – as in the Olympics. It's about inclusivity and ability – as in the Olympics.
There was space to marvel both at sporting achievement and alongside it human achievement, once again exactly as in the Olympics. Unlike the Olympics, though, the paths many of these Paralympic athletes took to the podium here have not been well trod. This is part of the story.
David Weir spoke of the "superhumans" receiving deserved recognition after collecting his fourth gold medal, and the last of Britain's 34, on the Mall yesterday afternoon.
Weir finished what Sarah Storey had started on the afternoon of the opening day of the Games. Two greats of British Paralympic sport bookended Britain's Games. Storey, like Weir, collected four gold medals and, in so doing ,equalled Tanni Grey-Thompson's and Dave Roberts' total of 11. Add Ellie Simmonds and Jamie Peacock and Britain has four new – to a broader audience – sporting superstars.
"London will change the face of Paralympic sport forever," said Storey yesterday. "We've seen elite sport. We have not seen any patronising comments. When I first got into the Paralympic team 20 years ago I was told, 'Don't let them call you brave and courageous.' We haven't been and I am so proud to have been part of that journey and that change."
In a sporting sense, the most notable change to emerge from the Games has been the improvement among a cluster of nations; Russia, Ukraine, USA and Australia, who have caught up with Britain. China remain ahead of the rest – a feat that deserves due recognition. The hosts four years ago have not let their disabled athletes down now global sporting attention has swung away from their country.
Four gold medals separated Russia in second from Australia in fifth; four years ago the margin was 21. Competition at the elite end of the event is fiercer than ever and that is for the good of the Paralympics.
It offers a challenge to Britain, who lost the second place they held in both Beijing and Athens. That was one of ParalympicsGB's pre-Games targets. They surpassed their medal target – charged with winning 103 they collected 120 – but 34 gold, one fewer than in Athens and seven beneath Beijing's collection, saw them finish third. Elite sport is judged as elite sport and that is a disappointment on home soil. Swimming missed its target, by one medal, but athletics more than made amends for a disappointing Beijing. Cycling, the other major British sport, delivered on its medal target, but with fewer golds than 2008. The world is catching up.
"We are third in the medal table, which does rankle just a tad," admitted Penny Briscoe, Britain's deputy chef de mission who oversees performance. "But we are ahead of all our closest competitors in terms of total medals won."
If Britain did not get the gold medal boost hoped for from home advantage, they may yet reap the reward of London in four years' time.
Fifty-four of Britain's medallists in London were 22 or under and the broad attention – unparalleled in Paralympic history – their feats, and those of their elders, received should attract more new recruits. Talent schemes have played an important part in Britain's Paralympic success. More are planned on the back of London and are likely to be significantly better attended. Awareness is all.
"Our ambition remains the same, we're on a journey and we don't want to see this as a high-water mark," said Tim Hollingsworth, chief executive of the British Paralympic Association. "We have got a lot of momentum to keep going."
There are clearly broader issues raised by the Paralympics and this country's attitudes towards disability – yesterday Ian Macrae, editor of Disability Now, suggested the Games were a "triumph of hope over reality" – but here, in these pages, the debate is focused on the sporting legacy.
Again, in general fashion, it mirrors the Olympics – at the elite level all is good, beneath that grass roots need careful tending, and better funding from a government that does not convince in its support for sport in clubs and schools. Back at that elite level, that of the British Paralympic team and the Paralympic movement in general, the legacy is one rich in promise. Record numbers of people turned up to watch the London Paralympic Games. "We have one big bang here," claimed Sir Phillip Craven, president of the International Paralympic Committee.
"It will live with me for a lifetime," said James Crisp, a British swimmer who has been competing in the Paralympics since 2000. "It's just been the way the whole country has absolutely got behind the Paralympics. I think the whole nation should be proud of themselves."
Medals table
G S B Total
1 China 95 71 65 231
2 Russian Fed 36 38 28 102
3 GRT BRITAIN 34 43 43 120
4 Ukraine 32 24 28 84
5 Australia 32 23 30 85
6 United States 31 29 38 98
7 Brazil 21 14 8 43
8 Germany 18 26 22 66
9 Poland 14 13 936
10 Netherlands 10 10 19 39
11 Iran 10 7 7 24
12 South Korea 9 9 9 27
13 Italy 9 8 11 28
14 Tunisia 9 5 5 19
15 Cuba 9 5 3 17
16 France 8 19 18 45
17 Spain 8 18 16 42
18 South Africa 8 12 929
19 Ireland 8 3 5 16
20 Canada 7 15 9 31
Join our commenting forum
Join thought-provoking conversations, follow other Independent readers and see their replies