Rio 2016: Belgian sailor Evi Van Acker first Olympic athlete to fall ill after racing in polluted Rio Bay
Evi Van Acker contracted a severe intestinal infection while training in Rio in July, according to her coach 
Alexandra Sims
Friday 12 August 2016 08:52 Comments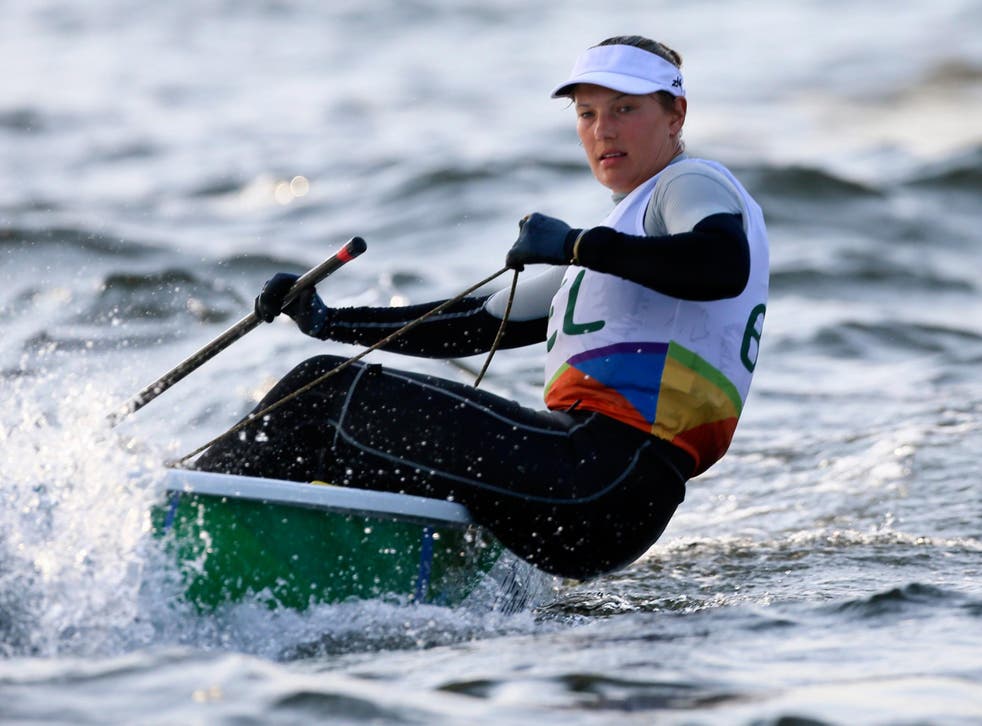 A Belgian sailor has become the first Olympic competitor to report falling ill during the Games, with some suggesting a link between the illness and the polluted waters of Rio de Janeiro's Guanabara Bay.
Evi Van Acker, who won a bronze medal in the Laser Radical class of the 2012 London Olympics Sailing Competition, reported feeling unwell after racing on Wednesday, the sport's governing body, World Sailing, said.
The 30-year-old contracted a severe intestinal infection while training in Rio in July, which has hampered her energy levels, according to her coach.
Wil Van Bladel told Belgian VRT network: "Evi caught a bacteria in early July that causes dysentery.
"Doctors say this can seriously disrupt energy levels for three months. It became clear yesterday that she lacked energy during tough conditions.
"She could not use full force for a top condition. The likelihood that she caught it here during contact with the water is very big."
The Belgian Olympic Committee confirmed Van Acker had a "serious gastrointestinal infection a few weeks ago".
"She has not fully recovered. It makes it difficult for her to go through long periods of sustained effort," it added.
Concerns have repeatedly been raised over the pollution levels in Guanabara Bay, the site the Game's sailing events, and competing athletes have been warned by doctors, engineers, and scientists to keep their mouths shut while participating in activities in the water.
A 16-month-long study commissioned by the Associated Press and published just days before the Games began found Rio's waterways are contaminated with raw sewage and teeming with dangerous viruses and bacteria.
The survey revealed consistent and dangerously high levels of viruses from the pollution, putting some 1,400 athletes at risk of getting violently ill.
The first results of the study published over a year ago showed viral levels at up to 1.7 million times what would be considered worrisome in the United States or Europe.
Olympic chiefs have insisted sailing on the bay is safe and sailing officials have said competitors have taken precautions.
A World Sailing's spokesman said every morning medical and technical officials evaluated the latest water quality testing data provided by the government to make certain conditions acceptable.
"The standard our team uses in assessing water quality is the World Health Organisation standard for primary contact (even though sailing is classified as a secondary contact sport)," he said.
Van Acker, projected to win another medal in Rio, has had consistently weak performances. She was second and 12th on Monday, second and 29th Tuesday and then 16th and 15th in tough conditions on Wednesday.
World Sailing said Van Acker was evaluated by a chief medical officer and the Belgian medical team. The Belgium Olympic Committee said a psychologist was working with Van Acker leading to the next races on Friday "so she can get the most out of her energy reserves".
Rio 2016 Olympics - in pictures

Show all 74
He added that this appeared to be an isolated case and Van Acker was the only sailor who had reported feeling ill in the opening days of the regatta.
German sailor, Erik Heil, however, was treated for several infections he said were caused by polluted water during a Rio test regatta a year ago. He sails in the 49er class, which is prone to capsizes.
Additional reporting by Associated Press
Register for free to continue reading
Registration is a free and easy way to support our truly independent journalism
By registering, you will also enjoy limited access to Premium articles, exclusive newsletters, commenting, and virtual events with our leading journalists
Already have an account? sign in
Join our new commenting forum
Join thought-provoking conversations, follow other Independent readers and see their replies