Rio 2016: Caster Semenya wins and hides while sport's deliberations go on
The South African middle-distance runner simply went about her business as the debate about hyperandrogenism raged around her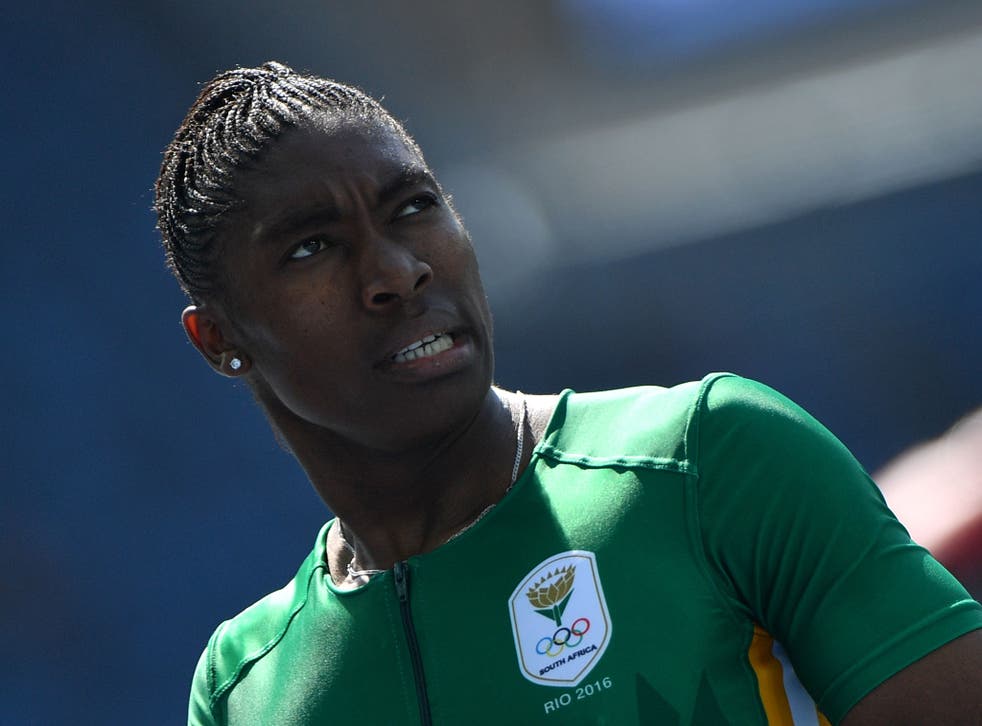 Caster Semenya was introduced to the Olympic Stadium as "the semi-finalist from London," which substantially understated how, come what may, she and her story will dominate the next four days.
She waved to the near-deserted stands in an inhibited way and did not find a smile. It was the same when the 800m heat was won: a march through the mixed zone where athletes and journalists consort, head down, looking only to avoid the attention.
We have reached the stellar moment in all athletes' four-year cycle which, as the heartbroken Irish 800m runner Ciara Everard put it after flunking her own heat, "makes the work all the winters worthwhile". But it did not look like that for Semenya. It was difficult to ascertain any sense that she wanted to be here.
Her heat, it almost goes without saying, was a breeze. The first lap of what they are telling us is a fast Olympic Stadium track looked only a little more than a training routine while Margarita Mukasheva, the Kazakh, strained with the effort of staying ahead at the first bell. It was at the 200m mark that Semenya eased to the front and looked in enough comfort to have won the race by two seconds or so.
Nowhere in the athletics squads will you find more conviction that one of their own will smash a contest than South Africa and Semenya. The clock is her only competitor. The source of suspense in this discipline, ahead of the semi-finals on Wednesday and final on Saturday night, is whether she will beat the world record. "I'm racing for bronze now," one competitor has said. Some feel Semenya may seek to win outside a world record, as she will invite less controversy that way.
"It wasn't easy. It was pretty hot," she told the Olympic News Service after her heat. "I just tried to hang on and tried to feel my body first so I was comfortable, I tried to just get in the top two and tried to win so I would be safe for the semi-finals. I am not focused on any world records, I am focused on enjoying my championship and it's going to be a tough 800. Times don't matter but medals matter. I just want to run my own race and so far it's been very good."
It is a testament to sport's struggle to compute what is equitable where such a runner is concerned that she seeks invisibility. In 2009, before she won the 800m gold medal in that year's World Championships, she was subjected to a gender test. The issue has dogged her ever since.
Her hyperandrogenism, which confers testosterone levels exceptionally higher than her rivals, led the athletics' governing body IAAF to set a threshold for the hormone, preventing those in the male range competing in races where they have an unfair advantage. The Court for Arbitration in Sport (CAS) then ruled that the IAAF had failed to prove the scale of the advantage and whether it would lead to an uneven playing field. The threshold was removed. Many attribute Semenya's subsequent brilliant times this year to that decision.
Privately, the IAAF was surprised by the CAS's conclusion, though amid the stasis about so-called intersex athletes we witnessed on Wednesday the signs of an 800m event racked by awkwardness. Athletes, who have been collectively asked to respect Semenya, are doing their best to navigate a path between honesty while not bringing offence. They do feel this needs to be looked at.
"It's a hard decision to make," said Britain's Shelayna Oskan-Clarke, who ran in the next lane to Semenya and qualified for the semi-finals as the third fastest loser. "I don't think it's fair to tell someone not to run, so, and it's obviously a really hard decision – which is why there hasn't been one."
Everard and the American Ajee Wilson both expressed a wish that the situation be re-examined. "From what I've seen, people are complaining about it," said Everard. "Perhaps…it's a very sensitive issue so yes, something needs to be done about it but dealt with very sensitively." Wilson felt that "it is something that should be revisited. It's a lot of commotion; a lot of talk about it".
With due patriotism, South Africa has rallied in a distinctly 21st century style around a hashtag – #HandsOffCaster. The sentiment is admirable because who can possibly compute the damage being done to a 25-year-old woman who is de-personalised by this discussion whilst just seeking to fit in as best she can. "I get on really well with her," Briton Lynsey Sharp, winner of her heat, has said. "These are the girls you see week in and week out. She's really nice."
The IAAF will be resuming discussions with CAS later this year, though if evidence were needed of the urgency required, it emerged when 20-year-old Kenyan Margaret Wambui walked through the mixed zone after qualifying from her own heat. She, too, is thought to be among the athletes with hyperandrogenism, though she spoke freely about the track and her race and then left.
Semenya would doubtless enjoy such an experience, though uncertainty prevails and people talk. So she hides.
Join our new commenting forum
Join thought-provoking conversations, follow other Independent readers and see their replies