Rio 2016: Hannah Mills and Saskia Clark's long wait for dinghy sailing gold ends
The pair only needed to cross the finish line to guarantee gold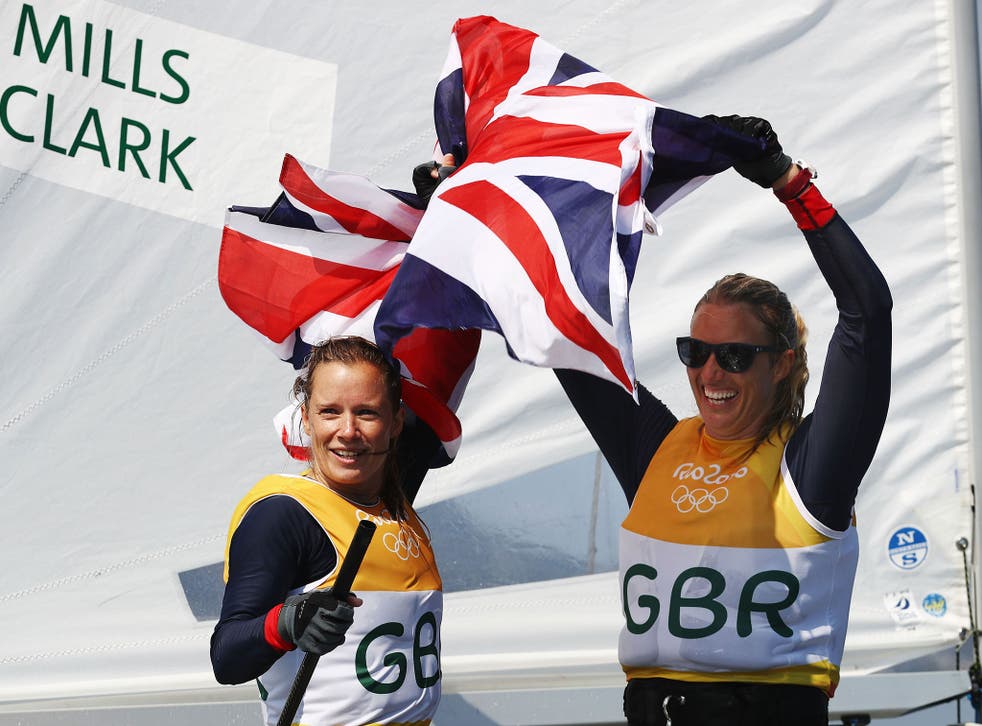 Pop! That champagne must be cold. It had been on ice for 48 hours but was finally opened on Thursday when GB sailors Hannah Mills and Saskia Clark finally grasped their gold medals after spending the previous day nervously bobbing on Rio's Marina da Gloria unable to seal the deal due to light winds.
On Thursday the breeze in the beautiful Guanabara Bay overlooked by Sugarloaf Mountain and Christ The Redeeemer blew sufficiently for Clark and Mills to complete the job. They sailed calmly and out of trouble and came home in eighth in the 470 medal race to finish above the Kiwis Jo Aleh and Polly Powrie. Revenge for finishing behind the New Zealanders at London 2012.
Although the result had never really been in doubt overnight - they only needed to start and finish the race on Thursday to win - the waiting was not pleasant. Parties at Team GB's Rio House were put on hold. Disqualification, for example, could have seen them denied top spot.
But gold is theirs. When the race was run they sailed their dinghy into the golden beach where Union Jack-waving family members had been cheering them on. They leapt overboard and hugged where the waves broke on to the shore. Not a dry eye or pair of flip flops in the house.
"It's a once in a lifetime moment," 28-year-old Mills, from Cardiff, said. "It's emotional. I just wanted to come and see my Mum. She has made it out here, bless her, all the way to Rio and she's been there the whole time supporting me. It's just such an amazing moment to share with everyone."
Her Mum Fiona was as proud as a Mum can be. "Delighted is an understatement," she told The Independent. "Shock would be a better word. I'm so proud of the girls: they have worked so hard for six years to get here. It has meant everything to them. They get on so well. They know each other's strengths and weaknesses. They know everything about each other. They could do Mr and Mrs. They are such fun-loving, lovely people."
And how was the hug? "Wet! She was sobbing into my shoulder. I was going: 'Hannah, in a minute we are going to have to turn around…stop crying!' But she is so, so pleased. They wanted it more than anybody could ever say. It was more than the cherry on top of the icing on top of the cake. It meant that much to them."
Team GB's Rio 2016 gold medals

Show all 26
It has been an up and down, six-year journey for the pair on the water and off. This success will dull the pain of London when they went into the final medal race in first place but came away with silver. Eighteen months ago they were robbed at knife-point in Rio on a training trip – "wrong place, wrong time" as they put it on Thursday. That they were most annoyed about losing their sailing gear in the attack points to a work ethic bordering on the maniacal.
The wait must have been agony, despite having one hand on gold?
"It got a bit hot yesterday and a bit frustrating," Clark admitted. "I am so glad today was a glamorous sailing day for everyone. But it wasn't a forgone conclusion. We could have lost a medal and we would have felt so stupid."
"If we had a breakage, we wouldn't be able to finish the race," Mills added. "If a mast snaps or … I've been so paranoid. I haven't stopped checking every little piece of the boat religiously."
Was her Mum just as nervous? "You can never be confident until they actually deliver the goods," Fiona said. "Unless anything had gone wrong it was going to be OK. But at the same stage you can't let yourself believe it until they have done it. And now they've done it.
"And what a place to do it. We've had a brilliant time."
Clark, 36, now sails into the sunset, her career done. She is off to work for a charity, The Andrew Simpson Sailing Trust, set up in the name of the late GB sailor, who Clark knew well. "If I think that this is the end, I might start crying. But at the moment I can't stop smiling. It's been amazing, winning a gold medal with one of your best mates."
Mills is not so sure about the future. "I'm undecided," she said. "I just want to enjoy this moment with Sask and not even think about what's next. Nothing could beat this for me, especially doing it with Sask who is my best friend. But in a couple of months' time maybe I will feel it's time for a different boat. Who knows?"
In the men's 470, Luke Patience and Chris Grube finished in fifth place. They were sixth at the start of the day with only a slim chance of jumping into the medals and it was not to be. However, they can be proud of their achievements in Rio after being thrust together just eight months ago.
Patience – who won silver with Stuart Bithell in London four years ago – had been due to team up with Elliot Willis before he was sadly forced to pull of the Games after he was diagnosed with bowel cancer. Britain's Dylan Fletcher-Scott and Alain Sign, who were out of medal contention at the start of the day, finished last in the 49er Class after capsizing.
Join our new commenting forum
Join thought-provoking conversations, follow other Independent readers and see their replies