Rio 2016: 'It's history in the making,' says Fiji Prime Minister following rugby sevens victory
The sevens side have clinched Fiji's first-ever Olympic gold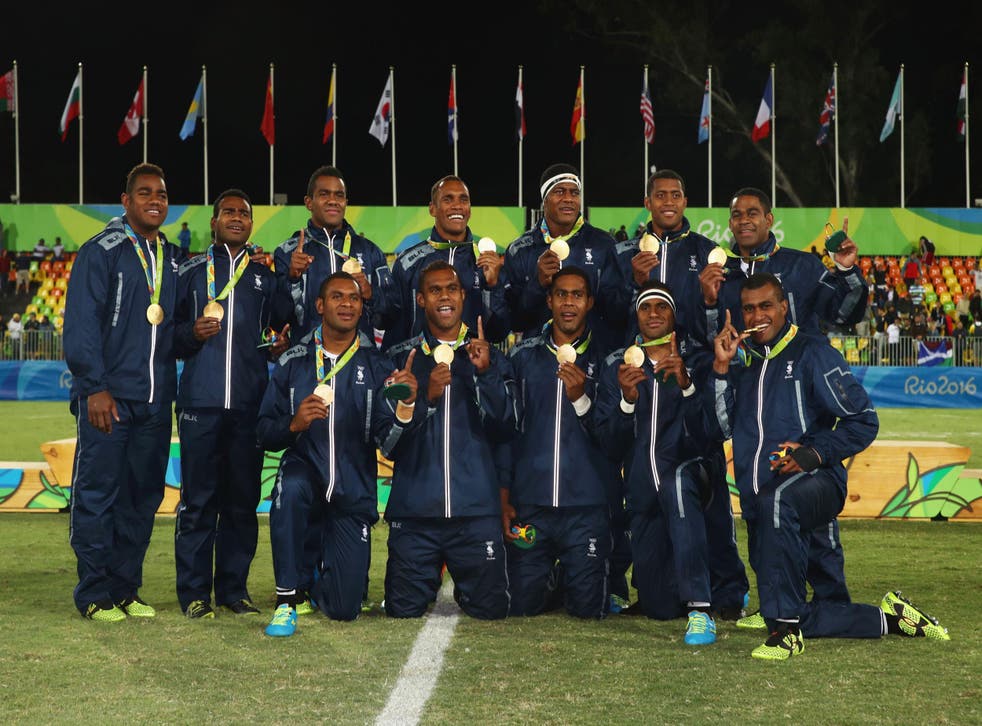 The Fijian prime minister, Frank Bainimarama, watched his countrymen win Rugby Sevens gold on Thursday night with the fans in stand – imagine Theresa May doing that – and was delighted that his nation had claimed their first Olympic medal.
Fiji hammered Great Britain 43-7 and Bainimarama was ecstatic and predicted a national party back home. "It's history in the making," the prime minister said. "Our first gold medal in the Olympics and we are all very proud to be Fijians right now. Back home they will all be celebrating. They have been celebrating already.
"Our productivity has been nil in the last couple of days, hopefully now our GDP will go up in the next couple of weeks. Everything stops back home [when Fiji play]. Hopefully this win will put Fiji on the map. We will be a little tiny dot – but hopefully people will start looking for that dot."
This was Rugby 7s Olympic debut and Bainimarama was understandably delighted that it had been given the green light. "I want to thank the Olympic committee for including 7s in the Games. We hope the brand of rugby we played has justified its inclusion.
"Also it props up little, tiny nations like us. We don't have the money and the financial support that Great Britain has – but we managed to beat them."
The prime minister, 62, also explained what gold would mean to a rugby-mad nation such as Fiji that has been through some tough times. "We had Winston, the second biggest hurricane to hit Fiji, come through in February and rugby has always lifted the spirit and brought us together. Right now everyone is together to celebrate the win."
Meanwhile, another state official received a remarkable show of respect from the Fijians as they collected their medals. Each member of the 12-man squad genuflected to Princess Anne, a renowned rugby fan, while she awarded them with their prizes.
Fiji have an English coach in Ben Ryan who used to coach England's national side and Bainimarama was grateful for his input. "We were doing all right and then Ben came along and moved it up a couple of notches," he said.
So you couldn't have done it without the British then, he was asked? "No! I said we were doing OK before!
"We have won Sevens before – like in Hong Kong – but not like this one. This is special, this is the Olympics."
Ryan was just as chuffed as the country's leader. "It's hard to explain if you've not been to Fiji how big 7s is," he said. "This will be massive across the entire nation. It's the national team. These boys come from such humble backgrounds. They are unique in world sport. The boys are front page, back page, they are superstars."
Rio 2016 Olympics - in pictures

Show all 74
He had a word of praise for his fallen opponents, too. "Great Britain had a stellar tournament," he said. "They should be proud. But today was our day."
The Fiji captain, Osea Kolinisau, had a message for the people back home: "Go crazy," he said. "Go nuts. You deserve this. This victory is for all of Fiji and all of the Pacific islands.
So how would an elite athlete such as himself he celebrate such a monumental night in Fiji's history? "McDonalds! We weren't allowed to go! So I'm really looking forward to having a Big Mac right now!"
He was also looking forward to getting his phone back. The Fiji management had made the players hand them in so they could concentrate on the job in hand. "I'm looking forward to watching it on social media, to see how crazy people back home will go."
Kolinisau admitted too that it had been a draining tournament for the favourites. "It's really emotional. Coming into the final we had to keep our emotions in. I told the boys we had to have fire in our heart but ice in our minds."
Join our new commenting forum
Join thought-provoking conversations, follow other Independent readers and see their replies