Rio 2016: Mongolian coaches strip down in protest after wrestler misses out on Olympic bronze
Mongolia's Mandakhnaran Ganzorig was competing against Uzbekistan's Ikhtiyor Navruzov in the 65kg freestyle wrestling bronze medal match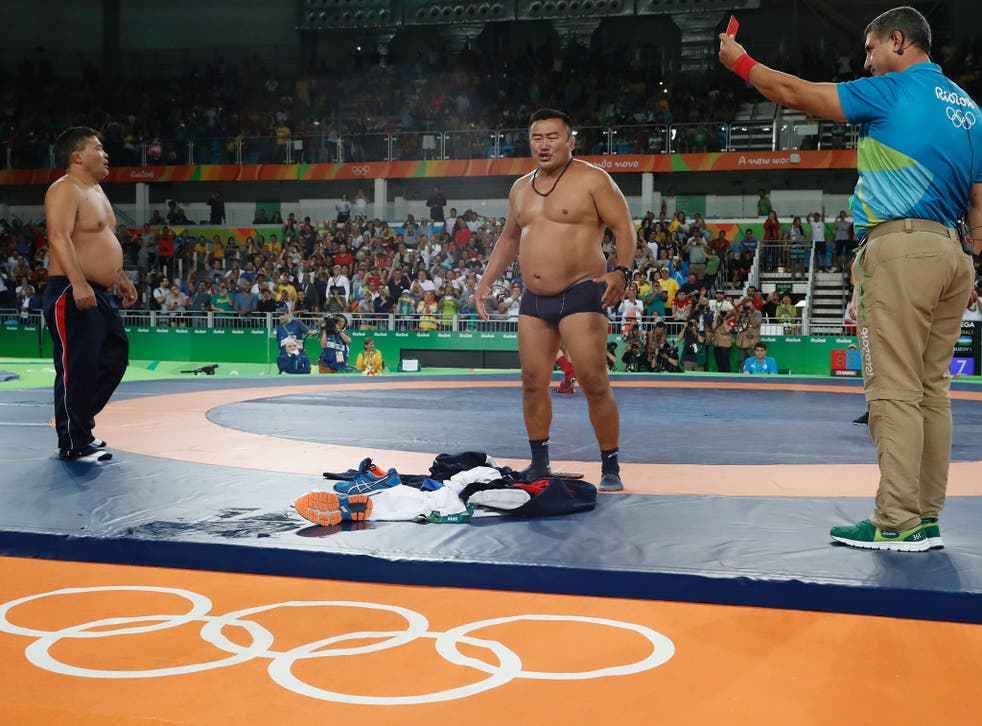 It all kicked off in the wrestling arena in one of the more surreal, and bizarre, moments of the Olympics on Sunday night.
Mongolia's Mandakhnaran Ganzorig led by by seven points to six against Uzbekistan's Ikhtiyor Navruzov in the 65kg freestyle wrestling with 18 seconds to go in the bronze medal match, before proceeding to taunt his opponent by dancing around.
Ganzoring was even carried around the ring in triumph by one of his coaches.
However, the judges then adjusted the score to 7-7, penalising the Mongolian for 'fleeing the hold', or refusing to engage with his opponent. A further point was then added to the Uzbek's score after the Mongolians' challenge was rejected, thereby handing the bronze medal to Navruzov.
From there, things took a turn for the worse as the Mongolian's support staff took to the wrestling floor to remonstrate before stripping.
Half-naked, torsos exposed, they refused to be moved from the ring as they protested the officials' decision.
One of the coaches even stripped down to his pants as the heat of the moment appeared to get the better of him.
Security was subsequently brought in as the crowd started cheering "Mongolia! Mongolia!" while the coaches continued to vent their anger.
After a brief confrontation, security was eventually able to escort the two coaches away - much to the relief of the judges.
But despite their Olympic strop, the officials refused to budge on their decision.
Worth a shot, nonetheless.
Join our new commenting forum
Join thought-provoking conversations, follow other Independent readers and see their replies