Rio 2016: Seven injured after overhead TV camera crashes into crowd at Olympic Park
The camera fell after two of its guide cables snapped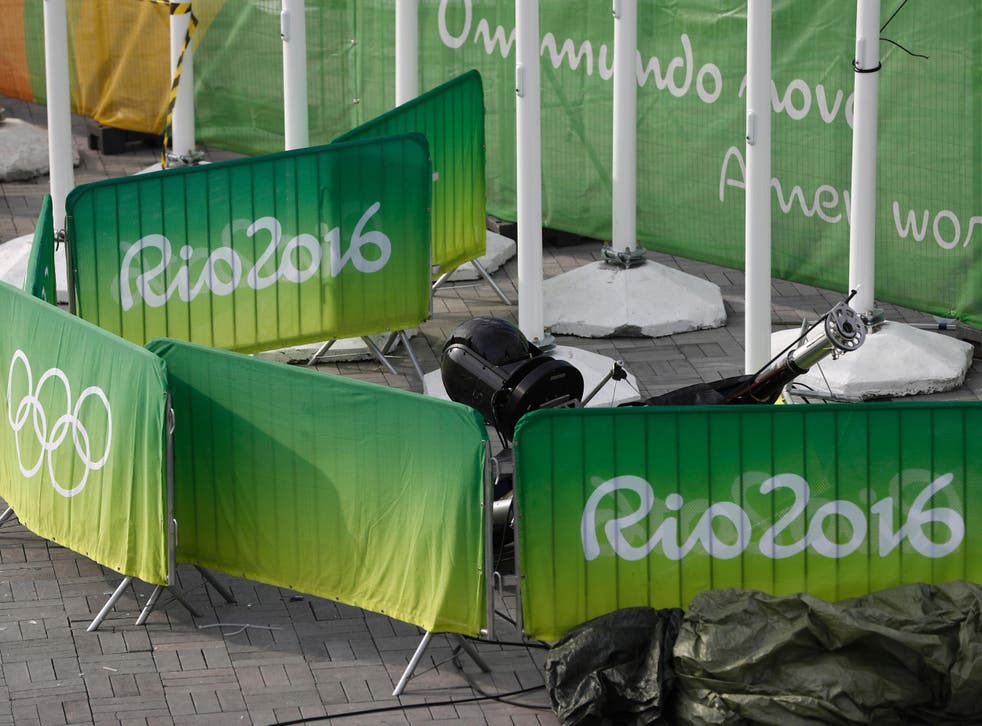 At least seven people have been injured after an elevated television camera fell more than 60ft to the ground outside the Olympic Park's basketball venue.
The camera fell on Monday after two of its guide cables snapped, causing it to plummet to a lower concourse that feeds into the basketball stadium, the Olympic Broadcasting Service (OBS) said.
The large camera, encased in a heavy black cover, is one of several suspended on cables to provide aerial views of the main Olympic Park.
The number of people injured has varied in reports, however OBS said seven people were treated and released from care by Monday evening, with medical officials at the scene describing the injuries as "minor".
It says a full investigation into the incident has been launched.
Chris Adams, a gymnastics fan attending the Games from Britain, said he heard a cable snap and watched the camera fall and land on two women.
"It looked like this big flying saucer coming through the air when it hit these two women," Mr Adams said. "This thing is big, and it shot through the air. It came down at such a speed they wouldn't see it. They weren't expecting it."
A Brazilian TV news report showed two women sitting on the floor next to the camera looking dazed. One woman was seen bleeding from the face.
Rio 2016: Olympic country houses bring cultures together
Mr Adams said he saw both women were conscious and medical personnel arrived quickly to take them away on stretchers.
Authorities quickly set up barricades around the area where shattered glass was still presen after the camera had crashed.
One of the camera's cables had already broken before the incident occurred and a walkway beneath had been cordoned off, OBS officials told Reuters.
A cherry picker had been in transit to help workers examine the problem but failed to arrive before the camera fell outside the cordon.
The camera moves along the park on wires suspended high above the ground. Olympic Broadcasting Service has operated cameras in Olympic parks and arenas since 2001.
Rio Olympics venue damaged by fire

Show all 6
The incident is the latest in a series of problems that have dogged the Games, which had already been overshadowed by the Zika Virus, water pollution in the pathogen-infested Guanabara Bay and protests by Brazilians over the cost of putting on the Games.
On Friday, an Olympic security officer was shot dead after getting lost near a slum; on Sunday a group of American swimmers, including gold-medal-winning Ryan Lochte, were robbed at gunpoint by a group pretending to be armed police; and stray bullets were seen landing in the equestrian venue earlier last week.
Additional reporting by Associated Press
Register for free to continue reading
Registration is a free and easy way to support our truly independent journalism
By registering, you will also enjoy limited access to Premium articles, exclusive newsletters, commenting, and virtual events with our leading journalists
Already have an account? sign in
Register for free to continue reading
Registration is a free and easy way to support our truly independent journalism
By registering, you will also enjoy limited access to Premium articles, exclusive newsletters, commenting, and virtual events with our leading journalists
Already have an account? sign in
Join our new commenting forum
Join thought-provoking conversations, follow other Independent readers and see their replies