Rio 2016: Yulia Efimova and Lilly King show how swimming's code of honour is shot to pieces by IOC inaction on doping
'You're shaking your finger No 1, and you've been caught for drug cheating,' King told Efimova
Ian Herbert
Rio de Janeiro
Tuesday 09 August 2016 16:05 Comments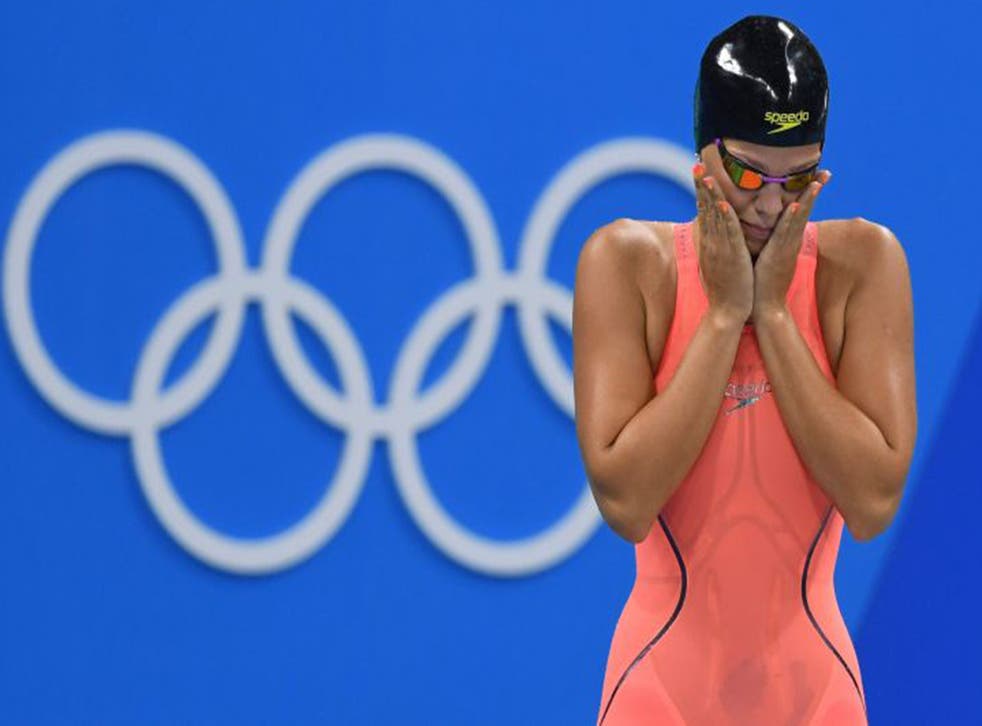 Fate had put Yulia Efimova and Lilly King in adjacent lanes - 4 and 5 - heightening the prospect of more of the tension between the two of them which had become more of a spectacle than Monday night's women's 100m breaststroke final itself.
Efimova, the Russian, arrived with all the usual swagger and, for the second consecutive night, to the chorus of boos. Drama of the pantomime kind, running against the very grain of what Olympic competition is supposed to entail.
This is swimming of the Rio Olympics kind, poisoned as it is by the suspicion of cheating that the decision to allow Russians to compete has created. The suspicion is amplified when one of those Russians - Efimova - has served a 16-month suspension for doping, tested positive again for banned meldonium, been reprieved while that substance is investigated.
And then been secreted into the start lists for this competition when six previously banned Russians – including she - were not supposed to be taking part, as previously convicted cheats.
A sort of justice prevailed last night. After a very slow start and poor first turn, Efimova came back strongly in the last 50m to turn the final into a straight race for the finish between her and King. But King held out to win, with a strong finish.
The choreography at the end seemed significant. There was no hand shake or acknowledgement of the Russian by King. She swam to the edge of the pool, followed by Efimova, who found no friends.
There was no moral arbiter last night. The breast stroke competition is supposed to carry a code of honour. When Adam Peaty won his heat on Saturday he spoke of the disinclination of its competitors to speak ill of each other.
But that notion is shot to pieces when the International Olympic Committee refuses to issue the blanket ban of a Russian nation which has a state-sponsored doping system at its heart and when the swimming's governing body, FINA, is so dependent on Russians for its finance.
Russia was the only nation interested in spending the money needed to host the sport's world championships in 2015. When each of the authorities that might call a sport to account have failed and Russia has been thus legitimised, it is left to the competitors to police their own sports, pointing the finger at the suspect cheats in the case of King and Efimova.
After Efimova won her 100 metres breaststroke semi-final on Sunday night with a swagger, it was she who was wagging her finger to say 'No 1' without the faintest hints of self-awareness. When King won hers, she wagged her own finger too.
"You're shaking your finger No 1, and you've been caught for drug cheating," she told Efimova. "I'm just not a fan." She added later: "If that's what she feels she needs to be able to compete, whatever, that's her deal ... I'm here to compete clean for the US," said King.
You gave thanks for her indignation. This was the kind of simple and powerful communication of which the IOC has been incapable. In 24 hours, a wagging finger has become a signifier for: cheats shall not pass here. King is not the only one to deliver such a message.
Australia's 400m freestyle gold medallist Mack Horton called out the Chinese Sun Yang by calling him a drug cheat to his face in their own post-final press conference on Monday.
Lily King gives Russian swimmer Yulia Efimova the Mutombo finger wave
"I used the word 'drug cheat' because he tested positive," Horton said. "I just have a problem with him testing positive and still competing."
Horton was subjected to a blizzard of Chinese abuse on social media but that is the collateral damage you risk when you have raised the question of Sun's oddly lenient three-month doping ban in 2014, after testing positive for a banned heart medication. There were also boos for Yang as he reeled in Chad Le Clos's near one-second lead to win the 200m freestyle, though the Chinese fans drowned it out. It will take more than a few renegade competitors to absolve swimming of the suspicions which swirl around it and poison it at precisely the moment when the world is captivated.
So embedded are the doubts that the default mode when the Hungarian Katinka Hosszu was five months in front of the world record at one point on Sunday was what substances were helping her. Hosszu has taken legal action in the past when her integrity has been questioned and there is no suggestion of illegal conduct but that moment on Sunday beggared belief.
Here was a 27-year-old competing in her fourth Games who has never won a medal. She slowed down and beat the world record by two seconds. She won the 100m backstroke last night. We ask why FINA saw fit for her to compete but will be waiting a very long time for any kind of transparency.
The governing body followed the money, gave Efimova the pass, and it required the best of King to deny her.
Register for free to continue reading
Registration is a free and easy way to support our truly independent journalism
By registering, you will also enjoy limited access to Premium articles, exclusive newsletters, commenting, and virtual events with our leading journalists
Already have an account? sign in
Join our new commenting forum
Join thought-provoking conversations, follow other Independent readers and see their replies