Team GB's cutting edge: UK Sport is more than ever using the latest military technology secrets to produce marginal gains that lead to medals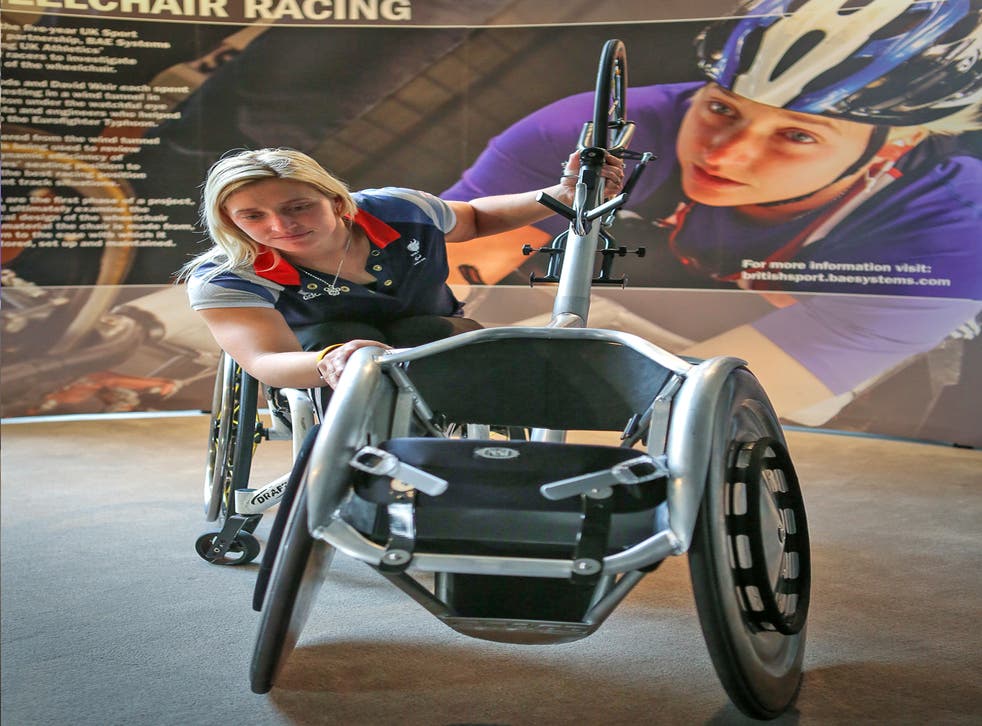 Leaning against one wall of a room on the first floor of the Royal Academy of Engineering, tucked behind Pall Mall away from the tourists marching down to Buckingham Palace, is a black sled punctuated by two silver runners. It is the one on which Amy Williams won Olympic skeleton gold in Vancouver. David Moy, a man used to working on warships now on secondment to help Team GB win Winter Olympic medals, is edgy about it. "That shouldn't really be here," he mutters. Doctor Scott Drawer is not best pleased either. "Please don't take photos," he asks. It is the stuff of French nightmares.
It was summer last year amid the raucous acclaim of British success in the Velodrome that the plaintive voice of French bemusement was heard. "They have magic wheels," muttered the green-eyed neighbours. Britain's reputation for sporting innovation reached a peak in London, so much so that it rattled opponents.
As the Olympic cycle turns, focus switches towards the winter season. Britain's bobsleighers, sliders and skaters are in final preparation for the new season that ends with the Winter Games in Sochi in February. It is a prospective team that carries real optimism of a notable British return in an arena where success has been rare, and it is one that will be aided, along with their Summer Games compatriots, by further off-piste innovation.
Recently, UK Sport, the body that oversees Olympic and Paralympic sports, announced an extension of its partnership with BAE Systems, the engineering giants specialising in military technology. BAE engineers will continue to work with Drawer, who leads the research and innovation team at the English Institute of Sport (EIS), to design equipment to help clear the path to the podium. It is a world of innovation, secrecy and – of course – marginal gains, all part of a jigsaw planned to fit together with Britain bettering their 2012 total of 65 medals at Rio 2016 and before that a best-ever Winter Games for 90 years.
Those involved insist such developments give Britain a potential edge, and the fact that the rest of the world see it as a "known unknown" does no harm at all. Hence no photos of Williams' sled.
"We do this to gain a competitive advantage," says Drawer. "That's the bottom line. Where you clearly believe you have a competitive advantage you want to keep that under cover. There is a lot we won't talk about. That has an aura about it, it gives you a psychological advantage knowing when you get on that start line as an athlete you look different, you feel different, people are worrying about what you're doing – as soon as they start worrying about what you're doing they forget about their own performance."
It has become a game of smoke and mirrors, and here is some bad news for the French. For Rio 2016, Britain, among other projects, are reinventing the wheel.
Reinventing the wheel… with jet technology's help
The focus for Drawer's department is training, the logic being that an athlete spends most of their time preparing rather than competing, so that is where the greater (marginal) gains can be made. But for Paralympic sport the main project is directed on the race itself.
"It's like getting a new car – it's exciting," says Shelly Woods, the 1500m world record holder, of the new wheels attached to her racing chair. They have been created by engineers adapting techniques used in the day job, designing the Eurofighter Typhoon.
"The wheel is three times as stiff and lighter, which means it will be faster," says Woods. "When you accelerate, because it's stiffer all the power goes into the wheel as there is no flex. All the power you are putting in is transferred into speed and so you have no wasted energy. It should have a massive improvement."
The winds of change
Wind tunnels have become part of the package. Chris Froome spent time in one in Southampton as part of his preparations for winning the Tour de France, while Williams spent hour after chilly hour there executing her carefully laid plan to win rare British Winter Olympic gold in 2010.
"I would drive home with the hot air on full blast trying to warm up," says Williams. Tunnelling was combined with consulting the likes of Moy, a former sailor.
"At -3 or -7 it makes a difference what runners we use," says Williams of the make-up of her £20,000 sled. "They spend hours in a shed trying to find that one hundredth of a second. It is the hidden bit behind the scenes that as an athlete you greatly appreciate."
Williams' technique was honed with the help of the wind tunnel, working out when to drop her head or shoulders lower or move her wrist slightly in or out. Does it make a difference?
"You are making 0.01sec differences but if you add everything up…" she says. "It still comes down to the athlete but it can make a difference. It's about tiny margins – and the technology might give you that. You saw it in the Velodrome, all those tiny things adding up. That can be winning or losing."
Cross-sport fraternisation, or blooming of a good idea
Williams has a link to the Velodrome, and it provides an example of how ideas cross sports with the aid of Drawer's team. Williams was concerned about staying warm between skeleton runs, and how to warm up properly in freezing conditions. The EIS came to her aid.
"In skeleton you are in a cold environment so we really revisited things around the warm-up, retaining heat. There are great pictures of Amy Williams wearing warm-up garments," says Drawer. "Because we work in a helicopter role across sports, British Cycling were aware of that. We moved that on – same concept, different sport."
It led to the "hotpants" – trialled on England's rugby sevens team – that the likes of Sir Chris Hoy and Laura Trott wore in between rounds at the Velodrome, keeping muscles warm and loose. They were a notable success. "That's moving on again," adds Drawer. "Some of our winter sports are going to have something very different and innovative going into the Games that will add further advantages. Sometimes an idea moves to one place and another sport picks it up and takes it on again."
Simulating success
Sam Murray, silver medallist in modern pentathlon, and Michael Jamieson, a rare British success in the pool, were among others to benefit from the technological innovations in London. In training Jamieson used a tow rig for ships adapted by the University of Southampton to provide data on how to reduce drag.
One of the ideas being worked on for Rio is a fight simulator for taekwondo. British Taekwondo have concerns over the number of injuries athletes suffer in training – an abiding worry in a contact sport – and the proffered solution is a simulator, one BAE is designing using its engineers' experience of simulators for fighter planes. Lutalo Muhammad, 2012 bronze winner, has been part of the process and if successful the simulator could be rolled out across other sports. It will help athletes work on particular areas, track reaction times and motion, as well as, like the new bowling machines in cricket, enable fighters to have virtual contests against real opponents.
"We accept some things might not be successful," says Drawer, "and they can only be successful if we have talented athletes like Amy and Shelly who put in the hard work, if we have great coaching, good medical staff. What we do is the icing on the cake."
Join our new commenting forum
Join thought-provoking conversations, follow other Independent readers and see their replies