Winter Olympics 2014: Norway curling team unveils much-awaited outfits for Sochi
Even their own coach says he would only wear them at 'a bad-taste party'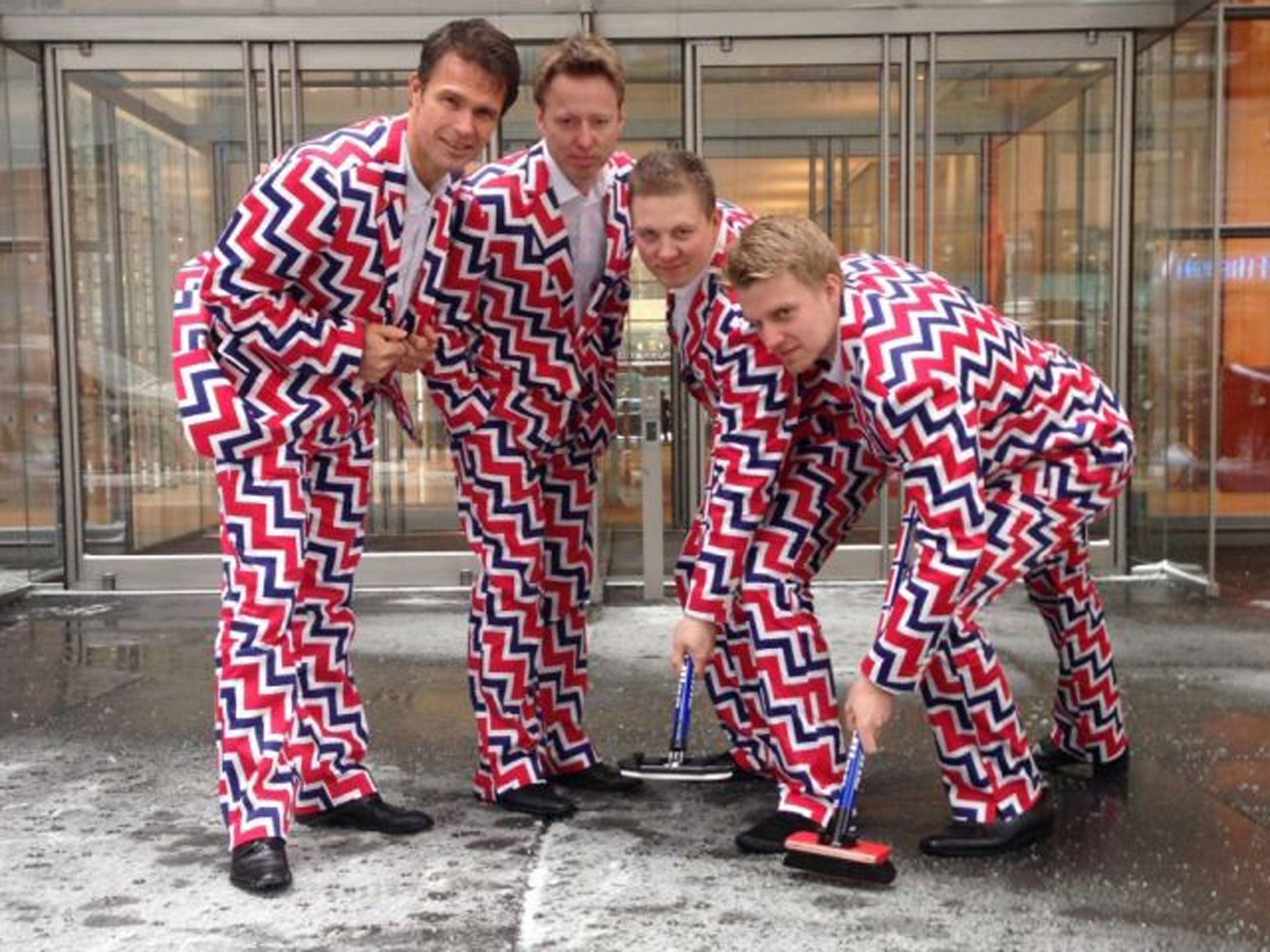 Norway has unveiled the uniform its curling team will be wearing to the 2014 Winter Olympics in Sochi next month – and they have somehow managed to come up with something even louder and more extravagant than the rainbow outfits of the games' stewards themselves.
The rainbow-coloured jackets and shirts which the volunteers in Russia will be sporting – and which President Vladimir Putin was quick to say he did not design – seem understated by comparison to the Norwegians' red, white and blue "chevron" suits.
Even the team's coach Pal Trulsen said: "Put it like this, you'll not see me wearing them – except maybe at a bad-taste party or something."
The uniform was among four unique designs revealed at a press event yesterday, and the team says several more will be brought out throughout the games running from 7 to 23 February.
The Norwegian curlers, Christoffer Svae, Torgor Nergard, Havard Vad Petersson and their captain Thomas Ulsrud, have built up a reputation for bringing attention to the sport more through their outfits than actions.
It began with the 2010 Vancouver Olympics, where Svae decided he couldn't stand the traditional black and white uniforms and ordered matching golf trousers from the designer Loudmouth instead.
Since then, the team's sartorial affairs have been tracked by a dedicated Facebook page, called "The Norwegian Olympic Curling Team's Pants", which at its peak had almost 700,000 likes. By comparison, the "official" page of Team Ulsrud has just 860.
The world curling president Kate Caithness has admitted she was initially shocked by the whole affair, but said she came to embrace the attention Norway received.
"I am a traditionalist, I must be honest," Caithness said. "But after I saw them in Vancouver, I actually liked them. They brought focus to our sport, these crazy pants.
"It would be awful if all the teams were wearing them — it would look like a circus. But I think it's a trademark of the Norwegian team only and we like it that way."
Norway's men are among the favourites to compete for gold in Sochi – but are likely to make something of a splash regardless of where – or even if – they feature on the podium.
"It feels as in some way we have contributed to the development of the sport," Svae told The Associated Press. "Maybe not so much on the ice, but certainly off it."
Join our commenting forum
Join thought-provoking conversations, follow other Independent readers and see their replies