Lizzy Yarnold and Team GB skeleton in the clear over skinsuit controversy as opponents cry foul
The Brits' highly-guarded secrets in developing their skinsuits had posed questions about their legality
Wednesday 14 February 2018 16:02
comments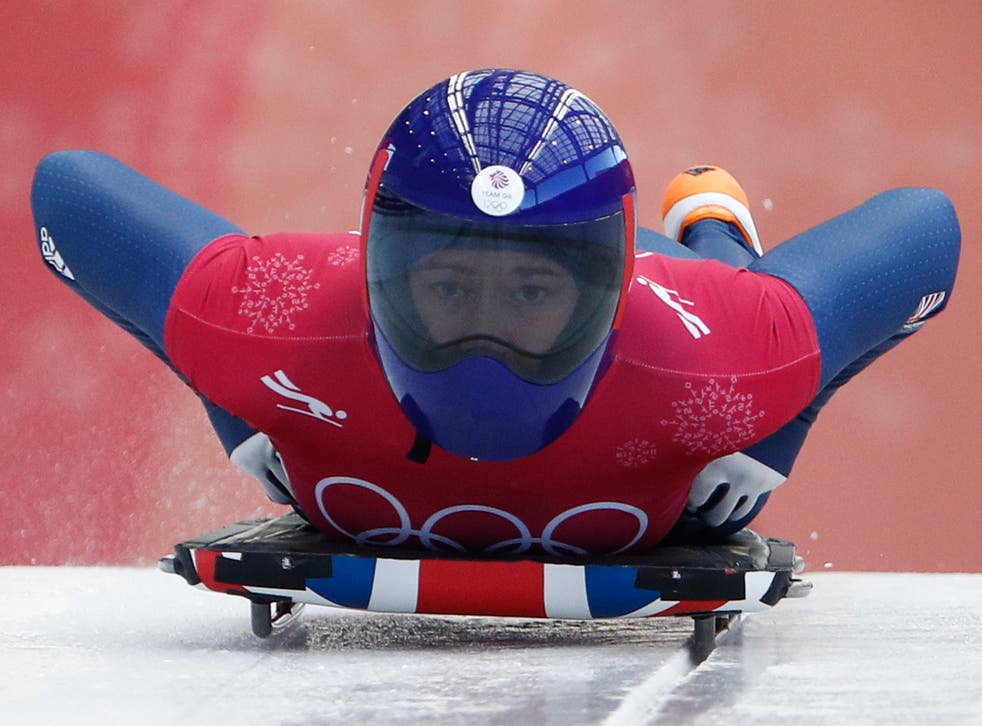 Great British athletes have been cleared to participate in Pyeongchang's skeleton competition after rival athletes raised issues over their state-of-the-art skinsuits, but a Team GB victory would undoubtedly go down poorly among rivals who feel the Brits are, at the very least, operating in grey area.
After disappointing World Cup seasons this year, Sochi 2014 gold medallist Lizzy Yarnold and team-mate Laura Deas both dazzled wearing the new skinsuits - honed by scientists at Northampton-based TotalSim – in further practice sessions on Monday and Tuesday.
Yarnold (once) and Leas (twice) have finished fastest in three of the six days of training, prompting rivals to question just how much of a leap in performance the new suits were giving the athletes.
And the latest row echoes issues experienced by Amy Williams, a gold medallist at Vancouver 2010, who had to wait hours for an adjudication on whether the ridges in her helmet were legal after protests from the Canadian team.
Rule 10.16.3 of international skeleton laws, laid out by the International Bobsleigh and Skeleton Federation, states that "no aerodynamic elements whatsoever maybe attached either outside or under the race suit."
Bodysuits must also be manufactured from "uncoated textiles" and not painted or sprayed with any aerodynamic aid.
"A lot of athletes and coaches had questions on whether the suit was legal," said Team USA's Katie Uhlaender.
"I think this has been a question posed in the last two Olympics starting in 2010 with Amy Williams and her helmet and suit, so I think it's a great question because I think the rules state that everyone is supposed to have access to the same equipment as far as helmets and speed suits go, and not have any aerodynamic attachments on the helmet or in the suit."
Kendall Wesenberg, her American team-mate, added: "This is a sport where you're fighting for hundredths [of a second] so people are going to try different stuff and the rule book has some grey areas, so this is the time that people are going to try to exploit that.
But some of Yarnold's comments in an interview with The Guardian from January have further provoked suspicion among those battling her for medals this week, with the Brit claiming "innovations" that the team were keen to hide would be responsible for a significant increase in performance.
What is skeleton? The Winter Olympics sport explained
"We don't get hold of the technical innovations until the Olympics and as soon as we finish competing it all disappears into someone's bag and is taken away," she said. "But that innovation on the equipment side is where we can make massive gains."
The IBSF have confirmed that they have inspected the bodysuits and deemed them fit for competition, adding "there were no rule violations at the presented suits."
Team GB said in a statement:
"We are confident that all competition equipment meets the technical and commercial requirements for every sport and discipline. We do not comment on specific technical aspects of equipment prior to competition."
Join our new commenting forum
Join thought-provoking conversations, follow other Independent readers and see their replies