Pyeongchang 2018 was supposed to be 'the Peace Olympics' but that idea is proving a tough sell
"Against the current political backdrop, peace is no longer a simple or safe word," said Hwang Jang-sun, a marketing and brand communications expert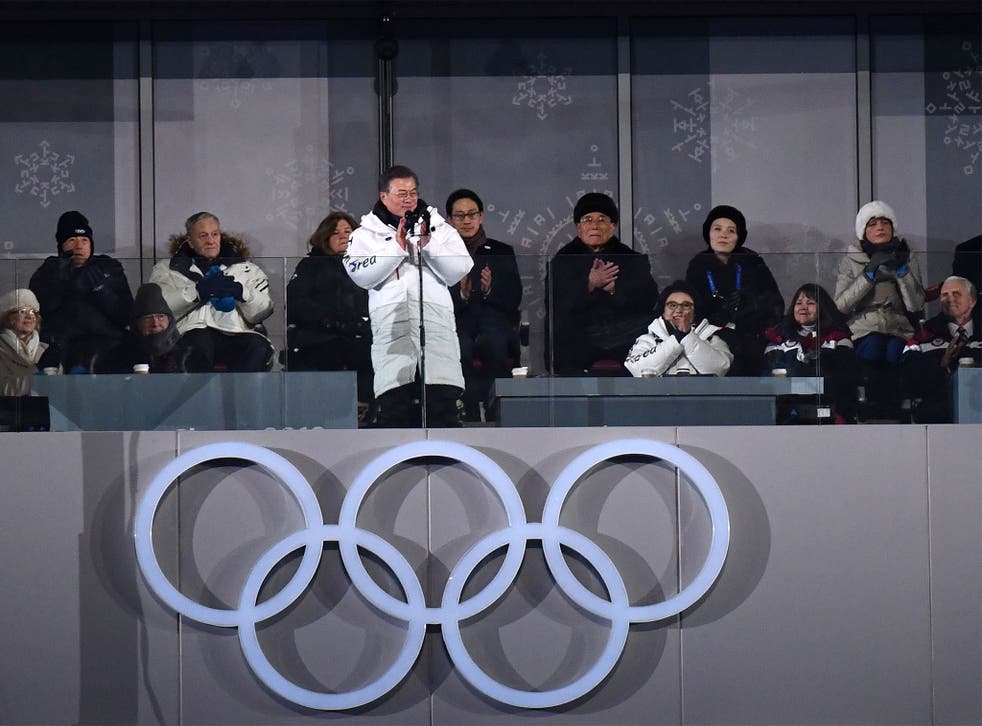 An image of a giant dove lit up the night sky and singers performed John Lennon's "Imagine" at the opening ceremony of the Pyeongchang Winter Olympics, not long after athletes from enemies South and North Korea marched into the stadium together.
South Korea's president calls them the "Peace Olympics", while an Olympic official suggests that a unified North-South women's ice hockey team be nominated for the Nobel Peace Prize.
But the peace message is not catching on with Olympic sponsors, which are concerned that it could put them too close to a hot-button issue: North Korea's participation in the Games.
"Don't get me wrong, I thought when they marched out, it was a big statement and everyone cheered," said Iain Jamieson, Korea country manager for Visa, a top Olympics sponsor.
"There is a polarization within Korea about whether they are for it or against it. The unified hockey team is not polling well with the younger demographic," he said. "All the brands are probably trying to stay away from that."
This is backed up by a review of social media campaigns by two dozen global and local sponsors, including Visa Inc, Samsung Electronics Co Ltd and Coca-Cola Co.
During the Games, they seldom referenced the word "peace" or posted images of the unified Korean women's hockey team -- one of the most closely followed stories of the Games.
Their social media posts on Facebook, Twitter, YouTube and Instagram use some photos from the opening ceremony, but none show the joint marching or the Korean peninsula flag.
2018 Winter Olympics – in pictures

Show all 29
Olympic sponsors told Reuters they didn't want to be seen unwittingly endorsing Pyongyang's participation in the Games by talking about it, given that the United States and Japan both accuse the North of using the Games for crude propaganda.
Replicas of the jersey worn by the unified team, featuring a map of an undivided Korean peninsula, are not for sale even though hockey jerseys are a big seller after a Winter Olympics.
Official sponsor Nike designed the jerseys for all Olympic ice hockey teams, except for the unified team which were handled by Finnish firm Tekla. U.S. sanctions ban most American firms like Nike from doing business with North Korea.
Nike could not be reached for comment.
An executive at South Korean retail conglomerate Lotte, a local Olympics sponsor and exclusive seller of Pyeongchang merchandise, said the company took notice when people in their 20s and 30s, traditionally considered liberal, opposed the decision to field an inter-Korean ice hockey team.
"They are a key customer base for us. We wouldn't want to upset anyone by going anywhere near the issue," the executive said, asking not to be named, citing sensitivity of the issue.
Surveys conducted before the Games showed that more than 70 percent of South Koreans opposed forming a joint ice hockey team with the North, while only four out of 10 favoured the plan to march behind a flag symbolising a unified Korea.
"Against the current political backdrop, peace is no longer a simple or safe word," said Hwang Jang-sun, a marketing and brand communications expert at Chung-Ang University in Seoul.
Winter Olympics crashes and falls

Show all 18
Global brands have ventured close to political issues on the Korean peninsula only when it has been safe to do so.
In 2005, when South Korea's then liberal government was pursuing the so-called Sunshine policy of engagement with the North amid broad public support, Samsung featured a North Korean dancer and a popular K-pop singer in a cellphone commercial.
This time around, companies likely determined they had nothing to gain from commenting either way on inter-Korean politics, corporate marketing and brand experts say.
"If everyone had rallied behind the 'Peace Olympics' and been deeply moved by shows of reconciliation, I'm sure companies would have immediately seized on it," Hwang said.
Fear of spreading propaganda is also making broadcasters wary of promoting the peace theme at the Olympics.
U.S. broadcaster NBC, a unit of Comcast Corp, said it must show key Olympic moments but needs to be careful with content such as North Korean cheerleaders, according to Jim Bell, president of NBC Olympics Production & Programming.
"I think that has been something that we've touched a little but not too much because it's hard not to provide the initial context that they come from a brutal regime and there's a lot of propaganda involved," Bell told Reuters.
Reuters
Join our new commenting forum
Join thought-provoking conversations, follow other Independent readers and see their replies