Winter Olympics 2018: James Woods agonisingly misses out on medal after 'mega-whiplash' in first-run crash
Woods fell heavily on his first run before posting a score of 91 on his second run that fell just 1.4 points short of bronze medal-winner Alex Beaulieu-Marchand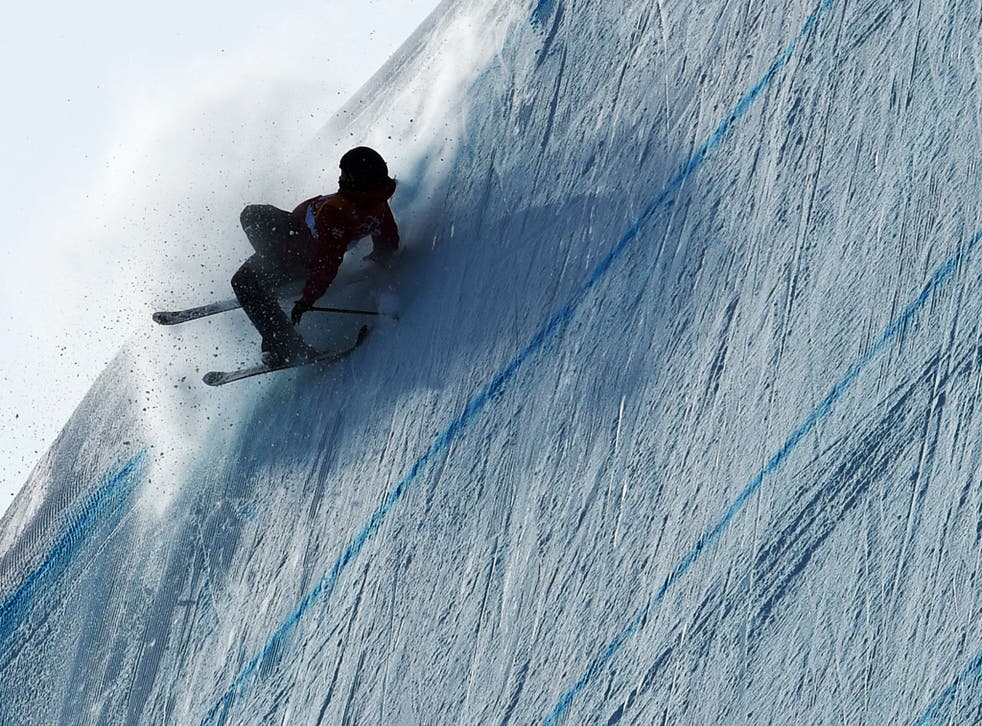 Battling "mega-whiplash" and a bloody chin from a first run wipeout, James Woods soared to within an agonising 1.4 points of securing an historic fifth Winter Olympics medal for Great Britain in Pyeongchang.
The Sheffield 26-year-old nailed a score of 91.0 on his second attempt to go into the third and last run of the men's ski slopestyle final in the bronze medal position, but was edged out by American Nick Goepper.
The experienced Goepper dropped in late to claim silver, behind Norway's Oystein Braaten who took gold for his first run score of 95.0, while Canadian Alex Beaulieu-Marchand was third on 92.4.
Winter Olympics crashes and falls

Show all 18
Woods, who defied injury to finish fifth in Sochi four years ago, qualified for the final in eighth place in beautiful conditions at Phoenix Snow Park, but crashed heavily on the last big jump of what could have been a medal-contending first run.
Woods said: "Fourth place is minging, it's so devastating. I can put my hand on my heart and say that that run, totally clean, definitely could have won.
"I took a really big hit on the first run that really hurt, but I'm pretty sure I laced that run that I was constructing for a good amount of time, under the pressure and I'm proud of that."
Woods, a three-time X Games medallist and former World Cup winner, had been aiming to follow freestyle team-mate Izzy Atkin, who became Great Britain's first Olympic medallist on skis in the women's competition on Saturday.
And after Saturday night's further heroics on the skeleton track, a medal for Woods would also have taken Britain's total medal tally for the Games to five, beating the previous record of four from both Chamonix and Sochi.
After hitting back from his initial crash with a strong second round score, Woods failed to improve it on his third attempt and with six competitors still to go, his chances of holding on were always unlikely.
And it was Goepper, a triple X Games champion, who also took bronze in the same event in Sochi, who came in late to knock Woods out of the medals and land the silver behind a delighted Braaten.
Woods shrugged: "All I want to do is get the opportunity to drop in to the best of my ability and I am lucky enough to be able to do that at the top of the world.
"I put in my best effort and I went for broke. That was the most incredible competition – it's a brilliant course and we had the perfect weather and conditions and everyone brought their A-game.
"Everyone is so, so good. You can't predict a thing. The only thing you could have told me was that I'd be relatively healthy and proud of myself at the end of this and I would take that."
Woods, a perpetual globe-trotter and thrill-seeker who fits his skiing in between his other hobbies of surfing and skydiving, said there was no reason why he would not be back in search of his elusive first Olympic medal in four years' time.
"I don't want to blow my own trumpet about my run. If people like the look of that, there's so much stuff out there. I think we did a great job. I think it was a perfect show. I'll ski for ever, baby."
PA
Register for free to continue reading
Registration is a free and easy way to support our truly independent journalism
By registering, you will also enjoy limited access to Premium articles, exclusive newsletters, commenting, and virtual events with our leading journalists
Already have an account? sign in
Register for free to continue reading
Registration is a free and easy way to support our truly independent journalism
By registering, you will also enjoy limited access to Premium articles, exclusive newsletters, commenting, and virtual events with our leading journalists
Already have an account? sign in
Join our new commenting forum
Join thought-provoking conversations, follow other Independent readers and see their replies