The Independent's journalism is supported by our readers. When you purchase through links on our site, we may earn commission.
Winter Olympics 2018: Spectator jumps barrier and slides down ice chute
It is currently unclear how the man was able to get past the barriers and into the opening ceremony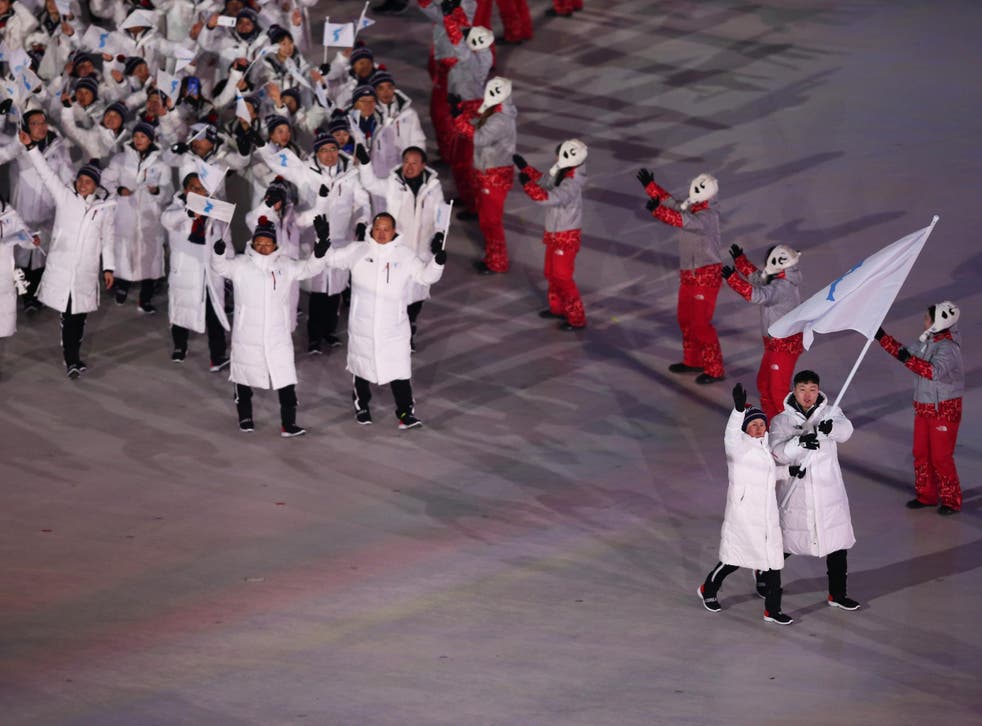 An intruder has been thrown out of the Winter Olympics opening ceremony after sliding down a long icy chute in an attempt to reach two of the performers.
It is currently unclear how the unidentified Korean man was able to jump the barriers and get onto the ice chute but local police in Pyeongchang, the South Korean resort where the two week tournament is held, say they are investigating.
None of the performers in the opening ceremony, which involves athletes from all over the world, were harmed in the incident.
The stage invasion came just after North and South Korea marched together into the stadium behind the blue-and-white unification flag in a rare show of unity after the tensions of previous months – meaning the stunt could have been politically motivated, Agence France Presse reported.
A spokeswoman for the Games said: "It was a Korean spectator and he was removed from the stadium as soon as he was taken off the stage.
"He is currently not in police custody but the police are investigating the situation."
This is the first time North and South Korea have marched together since the 2006 Winter Olympics in Turin, Italy.
Ahead of the opening ceremony, South Korea's president, Moon Jae-in, and North Korean leader Kim Jong-un's sister, Kim Yo-jong, exchanged a historic handshake and spoke briefly.
Winter Olympics 2018: 9 British medal hopefuls to watch

Show all 9
She and Kim Yong Nam, the North's 90-year-old nominal head of state, were seated behind Moon and his wife, while Mr Pence and his wife were seated beside the Moons and Japanese Prime Minister Shinzo Abe.
At the age of 30, Kim Yo Jong is likely to be the most powerful woman in North Korea. Just a few years younger than her brother, she is believed to be his closest confidant and is a senior cadre in North Korea's ruling party.
Tensions have been heightened in recent years as Pyongyang has stepped up its nuclear testing programme and the tweets of Donald Trump have threatened to ignite the conflict.
Additional reporting by agencies
Join our new commenting forum
Join thought-provoking conversations, follow other Independent readers and see their replies