Winter Olympics 2018: Elise Christie hits out at Twitter trolls after receiving abuse following Pyeongchang Games exit
Wednesday's 1000m disqualification capped a second miserable Winter Olympics campaign fro Christie, but she has taken aim at online bullies sending her abusive messages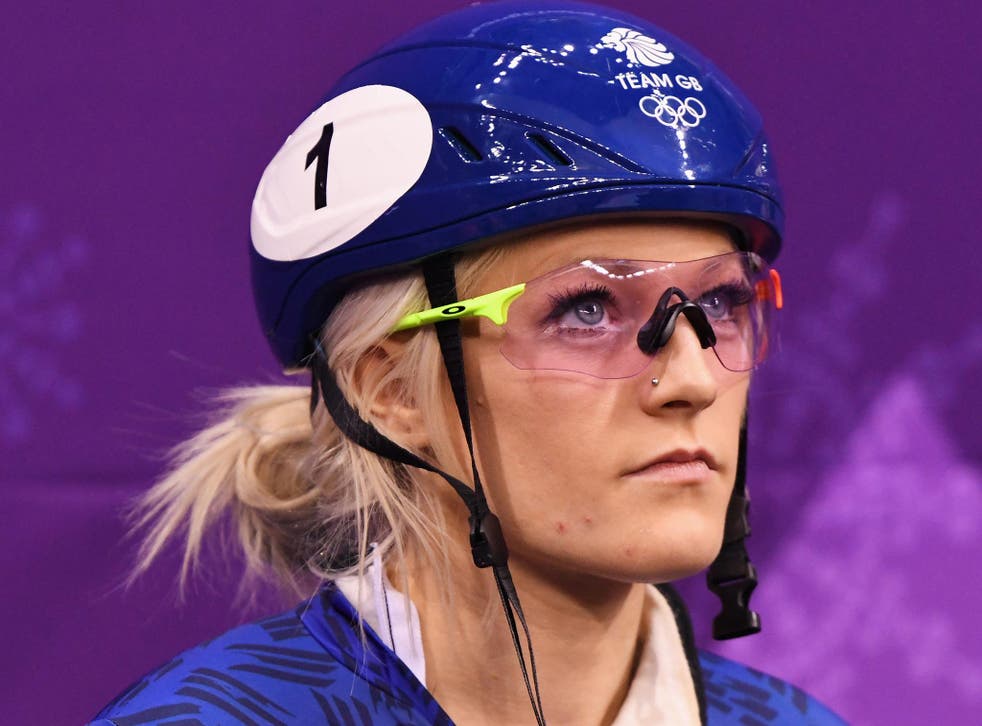 Elise Christie has hit back at online trolls that have sent the British ice skater abusive messages on Twitter in the wake of her 2018 Winter Olympics heartbreak, having missed out on a medal for the second Games running.
In 2014, Christie was disqualified from all three of her races and received thousands of abusive tweets from Korean ice skating fans after she collided with Park Seung-Hi after falling. The messages made her seriously doubt whether she should continue in the sport or not, and she also decided to see a psychologist to help cope with the abuse.
Four years later, the outcome on the ice was very similar to that in Sochi. Christie crashed out of the 500m final last week, and then did the same in the semi-final of the 1500m event on Sunday, badly injuring her ankle in the process.
Winter Olympics crashes and falls

Show all 18
By the time her favoured 1000m event came around on Tuesday, there were serious doubts about whether the Scot would be able to compete due to damaged ankle ligaments, but she valiantly skated on to try and qualify for the event. After her heat was restarted following a first corner accident for Christie, she skated through to second place and progression to the quarter-finals, only to be disqualified for "intentional" collisions on her way through the field.
Confirming that she plans to compete again in 2022 to try and end her Olympic medal agony, Christie also turned her attention to the online trolls that have abused her once again following her Olympic exit.
"People who don't believe in me, like, I don't care," she told BBC Five Live. "You can stop sending me abusive tweets because it doesn't bother me anymore because I'm a world champion, you're sitting at home on your keyboards. Stop trying to make people feel bad, you guys need to go out and do something special with your lives.
"For everyone that's been so supportive and amazing, I just can't describe...it makes me emotional to talk about how nice everyone's been. I just want to say thanks to everyone, everyone at Team GB, everyone back home, and I'm really sorry that it didn't work out."
She later added an emotional statement on Twitter to thank supporters and explain why she tried to compete on a badly injured ankle, which she revealed would likely have kept her off the ice for "five or six weeks" had it not happened at the Olympics.
"I wasn't ready to let go, the reality was that with my ankle the way it was medalling was so unlikely, but my heart held on to that little bit of hope," she wrote.
"I wanted to inspire people to never give up.
"I'm sorry it didn't end the way we all hoped and I'm thankful for every message of support and every person that's taken time out to tell me I've inspired them. Thanks also to all my fellow athletes that came up to say they respect me yesterday! Can't thank them enough!"
The 27-year-old had planned to change sports and attempt to win a medal in another category at Beijing 2022, but in the wake of her heartbreak in Pyeongchang, she vowed to stick with short-track speedskating and her quest to win Olympic gold.
Join our new commenting forum
Join thought-provoking conversations, follow other Independent readers and see their replies