Winter Olympics 2018: Meet Yuzuru Hanyu, 'Michael Jackson on ice' and perhaps the greatest figure skater ever
Japanese dancer, known for Winnie the Pooh mascot and grace and elegance he brings to rink, at odds with hyper-masculine traditions of sport's male competitors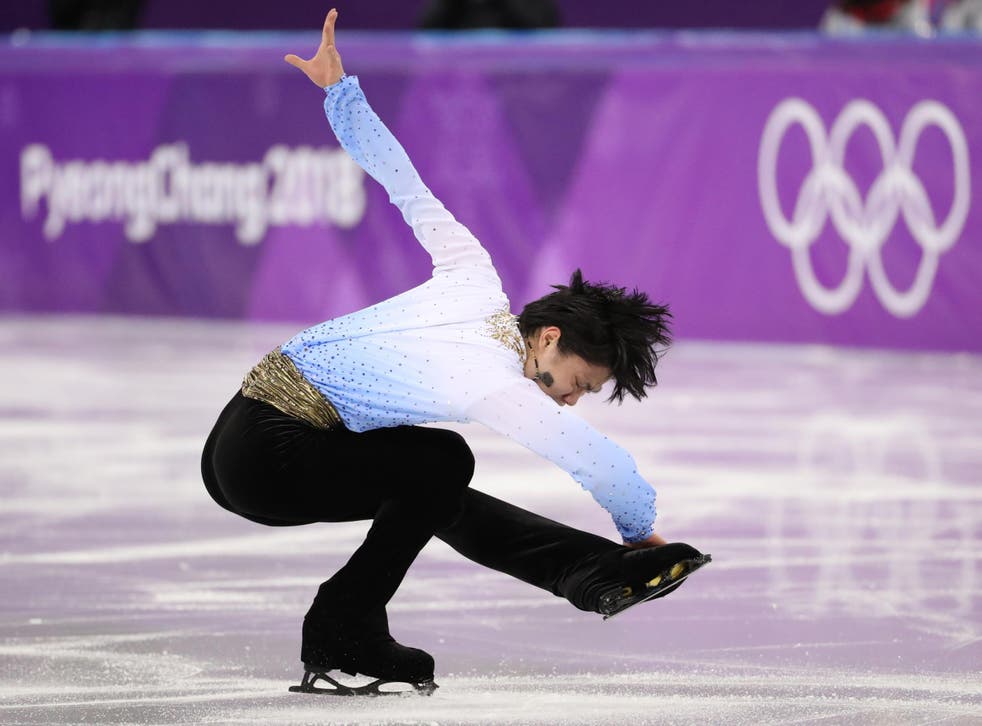 As usual, a Winnie the Pooh doll sat rinkside to reassure Japan's Yuzuru Hanyu, the reigning men's Olympic figure skating champion and perhaps the greatest skater of any era.
Pooh gave smiling, uncritical approval of Hanyu, 23, in late October at an important pre-Olympic competition in Moscow called the Rostelecom Cup. Hanyu prefaced each routine with a quirky ritual, squeezing Pooh for good luck before he stepped onto the ice. He chose the Disney character as his personal mascot, according to a fan blog, because he found comfort in Pooh's unchanging gaze.
Sometimes Hanyu bowed to the Pooh doll, which doubled as a tissue dispenser. Other times, he shook Pooh's paw and patted his head.
Several thousand of Hanyu's fans had travelled from Japan, China, South Korea and the United States to see him compete. Some wore fuzzy Pooh ears. Others wore Pooh hats and costumes with cape-like attachments resembling Pooh's red shirt.
Good luck totems can carry a skater only so far, though.
Two and a half weeks after the Moscow competition, Hanyu's fixation with difficult jumps led to an ankle injury. Ligament, tendon and bone damage to his right ankle kept him off the ice for more than a month, just as he was supposed to enter his final preparation for the 2018 Winter Games in February in Pyeongchang, South Korea.
Hanyu was named to Japan's Olympic team in late December. Officials were optimistic he could recover. But the Winter Games were only weeks away and Hanyu's ankle remained unstable. He could not yet practice his jumps.
Until he could complete a triumphant routine, uncertainty would shroud Hanyu's availability and reliability for the Olympics, creating agita not only for his fans but at the highest levels of his sport.
At the least, the injury threatened to jeopardise Hanyu's chance of becoming the first repeat men's champion since Dick Button of the United States in 1948 and 1952.
On a larger scale, Hanyu promised to be one of the Games' few inimitable figures, hailing from a country that vibrantly supports the fading sport of figure skating. His absence, or his inability to compete at his best, might have dimmed the star power at a global event where ticket sales and interest have lagged. And Olympic marketing experts would have missed a huge opportunity to cultivate the Asian market for the 2020 Summer Games in Tokyo and the 2022 Winter Games in Beijing.
The Winter Games is Hanyu's first competition in three months. And he doesn't have Pooh to comfort him inside the rink. The presence of Pooh's likeness would contravene Olympic rules of sponsorship and branding.
When healthy, his ambitious athleticism allows him to perform remarkable four-revolution jumps known as quads. And the emotion and interpretive skills of his artistry and musicality have made him a figure of fascination. He covers the ice with the creativity of a brush stroke and the precision of a stylus.
"He's the most complete athlete in figure skating, probably ever," said Stephane Lambiel of Switzerland, the 2006 Olympic silver medalist who is now a coach.
Hanyu can appear delicate, a boyish Christopher Robin with his Pooh. He also blurs rigid gender lines with his performances, possessing a grace and elegance that fans and journalists say are prized in Japan over a hyper-masculine style of skating.
It is his aim, he says, "to stir something in people's hearts."
And, too, Hanyu is a relentless competitor who persevered after a devastating 2011 earthquake and tsunami struck northeast Japan and rattled his hometown, Sendai. He rotates so fast and tightly on his jumps that his body seems to disappear on its thin axis.
Even Hanyu's physique - slender body, long neck, arms and legs - is atypical for a Japanese skater.
Hanyu is the first Japanese man to win an Olympic gold medal in figure skating. As such, he is among the country's most popular athletes and endorses products from mattresses to chewing gum to a video game to an airline.
His routines bear the appealing, tense contrast between art and athleticism at the heart of figure skating. Sometimes, this puts Hanyu in conflict with himself. He is an unsurpassed virtuoso, but he is also an athlete who wants to jump as proficiently as any other skater, even if that elevates the risk of injury - perhaps unnecessarily.
Hanyu's expected rival for a 2018 gold medal, Nathan Chen of the United States, has become the first skater to complete five quads in a single routine. Hanyu wanted to keep pace as a jumper, even if he might get hurt. He seemed to view skating the way Brazilians are said to view soccer. It was better to perform aspiringly and attractively and lose than to perform conservatively and win.
"I am an athlete, and as an athlete it's normal to keep challenging to do more and more," Hanyu has said.
He fell twice during his free skate at the 2014 Olympics in Sochi, Russia. He said he wanted to deliver an unblemished, more inspired performance at the 2018 Winter Games.
"Could he win without the big, giant tricks? Yes," said Hanyu's coach, Brian Orser, who won two Olympic silver medals competing for Canada in the 1980s. "But that's not him. He's willing to take the risk. He's visualising a greater win than last time. It wasn't that magical moment you usually see at the Olympics."
Orser has tried to convince Hanyu that there should be a natural ebb and flow to a long skating season. Button, the 1948 and 1952 Olympic champion, cautioned Hanyu not to overtrain. And one of Hanyu's idols, Evgeni Plushenko of Russia, the 2006 Olympic champion, suggested that Hanyu would not need five quadruple jumps in his Olympic free skate as Chen of the United States aspired to.
Shoma Uno, a Japanese teenager who finished second to Hanyu at the 2017 world championships, was also a magnificent jumper. But Hanyu had a decided edge over other skaters in the completeness of his performance - spins, skating skills, transitions between jumps and musical interpretation, Plushenko said.
"If he has three quads and skates clean, he can win the Olympics one more time," Plushenko said. "If he does all the things he can, he's going to win easily."
The biggest hurdle to his own failed attempt to repeat as Olympic champion, Plushenko said, was injury: "In my head I was ready to skate but my body is sometimes going, 'No, wait, please, please.'"
Winter Olympics crashes and falls

Show all 18
His words were prescient. On 9 November, a day before the NHK Trophy began, Hanyu attempted a quadruple lutz in practice, but his legs landed in a pretzled position. More than 100 Japanese journalists turned up at a news conference that evening to learn of Hanyu's condition.
The next day, it was announced that he had ligament damage in his right ankle but would try to compete. Instead, he withdrew. (Weeks later, it would be revealed that the ankle had also sustained tendon and bone damage.)
"I am very sorry to have everyone worried," Hanyu said in a statement.
The New York Times
Join our new commenting forum
Join thought-provoking conversations, follow other Independent readers and see their replies